Got an SME? American Express will pay your wage bill, HMRC and rent for a fee and give you points
Links on Head for Points may pay us an affiliate commission. A list of partners is here.
American Express has launched an interesting new service, the Premium Rewards programme, for anyone running their own business.
It is a little like Billhop, but cheaper.  What is odd about it is that at no point does any money pass through your card!
Premium Rewards can be used to pay, and I quote:
PAYE
HMRC
Non-accepting merchant and supplier payments
Where your current credit limits are restricting you
Rental fees and business rates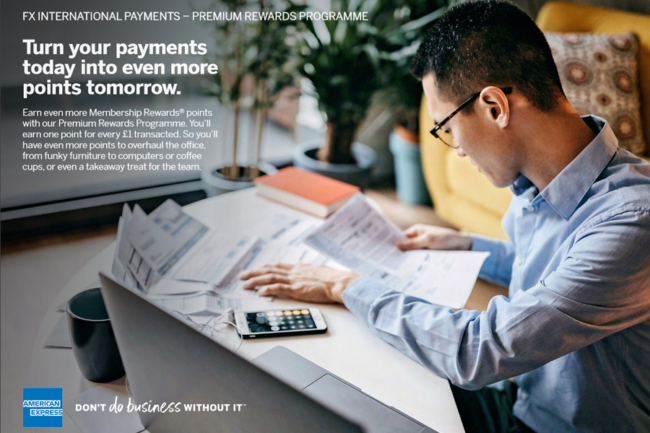 Put very simply, this is how it works:
You go online and tell American Express where it should send money, and how much
American Express takes the money directly from your bank account
American Express makes the payment
American Express charges you a fee of between 1% and 1.25%
You earn 1 Membership Rewards point per £1 sent
And the point of Premium Rewards is …..?!
I know what you're thinking – why would anyone want to do this?
Fundamentally, you are paying American Express 1% to 1.25% to do something that you could just as easily do yourself.  There aren't even any cashflow advantages as American Express takes the money off you immediately.
All you are doing, in effect, is buying Membership Rewards points for between 1p and 1.25p each.
But HfP says that Membership Rewards points aren't worth more than 1p?
That's true.  If you look at our article on 'What is a Membership Rewards point worth?', you will see that it isn't easy to get more than 1p for them.  In most cases they are worth substantially less.
Only airline miles, and potentially Radisson Rewards transfers, get you 1p or more of value.  Even then, you need to know how to redeem those airline miles strategically to get over 1p.
If I can't get more than 1p per Amex point, why would I want to pay 1.25p?
It's a tax arbitrage, that's why.  This is the genius of the American Express Premium Rewards programme.
My marginal tax rate on HfP is roughly 50% including National Insurance.  This means that any cost I can charge to the company is reduced by 50%, since the cost reduces my profits by an equivalent amount.
Let's look at the maths from the point of view of a small business owner:
You pay American Express Premium Rewards £230 to pay your £20,000 quarterly VAT bill
The £230 is a business expense and so is charged to the company.  It reduces taxable profits by £230 which, for someone paying a 50% combined tax and NI rate, means the real cost to the company owner is only £115.
The company owner receives 20,000 Membership Rewards points
If these were transferred to Avios, the company owner has 'bought' 20,000 Avios (1:1 transfer rate with Membership Rewards) for £115.  This is an exceptional deal.
Note that only some payment fees can be written off against tax.  VAT is fine, as are payroll and employee NI costs, as these are payments made by company itself.   Corporation Tax would also be fine.
You couldn't write off the cost of paying HMRC your self-assessment bill for self-employment or company dividends, because those are personal payments.
What does American Express Premium Rewards charge?
The fees are on a sliding scale:
Payment under £10,000 – 1.25%
Payment of £10,001 – £100,000 – 1.15%
Payment of £100,000+ – 1%
Payments can be batched to reduce the fee.  If you want to pay your staff using Premium Rewards, for example, the 1.15% band would apply if the combined total sent on payday was over £10,000.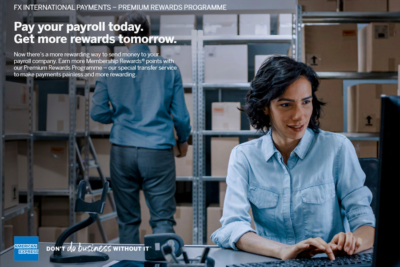 What American Express cards can be used with Premium Rewards?
The exact wording is:
Your card must be issued in the UK
Your card cannot be a Cashback card
Your card cannot be a co-branded card
The 2nd and 3rd points make no sense, because Premium Rewards only issues Membership Rewards points and so you obviously can't link it to cashback, co-brand or indeed any other card which doesn't issue Membership Rewards points.
American Express seems happy to credit the points to a personal Membership Rewards card account but the payments for the service need to be made by a business and – in theory – Premium Rewards should only be used for business payments.
Is Amex Premium Rewards worthwhile?
For some HFP readers who run small or medium sized businesses, the Amex Premium Rewards programme will be an outstanding opportunity.  It is especially good for anyone paying six figure bills on a regular basis, since you would benefit from the lowest 1% fee band.
You also need to be paying a high level of personal tax in order to make the tax arbitrage work.
Is it worth paying 1.25% to pay a £5,000 bill (£62.50 fee) if your marginal tax and NI rate is only 30%?  Just about.  You are paying (£62.50 – 30%) / 500000 = 0.875p per Membership Rewards point.  0.875p per Avios certainly isn't bad.
Is it worth paying 1% to pay a £100,000 bill (£1,000 fee) if your marginal tax and NI rate is 50%?  Absolutely.  You are paying (£1,000 – 50%) / 10000000 = 0.5p per Membership Rewards points.  0.5p per Avios, or whatever you choose to use them for, is a great deal.
Owners of smaller businesses should look at Curve Metal.  Curve Metal has a £180 annual fee and allows you to charge £50,000 per year of HMRC payments to any Visa or Mastercard you wish, for free.  This is just 0.36p per £1, which could mean very cheap miles or points if you linked it to a suitably generous Visa or Mastercard.  This HFP article explains how Curve works.
There is also Billhop.  Billhop works slightly differently to American Express Premium Rewards.  It allows you to pay any bill with an American Express card in return for a 2.95% fee.  Billhop makes the payment via bank transfer and recharges your American Express card, coding it as a purchase.  The snag here is the 2.95% fee.  It means that Billhop only really makes sense if you want to trigger an Amex sign-up bonus or your British Airways American Express 2-4-1 voucher.  You can learn more about Billhop here.
How do I sign up for Amex Premium Rewards?
There is no online sign-up service.  You can download the two Premium Rewards brochures (PDF) here and here.  These include a form that you can send in, or alternatively you can call to register.
This is a new service and I have zero feedback so far from users.  If you sign up, let us know how it goes.
---
Want to earn more points from credit cards? – October 2021 update
If you are looking to apply for a new credit or charge card, here are our October 2021 recommendations based on the current sign-up bonus.
You can see our full directory of all UK cards which earn airline or hotel points here.
The following offers will end soon:
10,000 Avios on British Airways American Express (ends 2nd November)
40,000 Avios on British Airways American Express Premium Plus (ends 2nd November)
60,000 points on The Platinum Card from American Express (ends 2nd November)
30,000 points on American Express Preferred Rewards Gold (ends 9th November)
Here are the top current deals:
Earning miles and points from small business cards
If you are a sole trader or run a small company, you may also want to check out these offers.
For a non-American Express option, we also recommend the Barclaycard Select Cashback card for sole traders and small businesses. It is FREE and you receive 1% cashback on your spending: