What is AmexExpense and how does it work?
Links on Head for Points may pay us an affiliate commission. A list of partners is here.
This article is sponsored by American Express
From hotel loyalty status to the Dell £150 annual credit, there are a host of benefits to the American Express® Gold and Platinum Business Cards that we regularly cover at Head for Points. However, until today we haven't delved too deeply into one of the Cards' newer benefits – the AmexExpense tool.
We can all relate to the headache of submitting expense forms at employers, and I can only imagine the complications finance teams – or business owners – must face when trying to reconcile these expenses. AmexExpense aims to remove that headache and make expense management a smooth process for both the employee and the employer.
What is AmexExpense?
Launched recently, AmexExpense is a fully-digital expense management tool for businesses. Available for all UK Business Gold and Business Platinum Cardmembers, the free-to-use expenses system simplifies the expense administration process by eliminating the need to save paper receipts and undertake lengthy manual reconciliation.
It does this by offering simple accounting software integration and providing an easy-to-use App for employees and expense approvers
American Express Business Gold and American Express Business Platinum Cardmembers are able to set up an AmexExpense account quickly and add unlimited users/employees to the account, allowing for company-wide access to the tool.
How the AmexExpense app works for the employee
The employee downloads the AmexExpense App to their phone as a starting point and then creates an account.
AmexExpense is a perfect complement to their Employee Cards – essentially, any Employee Card spend is available automatically in the app, so the employee can simply select any of their Amex spend and submit as an expense. No receipts needed.
Other expenses – including spend that isn't via Amex –are can also be logged by taking a photo of a receipt and the photo is then uploaded to the App. Provided the image is clear enough, AI technology scans the receipt and auto-populates a form with much of the detail. It is very accurate and I found the fact that AmexExpense recognises all major currencies, and nine languages, particularly useful given that often expenses are incurred on trips overseas.
The app is integrated with Google Maps so mileage claims are made by adding in the origin and destination of the trips and again, the form is auto-populated with the mileage calculation.
Once the receipt/transaction is uploaded, the employee doesn't need to do anything else, but they are able to see at which stage the expense is at. For example, if the expense has been approved but is awaiting processing by the accounts team.
How the tool works for approvers and accounting
Once uploaded, the employee's expense approver gets an alert to approve the expense, which they can do in one click using the app on their phone.
AmexExpense integrates with several of the most popular accountancy software packages including Sage, QuickBooks and Xero and the expense report is fed through to the accountancy software via API so as soon as it is approved.
Because the tool integrates with these software packages, it minimises data entry for the finance team, requiring them to review the report rather than manually enter it. Crucially, this means that expenses can be paid much more quickly to the employee.
Additional card benefits
Whilst AmexExpense is a useful benefit, it won't be the sole reason most people take out the American Express Business Gold Card and American Express Business Platinum Cards.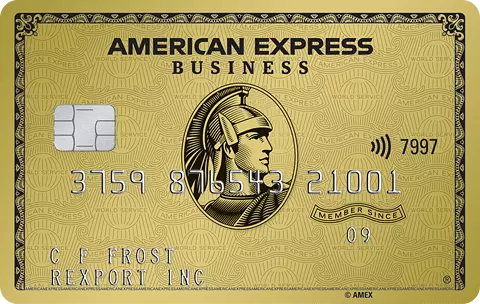 Both Cards come with attractive sign-up bonuses.
Currently you'll receive 20,000 American Express Membership Rewards® points when you spend £3,000 within three months with the American Express Business Gold Card.
The American Express Business Platinum Card offers an even higher sign up bonus – there's a limited time offer until 16th November: 60,000 Membership Rewards points when you spend £8,000 within 90 days.
Whilst the American Express Business Platinum Card does have a higher annual fee (£650), it also comes with a number of travel benefits, including two Priority Pass cards, elite status in four major hotel loyalty programmes and a newly introduced £200 annual credit to spend with Amex Travel.
You can see the full list of benefits for the American Express Business Gold Card here and the American Express Business Platinum Card here.
Why use AmexExpense?
If you are a small business owner, AmexExpense is well worth trying, particularly if you are already using one of the connected accountancy software packages. It's free to use and very quick to set up and should save employees and finance teams considerable time and paperwork.
The fact that AmexExpense has unlimited users means it can be utilised by a range of companies, from a Head for Points-sized staff of three to a sizeable SME.
With the much-discussed cost of living crisis, employees are going to want and need their expenses paid swiftly and AmexExpense could support in streamlining the expenses process.
If you'd like to apply for the American Express Business Gold Card, please click here or for the American Express Business Platinum Card click here.