Is American Express Platinum worth the £450 fee?
Links on Head for Points may pay us an affiliate commission. A list of partners is here.
(EDIT, February 2015: There is a full review of the American Express Platinum card on the site – please click here to read it. As a Head for Points reader, you can receive a higher sign-up bonus of 35,000 Membership Rewards points, compared to the standard 30,000 points! Full details are in the review.)
Yesterday I wrote a post, triggered by our current holiday, on the best credit card to use to pay our hotel bill.
Today I am writing about a similar dilemma, also triggered in part by the holiday – is my American Express Platinum card worth the £450 fee?
It is important to say upfront that there is no wrong or right answer to that question. It depends on your circumstances – for a lot of people, even the idea of paying £450 a year for a card is crazy. The fee was £300 until July, when it was bumped up by 50%. And, uniquely, Amex actually reduced the benefits instead of improving them!
My first renewal at £450 is due in February. Let me explain my thought process about the various benefits and how I value them.
The official Amex Platinum web page which covers the card and summarises some of the benefits is here.
Special hotel offers
I am starting here as I am currently spending 8 nights in the Jumeirah Zabeel Saray hotel in Dubai, booked on an exclusive Amex 'stay 4, pay 3' (or 'stay 8, pay 6' in our case) deal. This offer was unique to Amex Platinum and Centurion cardholders. The two free nights are worth £1,000, and we also get free breakfast which is worth at least £500 between us over 8 nights (and there is nowhere else to go for brekky – we are out at the very tip of The Palm!).
Since I booked, a 15% discount code has appeared which I could have used instead. However, the hotel had actually raised its prices for this week by the time that code appeared, so the Amex package we booked would still have been considerably cheaper.
Travel insurance
This used to be gold-plated. Since July, it is far from it. An age limit of 70 (not an issue for us), strict issues around pre-existing conditions (not an issue for us) and a requirement you pay for your flights and hotel on an Amex (is an issue). However, we can work around these issues and it saves at least £150 annually for us.
Starwood Gold / Club Carlson Gold / Accor Platinum / Hertz and Avis status
Minimal value to me. I will do 1 six-night Starwood stay next year where the Gold will provide some value – let's say £50, perhaps £300 over 6 nights if I get a decent upgrade. The others I got no value from this year, and I don't even use the car rental status. My wife does get some benefit from them on work trips – the holder of the main supplementary card can also have the hotel status cards.
(That said, I had to queue for 45 minutes in Avis in Cape Town in January which I would have avoided had I got Avis Preferred. This was the first time I was ever stuck in a really big rental queue.)
Fine Hotels & Resorts, Fine Dining, Taste of Platinum, Amex events
I went to the Berry Bros wine tasting night which I would value at £50. We also used Taste of Platinum to book a restaurant for us, which got us 2 free cocktails worth probably £25 – this saved real money as we had no aperifits otherwise.
I got 3 x £25 Harvey Nichols gift cards by using my Platinum card, my wifes supplementary card and my Mum's supplementary card (she has one to get free travel insurance) during the Foursquare promo this month.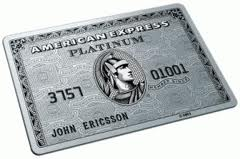 Access to Delta lounges / Priority Pass lounge access / Eurostar lounge access
I never use the Delta Air Lines benefit or the Priority Pass since I usually travel BA in business. My wife has had the odd Priority Pass usage via her job. Neither of us has used Eurostar this year although getting access to the London and Paris lounges is a real perk.
Free British Airways Premium Plus Amex
I am grandfathered this deal, which means I don't pay the £150 fee on my BA Amex. This is a £150 saving since I would definitely pay for the card if I had to.
So ….
Overall, I reckon Amex Platinum has got me around £1,500 of value this year – an excellent return on the £300 fee.
Of course, the main chunk of this was the saving on our holiday hotel this week. Next year, I will be spending £450 and getting back a lot less (unless we head back to the Middle East on the same deal as we are on next week). However, it will still be north of £450 of value.
For us, then, American Express Platinum still seems to make sense. For you the answer may be different.