Is it worth redeeming Avios on Japan Airlines? Trip report with photos.
Links on Head for Points may pay us an affiliate commission. A list of partners is here.
HFP reader Alan (@nitbix) recently published a review of his recent flight on Japan Airlines on his blog, A Small Geek in a Big World .  Japan Airlines is a oneworld alliance member and you can redeem your Avios points for flights with them.  Despite that, I have never written about them in detail, so I was pleased that Alan has allowed me to reproduce his review here.  Over to Alan ….
Japan Airlines has refurbished its long-haul economy class seating recently.  I had the chance to fly with them this month, on a return ticket booked Paris CDG to Tokyo Haneda (Tokyo's smaller airport) and back Tokyo Narita to Paris CDG.  On the return flight I would get to try the new Boeing 787-800 Dreamliner.
Let's have a look at the various features of JAL's service between Paris and Tokyo, which I think would probably be representative of the rest of their intercontinental offering. Some of the observations (e.g. the lounge), may not be applicable to some readers that do not have British Airways status or equivalent oneworld Emerald or Sapphire status.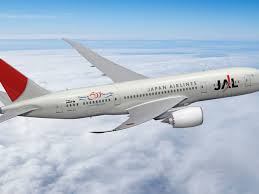 On the ground: departing Paris
JAL has a strange arrangement at Paris CDG, to say the least. Rather than being in the same terminal as the rest of oneworld (2A and 2C), they codeshare with Air France and are situated in terminal 2E.
This means that unless your oneworld status comes from JAL's own Mileage Bank program, or you have AirFrance status as well, you won't be allowed in the lounge. The good news is that if you have a Premium Economy ticket (where they operate a 3-or-more-class aircraft), the lounge is included in the ticket.
I was actually offered the upgrade to Premium Economy on the way out for just €250 – in hindsight this would have been a good bargain. I would advise that if you get the option you should take it.
On the ground: departing Tokyo
Departing from Narita was incredibly simple. Tokyo is a well organised city and getting to the airport was a breeze.  JAL has an impressive 2 bags per person allowance even for travellers in economy, and we definitely needed it given the amount of shopping.
The check-in attendants were incredibly polite and helpful, and they even wrapped up our umbrellas for us. They took the trouble to ask if we had bottles in the suitcases and marked them as fragile. There are separate security lanes, one exclusively for JAL status holders and First class travellers, and one for OneWorld status holders.
For the first time in my life, whilst going through a priority security lane, I had someone actually help me unpack and arrange my things in trays.
The seat
This is the new seat currently in service on JAL's 777 aircraft: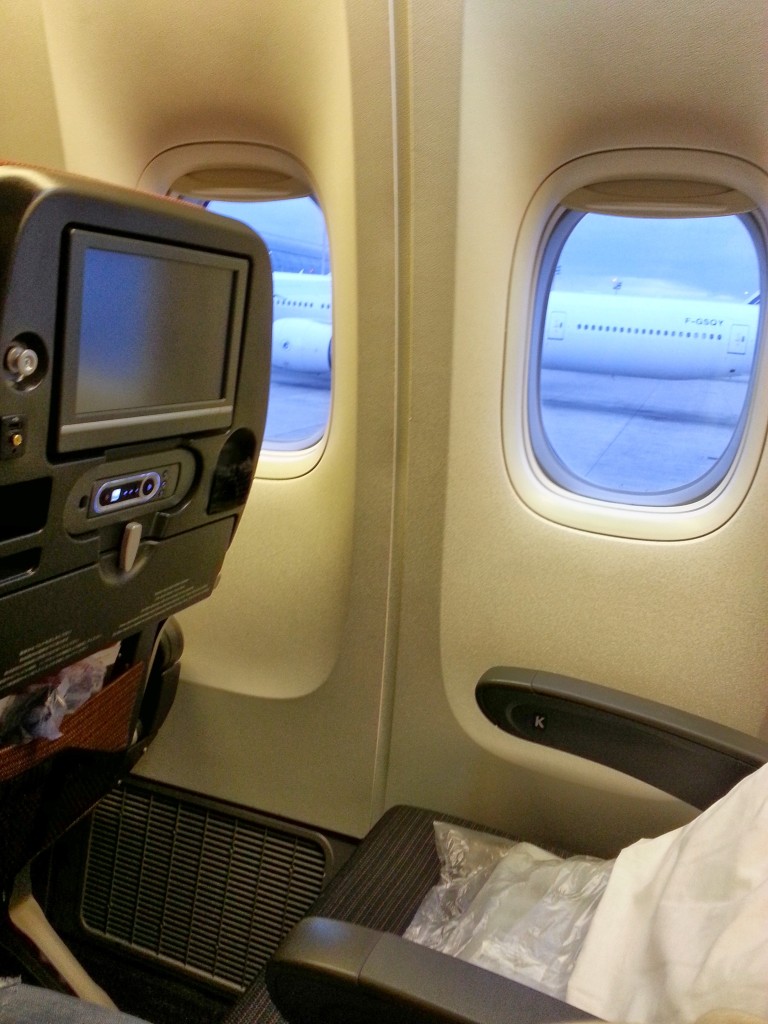 The renewed Japan Airlines economy seat has some very nice features, one of them being a USB connector (on the left side of the screen in the picture). The screen is about the size of an iPad, and it seems to have very good resolution and brightness/contrast. This is in stark contrast with what you get with BA and Virgin Atlantic, for example, which in many cases are just pitiful and I end up watching things on my laptop.
The meals
This was the first meal we were served (remember that this was an economy seat):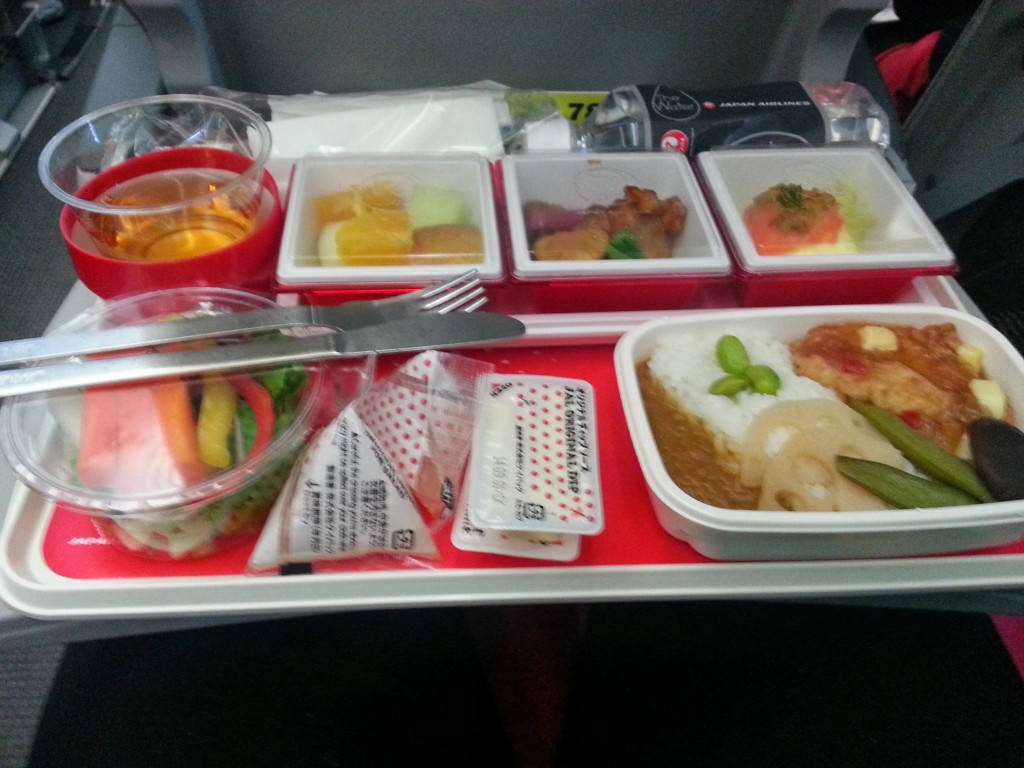 and this was the MOS burger kit we received as our 2nd meal on our return flight: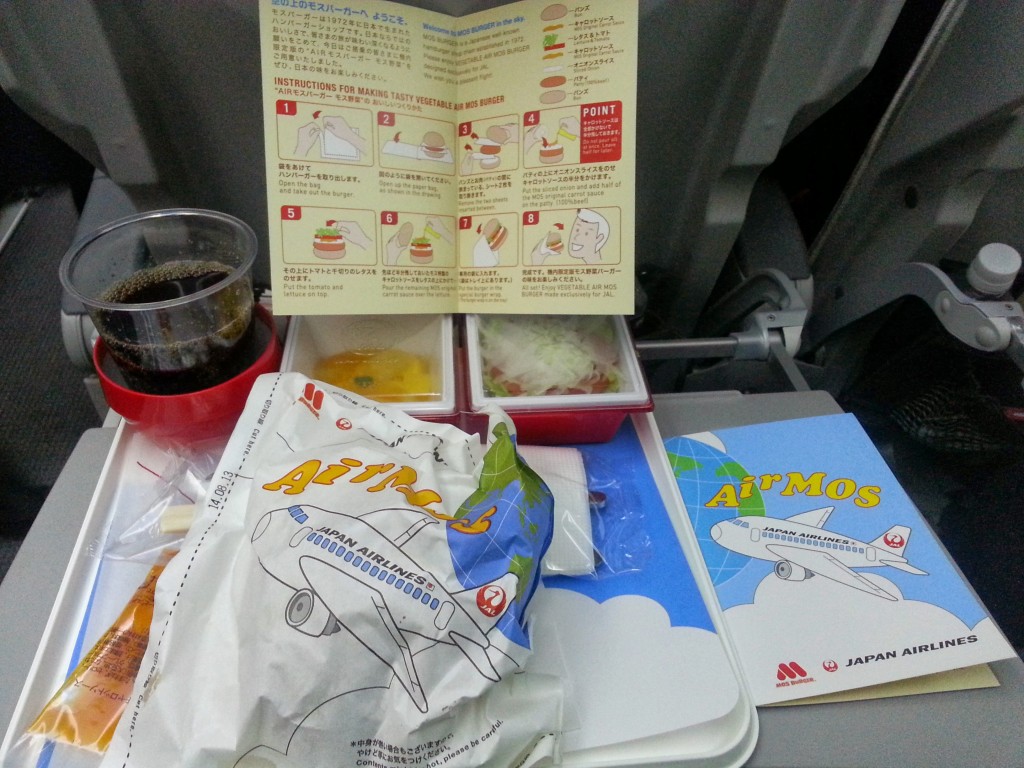 The meals were simply amazing.  Apart from the fact that on the return flight we were served two full meals and two snacks, Japan Airlines is the only airline that I know of that seem to make an effort by giving nice food with a Japanese twist, and plenty of small extras on the side.
Not to mention the metal cutlery, which is a refreshing change from what you get elsewhere nowadays.  Our second meal on the return flight was a build-it-yourself MOS burger (if you've been to Japan you know what I'm talking about), which was delicious and fun.  The only thing I can really say about the food (in-flight and in the lounge) is that I ate too much. But I always do that when I'm flying so I can't really fault JAL for it!
The service
There clearly are two separate levels of service, and not in the way you think of.  Japan-based JAL staff are way more courteous, polite, and helpful than the foreign ground-based ones. It is part of Japanese culture to be helpful and nice, and I think that shows in the training they receive. They also seemed to be incredibly polite and professional between themselves, and always had a smile on their face (I don't speak much Japanese, but I do understand enough to tell when someone is being direct, rude, or dismissive).
The lounge
While the slightly odd arrangement they have at Paris CDG meant I didn't get to see the Air France lounge, the Japan Airlines lounge in Narita is a very strong point in favour of JAL. This is a fully-fledged oneworld lounge so you can gain entrance with any oneworld status, so we used my Cathay Pacific Gold (thank you Amex!) to get in.
It is one of the best business class lounges in which I've been. The food was of very good quality and the drinks selection was excellent. Top that with excellent views of the airport, a free massage (was all booked while we were there though), excellent massage chairs, nap rooms, and some decent alcohol selection, and it sits up there with the best business class lounges.
Avios and Tier Points
Readers beware!  If you book a JAL discounted economy flight, you will end up with a 25% Avios earning rate based on miles flown, rather than the 100% of miles flown you would receive if you flew BA.
You still get the full Tier Points though.  It may be the case that if you book a BA codeshare you will get the full Avios as well, but I'm not sure about that.
None of this matters if you are booking a reward seat, of course.  It is worth remembering that, if you take the Paris service as I did, your taxes will be a lot lower because you will not pay long-haul UK Air Passenger Duty.
Final thoughts about the trip
It is hard for me to say anything bad about flying JAL in Economy.  They seem to have nailed most of the things that the other airlines get wrong: basic little touches here and there (like the USB port that I used to charge my phone), the extra baggage allowance, and the fact that you didn't feel like cattle at any point during the process.
Compared to the experience I had the following day combing back to London from Paris CDG (that's a completely different story that I'll cover in a future post on my blog), this was a great experience.
(Want to earn more Avios? Click here to see our latest articles on earning and spending your points and click here to see our list of current Avios promotions.)