Up to £15 of redspottedhanky train ticket vouchers with Fantasy Golf
Links on Head for Points may pay us an affiliate commission. A list of partners is here.
RedSpottedHanky, the online train booking website, has launched a 'Fantasy Golf' game on its website.  To celebrate the Ryder Cup, which tees off on September 26th, you can win a Samsung TV and various tablets by selecting the best performing golfers over the competition.
More importantly, though, every point you earn in the competition will be converted to 1p of RedSpottedHanky train travel vouchers, up to a maximum of £15.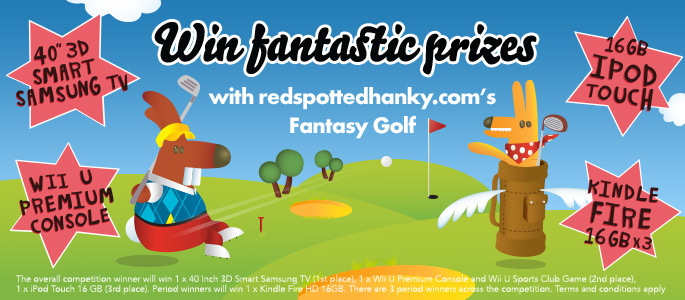 This is how it works.
Step 1: Visit the home page for this game and click on 'Register To Play'
Step 2: Register your details – if you have a RSH account already, make sure you use the same email address. If you don't have a RSH account, they will open one for you at the end of the game.
Step 3: Create a name for your team
Step 4: Go to 'My Team Page' to create your team. Under Team Options, decide whether to pick your own team or take a lucky dip. For each of the spots, click on 'No Player' and select someone from the list.  You also need to select a team captain who earns double points. Don't forget to hit 'Save' at the end.
Step 5: You're done!
I am not going to create a Head for Points mini-league this time around because it will be a very quick game.  The tournament only last for three days.
The scoring system is simplicity itself compared to previous Fantasy Sport games.  You put eight players into your team.  You earn 50 points if your player is on the winning team and LOSE 50 points if your player is on the losing team at the end of the tournament.  You earn an additional 50 points for every 0.5 of a match each player wins.
You will receive two transfers per day which will allow you to swap out players who are not due to play on a particular day (assuming that is how it works!).
Given the scoring system, you probably want to ensure that – on the final day – your team is all-EU or all-USA.  If all 8 of your players are on the winning team you earn £4 whilst, if your team is half and half, you will not earn anything as the +50 points and -50 points awards will net off to zero.
I need to spend a bit of time fully getting my head around how the game works.  It does not start for another 17 days so you have plenty of time to work it out.