Win one of many, many prizes by sharing your Heathrow story
Links on Head for Points may pay us an affiliate commission. A list of partners is here.
This year is the 70th anniversary of Heathrow Airport in its various passenger airport guises.  To celebrate, the airport is running a competition throughout the summer to encourage you to submit your 'Heathrow story'.
I initially dismissed this when I first saw it advertised, mainly because I assumed the winners would need to produce nauseous stories of how they met their significant other when they ran into them whilst storming out of the Terminal 1 Servisair lounge in disgust.  However, comments on HfP from harry last week persuaded me to take another look.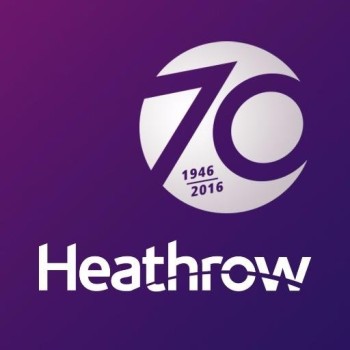 (No offence meant if you did meet your SO in the Terminal 1 Servisair lounge.  I met my wife on a flight from Dublin to Luton.)
The competition runs for 14 weeks but is split into seven two-week periods.  There are roughly 1,000 prizes on offer for every two week period.
It is fair to say that the majority of these are low value prizes (notebooks and luggage tags) but at the top end it is much better.
We are currently in Period 3 which ends on 12th July.  The four top prizes in this period are four pairs of economy tickets to Sydney, albeit on fixed dates in 2017.
You can resubmit your story for the next fortnightly competition if it doesn't win.  To be honest, I'm not sure they will get anywhere near 1,000 entries every fortnight so your odds of getting something are good.
A couple of key rules jumped out.  First, you cannot submit a photograph if you haven't got the consent of people in it.  This means that, even if you did meet Jamie Cullum in a Heathrow lift and he later recognised you when you met him at one of his concerts (as happened to my wife a few months ago) you can't enter a photo of it as you don't have Jamie's permission.
Secondly, your story needs to score highly on the following criteria:
Quality of story;
How the story shows personal progression/ development as a result of your Heathrow experience;
If the story includes Heathrow as catalyst for change; and
How heart-warming their story is
Of course, if they don't get 1,000 entries in any fortnight, your story of how you got food poisoning in the lounge and spent your flight locked in the loo will still get you a prize!  (If Cairo Airport ever runs a similar competition, I'll be submitting that story.)
Do let us know if you win.  I am pretty sure that HfP readers will scoop up a fair percentage of the prizes in the current period.