I review Europe's last great sleeper train, from Stockholm to Kiruna in Lapland
Links on Head for Points may pay us an affiliate commission. A list of partners is here.
Happy Easter!  As today will be a quiet day on the site I thought I would share a few highlights from our 15 hour train ride last week from Stockholm to Kiruna in (Swedish) Lapland.
Just before we set off I saw a magazine article which called this the greatest sleeper train trip in Europe.  If that is the case, it is more a case of 'last man standing' than anything else.
How you feel about sleeper trains will depend on your age.  If you are 40+ then you probably have some experience of taking sleeper trains around Europe.  I still have vivid memories of travelling to Berlin and Prague like this – waking up to find myself in Berlin in 1990, in the middle of a snowfall, when the wall had just come down, was a magical experience.
Those days have gone.  Deutsche Bahn was the biggest operator and it stopped its sleeper services in 2016.  Austrian Railways picked up some of the slack, buying and refurbishing some of the DB rolling stock, but the budget airlines had already changed the market for ever.
I am guessing that most HfP readers under 30 have never seen, yet alone been on, a European sleeper train.  They are probably struggling to think of a good reason why they would want to share a compartment with five strangers for the night for the same, or more, money as a flight.
Click on any of the pictures to enlarge slightly.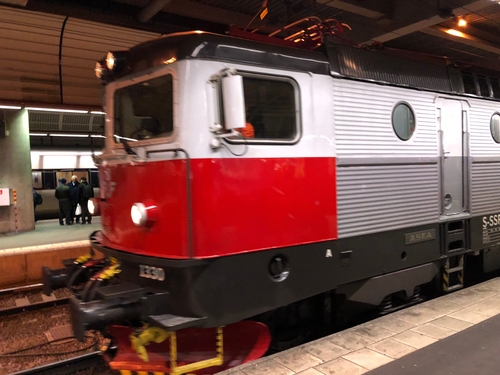 Let's start with the facts.  The Lapland train leaves Stockholm Central at 18.10 and arrives in Kiruna at 09.24.  It carries on to Narvik in Norway.
We chose to fly to Stockholm the night before, getting the evening BA flight and then the Arlanda Express train into the centre.  This was my first experience of the 'longer route' Club Europe catering since it was redesigned and I was genuinely impressed – well done BA.
We stayed at the Radisson Blu Royal Viking which is attached to Central Station, but which has very small rooms.  The state of the 'refurbished' Business Rooms make me worry how bad the unrefurbished standard rooms would be.  Instead, I recommend the brand new Scandic Continental next door which is where we stayed when we returned to Stockholm five days later, cancelling a 2nd Royal Viking reservation.  I will do an article on the Scandic Friends loyalty scheme in a few days.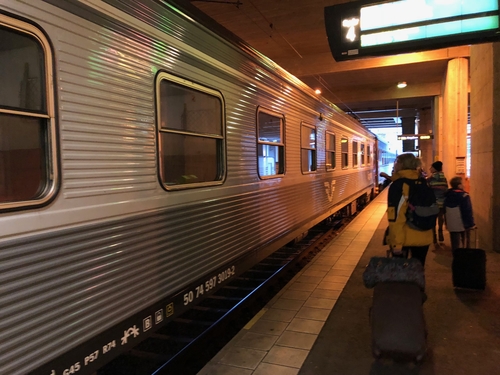 Next day, we left our luggage at the Royal Viking and went off exploring in Stockholm.  Early evening we collected our cases and did the 10 second walk back into the station.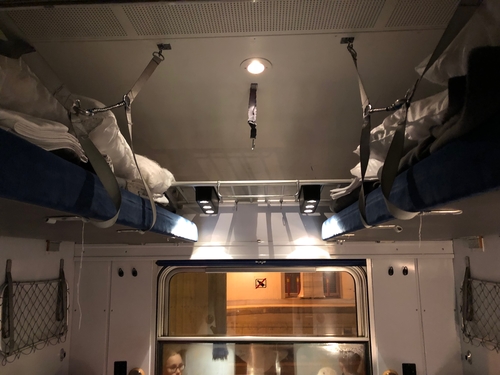 Cabins are 6-berth but anyone booking four or more seats gets a private compartment.  We paid 3,445 SEK (£295) for the four of us.  Bedding is provided but no food, except for six cartons of water.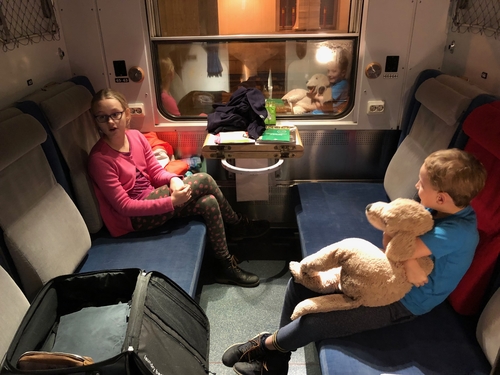 Let me explain how this works.  The two top beds can be seen in the top picture.  The back of the seats flips up, creating the middle bed.  This leaves the base of the seating to provide the lower bed.
A ladder is available if you use the top bunk, which we didn't.  There are straps to secure the occupant of the middle bunk: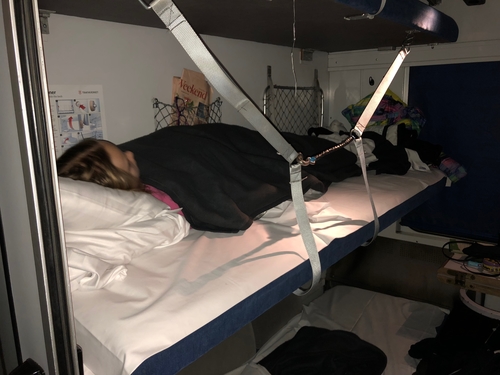 This reminded me, 100%, of the sleeper trains I used in the early 1990's.  And not in a good way.  The rolling stock did not seem 30 years old but nothing has changed in terms of design.  My wife and I each managed about three hours sleep at best, although the kids were out like a light.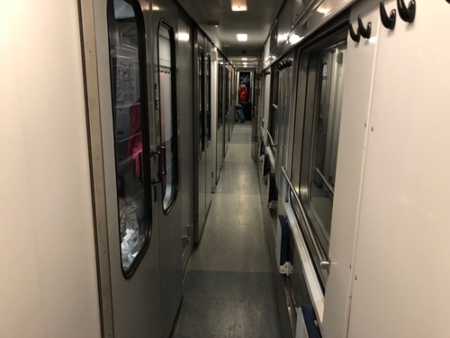 Food is via the restaurant car.  Oddly, this was swapped over during the night.  Totally swapped over – the old restaurant car was removed and a replacement, with a different layout, installed in its place!  This was a bit of a surprise in the morning.
The food offering was very average indeed.  The photo below makes the selection look better than it was.  The buffet and the train as a whole was not 'English friendly' – even the leaflet in the cabin was entirely in Swedish apart from a line saying 'Ask the crew if you speak English and need to know anything'.  This is very unusual for Sweden.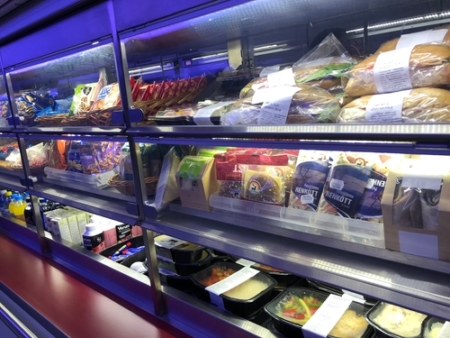 Here's the seating in the 2nd (morning) restaurant car: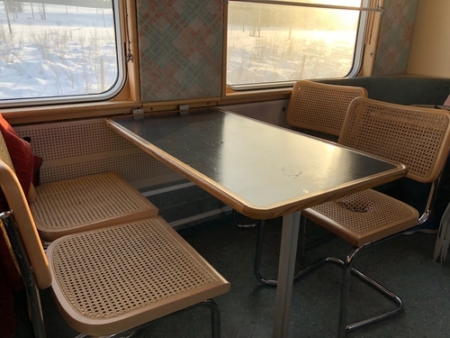 Whilst 15 hours is a very long time to spend on the train, especially when you only manage about three hours sleep, it passed fairly quickly.  This was mainly because the kids did go to sleep so we had to turn the lights out and couldn't do much except lay down and wonder why we couldn't sleep ….
It was a shame that London had been unusually cold and snowy in the previous weeks.  When we planned this it was on the basis that the kids would like to experience winter …. but we'd all had enough of that in London!
I'm not going to review our hotel in Kiruna, Camp Ripan, but do let me know if you have any specific questions.  You are substantially north of the Arctic Circle here and it is a base for anyone looking for a wide range of winter activities.
What you don't see from the pictures is that it is very much on the edge of the town – not remote – and overlooked by five very high apartment blocks!  On the upside, it means you can walk into Kiruna's town centre in 10 minutes.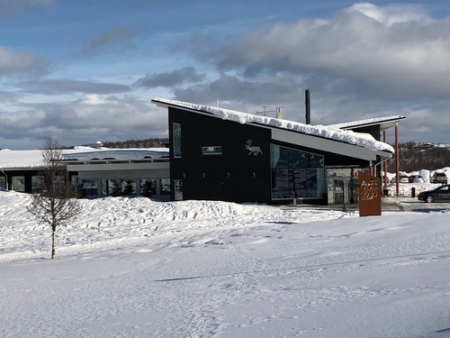 This was our 'hut' as we called it (memories of Auf Wiedersehen Pet!) which was about £200 per night including breakfast.  It slept four with bunk beds in a separate bedroom for the kids.  Food, except breakfast, was unbelievably good – you really don't expect high end cuisine at a place like this.
Lots of outdoor activities can be booked – we did husky sleigh riding on a frozen late (short video on our Instagram channel) and snow shoe walking.  I wrote about our visit to the Icehotel here.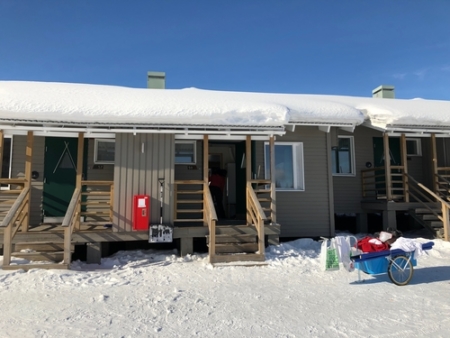 Having left the arrangements for this trip to my wife, I knew nothing about Kiruna.  It is a fascinating place.  The biggest underground iron ore mine in the world is in Kiruna and tours are available.  It dominates the town.
More importantly, it is destroying the town.  Much of the centre is collapsing and most of it is being moved 3km down the road.  The first buildings of the new city are starting to emerge.  Historic buildings will be lifted up and moved and large chunks of housing will be demolished.  Camp Ripan is safe but it, and the adjacent housing blocks, will be 3km and not 300m from the high street in 15 years.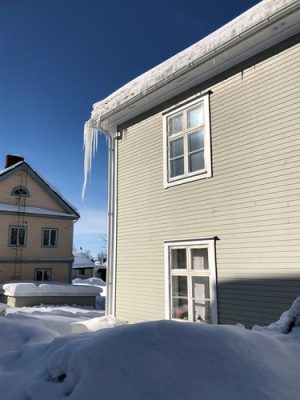 After four nights at Camp Ripan we headed back to Stockholm ….. by plane.  Kiruna has its own airport with a grand total of three flights per day, served by SAS and, in season, Norwegian.
The Norwegian one-way flight back was the same price as the train up, but took 13 hours less.   Norwegian did a decent job – brand new Boeing 737-8, what felt like decent leg room, comfortable (for 80 minutes) Recaro slimline seating, cheap (by Swedish standards) food and drink and the new design 'extra deep' luggage bins which worked well.  No luxury but no complaints.