Get your HfP Christmas Party tickets at noon today and noon tomorrow
Links on Head for Points may pay us an affiliate commission. A list of partners is here.
As we announced on Wednesday, we are pleased to say that we are holding our third Head for Points reader Christmas party on Tuesday 11th December.
We are taking over the The Glasshouse room at the Holiday Inn Camden Lock from 6.30pm to 8.30pm+.  This is situated just a few minutes walk from Camden Town, Camden Road and Chalk Farm tube and National Rail stations.
(EDIT: the first batch of tickets went in under a minute.  Well done to those who got one – hopefully some of you who missed out will be successful tomorrow.  Looking at the click numbers into Eventbrite it seems clear that we could sell out something even bigger.  We will look at this again before the Summer event, especially as large venues are easier to secure in June.  Rob)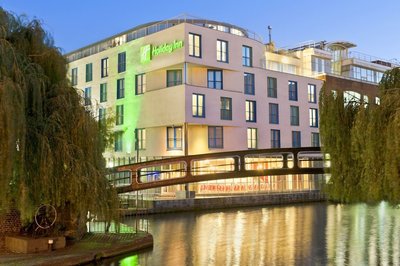 The Glasshouse is a very light and airy space which worked well for our Summer party as you can see here: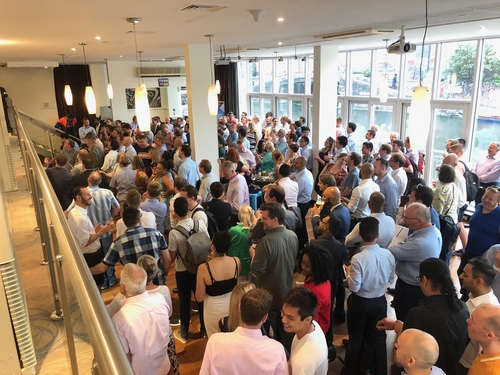 We now have the first batch of raffle prizes to announce
Our traditional Christmas party raffle is already building up a nice head of steam.  Here are the prizes we had secured by 5pm last night, and more will be announced before the event:
Heathrow Rewards – FOUR prizes of 10,000 Heathrow Rewards points, convertible into a £100 shopping voucher or 10,000 Avios or other airline miles
REAL Transfers – return Mercedes transfer to Heathrow, Gatwick or London City from within the M25 or if outside the M25 £100 credit to use on trips either starting within the M25 or ending within the M25
ANA (All Nippon Airways) – exact prize to be confirmed!
Etihad Airways – TWO prizes of a pair of tickets to a Manchester City home game (choice of six games in the current season)
Alan Boswell Insurance – 5,000 Avios
Malaysia Airlines – exact prize to be confirmed!
Flybe – 2 return tickets from a London airport on a route of your choice
Eurostar – 1,000 Club Eurostar points
Enterprise Rent–A-Car – exact prize to be confirmed!
Escape Yachting – a lunch or dinner cruise on the Solent
World's Best Martini Challenge Party – two tickets
Cross Border Financial Planning – £100 travel voucher
Send My Bag – £100 voucher
Crowne Plaza Heathrow Terminal 4 – a free night voucher
Thank you to everyone who has offered a prize – we really appreciate it.  There should be more prizes added to the list during next week – Anika and Rhys are turning the screws on our industry friends at this very moment.
All attendees will receive one raffle ticket.  It is not possible to buy extra tickets and they are not available to non-attendees.
For clarity, only ticket holders who are in the room when the raffle is drawn at 7.45pm will be eligible to win.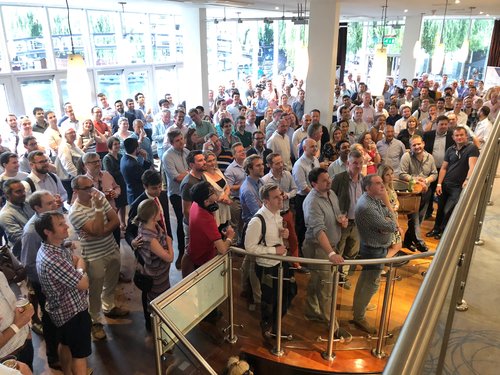 Back to the party details ….
The event runs from 6.30pm to 8.30pm.
A full cash bar will be available at standard Camden prices, so £5ish for a beer.
We are still trying to finalise a sponsorship package which would get you your first drink free.  However, you should assume when you buy your ticket that this won't happen. But it might.
The hotel will keep the bar open beyond 8.30pm if there is demand, and of course you have no shortage of other interesting places to eat and drink afterwards around the market and the wider Camden / Chalk Farm / Primrose Hill area.
How do I get my ticket?
Because we need to ensure that people who ask for tickets turn up, we are charging £10 per ticket.  This price includes VAT and covers our ticketing fees, venue costs and the hotel security fee (we are obliged to hire two security guards!).
We are selling the tickets in two parts:
The first 125 tickets will be sold at noon today (Friday)
The second 125 tickets will be sold at noon tomorrow (Saturday)
We are using Eventbrite again.  Eventbrite has an excellent mobile app, so even if you are not behind a computer at noon you should still be able to purchase.  Set up an account with your credit card data before you head out.
Click here for the tickets released at noon on Friday
Click here for the tickets released at noon on Saturday
You can buy up to two tickets per person but please don't be nervous about coming on your own.  Frequent flyers are a friendly bunch and always happy to share details of their recent trips and miles-earning tips.
I apologise in advance if you can't get a ticket due to demand.  We are hoping to make future events even bigger in order to fit in more readers.
American Express is accepted by Eventbrite 🙂
We look forward to seeing you on the 11th December.