Heathrow now has genuinely super-fast free wi-fi
Links on Head for Points may pay us an affiliate commission. A list of partners is here.
Heathrow Airport has just announced a brand new super-fast free wi-fi service.
I know what you're thinking ….. fast wi-fi, blah, blah, usual marketing spiel. Except …
I was in Heathrow on Tuesday morning on my way to Aircraft Interiors Expo in Hamburg, so I thought I would try it out. The results were pretty shocking.
This is what I got on my iPhone on the upper level of Terminal 5, just outside the British Airways Galleries North lounge: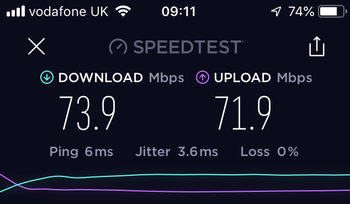 Yes, 74 Mbps download speed. Even more amazingly, 72 Mbps upload speed.
I thought I would give it a tougher test, so I went downstairs to the lower level to the most concentrated area of seating around gate A10. Even here, it hardly flinched: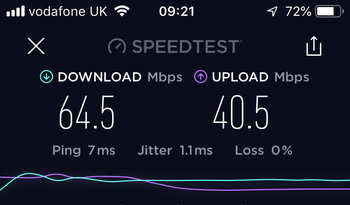 As I was heading towards the Galleries First lounge, I tried it again on the lower level by the escalators, next to Smythson and Fortnum & Mason: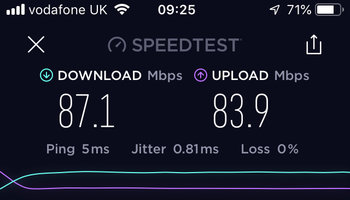 This was the best of lot – over 80 Mbps for both uploading and downloading. This is very impressive, to put it mildly. It is very close to the 'up to 100 Mbps' figure which Heathrow is quoting in its press release.
For those who understand how this stuff works:
"The new service uses Passpoint2 technology to deliver a next generation, secure Wi-Fi experience and will enable travellers to seamlessly roam between Wi-Fi and cellular for a better-connected experience. Investments have been made to upgrade the wireless network across the airport, ensuring bandwidth capacity, and Boingo has installed two new high-speed internet links at the airport as part of the service overhaul."
All credit to Heathrow for getting this up and running – let's hope a few more UK airports follow suit.