Join us for an exclusive Head for Points private dinner in Soho
Links on Head for Points may pay us an affiliate commission. A list of partners is here.
If you came to our Summer party in July you should have received a survey with questions on how we did and what you would like to see HfP doing in the future.
One of the key takeaways from the survey was that many of you are keen to attend more HfP events beyond the two large reception-style parties we do every year.  Now that I have joined Rob and Anika full time at HfP we have a bit more time to plan and organise additional events.
The good news is that we are running our first non-party event next month. It is a proof-of-concept event that we hope will be successful enough that we can run it on a semi-regular basis.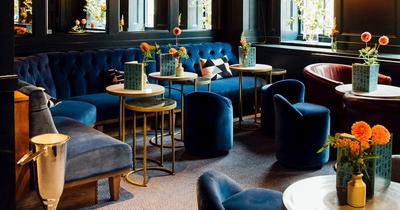 Rob and I will be hosting an exclusive private dinner at the well-known Quo Vadis restaurant in Soho on Thursday 10th October.  We have sole use of the Marx dining room at Quo Vadis which has a capacity for 24.  Unfortunately Anika will not be there as she is heavily pregnant.
The evening will begin with a drinks reception from 6pm in the Blue Room (see first picture above).  At 7pm we move to the Marx room for dinner.  The event will finish around 10pm.
Here is the menu:
Starter, choice of
spinach, 'Graceburn' feta & celery salad
stracciatella, roast fennel & aubergine
Main course, choice of
herb crusted hake, parsley, olive, lemon & capers, new potatoes
loin of pork, borlotti beans & salsa verde seasonal greens
pasta with autumn vegetables, capers, garlic & herbs (veg & vegan)
Dessert, choice of
QV almond tart with Jersey cream & caramelised apples
seasonal sorbet
Tea & coffee
You will have a choice of red or white wine throughout.
The cost for this event is £65 per person, inclusive of VAT.  This covers everything – the drinks reception, the meal, wine with the meal and tea and coffee afterwards.
We are limiting places to one per person as this is a small event.  Let's be honest – if your partner is not well-versed in British Airways Executive Club, travel credit cards or hotel loyalty schemes they are unlikely to fully enjoy the evening.  It is also a little unfair to the person who is sat next to them.
We are swallowing a substantial loss on the evening – the cost per head is actually over £100 including the drinks reception.  However, once we are confident that the format 'works' we believe that we can persuade hotels, airlines, car hire groups and credit card companies to sponsor future events as a form of market research.
If Virgin Atlantic wants to treat 20 BAEC Gold card holders to dinner to learn what would make them switch, or Marriott Bonvoy wants to pick the brains of 20 top tier IHG Rewards Club members, we are in a great position to arrange that.
We hope it will be an enjoyable evening with the opportunity to chat to both Rob and myself as well as fellow guests.  During the meal we will be tabling a slightly more formal discussion of what you think of HfP as a whole – what works for you, what we could improve, what you would like to see in the future etc.
If you would like to join us, please register your interest by completing the form here before midnight on Sunday.  We will contact you next week for payment and menu choices.  In the event that the evening is oversubscribed we will randomly select attendees.  We look forward to seeing you.