SAVE THE DATE: Head for Points Winter Party, Monday 20th January
Links on Head for Points may pay us an affiliate commission. A list of partners is here.
Better late than never, we can finally announce the details of the 2019 (2020?!) Head for Points Winter Party.
Traditionally we have held a party in early December. This year we thought we'd shake it up. With Rob and I having had a busy Autumn and the relatively late Summer party in July we thought it would be sensible to push the party into the new year.  If we're honest, getting a 500-person venue in December on terms that made sense was also tricky.
It means that we all have something to look forward to during the January blues. Given the general hullabaloo of events in the run up to Christmas it also means it is less likely to clash with whatever else you have going on.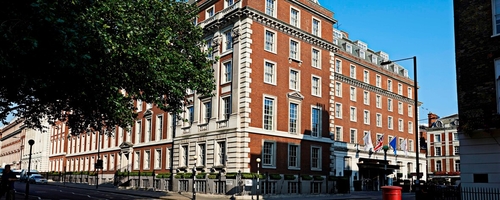 This year, we will be taking over the Westminster Ballroom at the Marriott Grosvenor Square. This is a larger space than the Renaissance, which got a little crowded with 500+ people during the raffle when everyone came inside.  The Westminster Ballroom should enable us to fit in 500 readers without it being a massive squeeze.
When is it happening?
Marriott Bonvoy is sponsoring the event again, for which we are very grateful.  This gets you one free drink on the night (beer, house wine or soft drink) after which a cash bar will be running.


The party will be from 6pm until 9pm on Monday 20th January. Because we need to ensure that people who ask for tickets turn up, we will be charging for tickets as usual.
Tickets will be £11 including VAT and will go on sale in early January.  This includes a £1 charitable donation which we will explain in the New Year.  There will be 500 tickets available and they will go quickly based on experience.
Your ticket will also get you an entry into our big raffle.
The raffle
We will, of course, be holding our famous Head for Points (post-) Christmas raffle.  This is a far bigger raffle than the prize draw we usually hold at the Summer parties.
We will confirm the prize list nearer the time, but you should expect around 20 prizes worth £50-£100+ each.  Last year we gave away airport transfers, a suit, a suitcase, frequent flyer miles, hotel points, train points, train tickets, a hotel stay, lounge passes ….. it really depends on what we can get together in the next month.  All of the companies that get free publicity on Head for Points throughout the year will be asked to contribute …..
We also be leaning on Marriott Bonvoy to twist the arms of a few hotels for some grand prizes.
We hope that you can come along to talk miles, points, credit cards and travel with other readers. Bring a friend or come by yourself – you won't struggle to find someone to share your stories with.  We will also be inviting many of our airline contacts if you want to chat about your travel plans, and of course the Marriott Bonvoy team will be around too.
Information on how to get a ticket will be published in early January, but please mark Monday 20th January in your diary now.  See you there.