A 100% purely speculative article about what may happen at Heathrow Terminal 5 soon ….
Links on Head for Points may pay us an affiliate commission. A list of partners is here.
You might not notice it, but we do have an editorial framework at HfP. Part of this is that we don't write about things which are only due to happen in 2-3+ years, because it isn't 'news you can use'.
That is why you very rarely see articles from us saying "xxxxx has agreed to open a hotel in yyyyy in 2023". Half of the hotels mentioned in these press releases never open anyway.
There have been a few announcement recently, however, which – whilst not necessarily important in themselves – point to a fundamental restructuring of how Heathrow Terminal 5 operates. As it's the weekend, I thought I would break our rule on speculation and see if I could pull the threads together.
It is totally possible that what I am about to sketch out does not happen, but you can create a story to fit the evidence so far.
Here are a few random statements of fact (well, No 5 is a rumour but it is a fact that there are rumours):
The recent news release on the BA lounge refurbishments says "We'll also be refreshing a number of lounges at Heathrow Terminal 5 this year". A 'refresh' means minimal expenditure, yet we know a lot of major work is being planned and indeed is required.
At New York JFK, British Airways is leaving Terminal 7 in 2022 to move into Terminal 8, which it will share with American Airlines
American Airlines has postponed plans to create a new Flagship lounge at Heathrow Terminal 3, even though they have opened in less important airports and even though a date had previously been announced
US Customs & Immigration pre-clearance continues to expand. Dublin, Shannon and Abu Dhabi already have it outside of North America / Caribbean and Sweden has a deal agreed. The CBP website states "Building upon the success of existing Preclearance operations, CBP intends to expand the program to new locations." Heathrow is already on a list of sites published in 2015 which the US considers technically suitable.
There are strong rumours from various BA sources of a British Airways lounge being built at Heathrow Terminal 5C. Without other changes, it seems an odd use of money given more pressing lounge projects.
Terminal 5C was built with provision for a mezzanine lounge like the one in 5B
Terminal 5A was built with provision for an additional BA lounge in the mezzanine area by Galleries South
Terminal 5C was originally meant to be the same length as 5B but was shortened post the 2008 financial crisis to save money once BA's growth projections were cut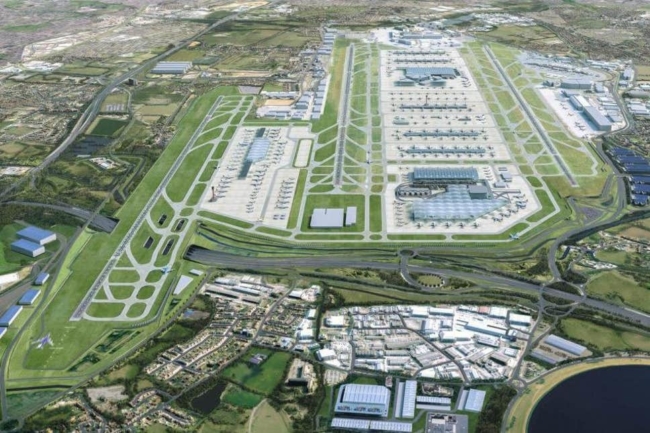 Can you pull all of these strands together? I think you can.
If you take all of these ideas and try to fit them into a single narrative, this is what you would get:
American Airlines will leave Heathrow Terminal 3 and move into Heathrow Terminal 5
This would be timed to coincide with British Airways moving out of New York JFK Terminal 7 and co-locating with American in Terminal 8 in 2022
BA and AA flights to the United States would exclusively use Heathrow Terminal 5C
Whilst potentially too small at present for all US flights, 5C would be easy to extend to its original planned dimensions
A US pre-clearance facility would be built in Terminal 5C
A British Airways lounge complex, to be jointly shared with American, would be built in 5C on a mezzanine
British Airways would move an equivalent number of services out of Terminal 5 and into Terminal 3. Historically these have been routes with few connecting passengers.
If the 5C lounge complex is built first, it would create additional capacity to allow British Airways to close each of the existing Heathrow lounges, sequentially, for 5-6 months which is how long a full refurbishment would take. During the closures, anyone flying from 5B or 5C could be blocked from using the remaining 5A lounge.
Alternatively, BA can extend into the 'reserved' lounge space in 5A and then have the capacity to close the existing lounges for 6 months
Is any of this actually going to happen? I don't know. There is enough noise going on, however, to suggest that something close to this will happen. It is, technically, all possible.