Coronavirus: Italy in full lockdown, Israel 14-days quarantine, Vietnam blocks UK passport holders
Links on Head for Points may pay us an affiliate commission. A list of partners is here.
There were three core travel-related coronavirus updates on Monday evening.
All of Italy has been placed under lockdown
The 'lockdown' in place in Northern Italy will be extended to the entire country on Tuesday morning.
It is not yet clear what the impact on travel will be.  It is very likely that the majority of flights from the UK to Italy will have to be suspended, as happened on Sunday evening to Milan and Venice.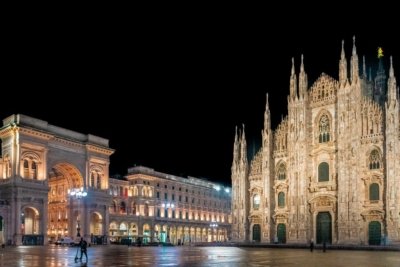 All visitors to Israel must undergo 14 days enforced quarantine
As was rumoured, the Israeli Government will make everyone wishing to enter the country – from any destination – undergo 14 days quarantine.
If you cannot prove on arrival that you have arranged to spend 14 days in quarantine in a private house, you will not be allowed entry.
It is not clear at this point if all flights will be suspended although it seems likely.  It is possible, for example, that the aircraft could fly down with the return crew onboard.  Regulations forbid the same crew from returning immediately due to the length of the flight.
As of 10pm on Monday, Virgin Atlantic is still showing Tel Aviv flights as departing but is not selling any tickets.  British Airways was still selling tickets.
Here is the Foreign Office guidance:
On 9 March 2020 Prime Minister Netanyahu announced that all arrivals entering Israel from overseas would be subject to home quarantine measures for 14 days on public health grounds, this decision will be reviewed in 14 days. We understand that visitors who are unable to demonstrate they can undertake the home quarantine measures will be refused entry in to Israel. We recommend checking Israel's Ministry of Health website for updated information.
Vietnam bans UK passport holders from entering the country without a visa
Vietnam has suspended visa-free travel for UK passport holders.
The ban also applies to citizens of Germany, France, Spain, Denmark, Norway, Finland and Sweden.
Passport holders from all of the eight countries will no longer qualify for the 'visa waiver' programme which allows a stay of up to 15 days.  Bans on travellers from South Korea and Italy are already in place.
Anyone with flight tickets to Vietnam will now need to apply for a visa (e-visa is not acceptable) via the Embassy in Kensington.  It is not clear under what circumstances a visa would be granted to a UK passport holder as it is impossible to guarantee you will be free of coronavirus on the day you fly.
British Airways does not fly to Vietnam, with Vietnam Airlines offering the only direct flights.
Here is the official Foreign Office wording – this was issued on Sunday before the imposition of the ban on Monday:
The Vietnamese authorities are implementing extensive steps to mitigate the risks of infection, including health screening at airports and land borders. People showing signs of respiratory illness on arrival in Vietnam, those who have travelled from an area with confirmed cases or those that have come in to contact with people who have tested positive for coronavirus can expect to be checked and potentially quarantined. Anyone confirmed as having coronavirus, including foreigners, can expect to be quarantined for a minimum of 14 days. You should comply with any additional screening measures put in place by the local authorities.
The Vietnamese authorities have also announced travel restrictions and quarantine requirements:
On 8 March, the Vietnamese Government announced plans to suspend the visa waiver programme for UK and other European nationals. This change could be implemented at very short notice. British citizens planning to enter Vietnam on the visa waiver programme should check before travelling.
Anyone who has visited China, Iran, Italy or Daegu city and Gyeongsangbuk province in South Korea in the previous 14 days will be refused entry to Vietnam. The only exceptions will be people with specific agreement travelling on official government business.
Flights from South Korea are being diverted to alternative airports, some a considerable distance away from the scheduled place of entry in to Vietnam.
The Vietnamese government has recommended that citizens wear masks in public, and it has introduced special permits for anyone seeking to organise large public events.