Government to UK aviation industry: Drop Dead
Links on Head for Points may pay us an affiliate commission. A list of partners is here.
Following a number of days of talks with British Airways, Virgin Atlantic, easyJet and representatives from UK airports, the Government has refused to provide a package of financial support for the UK aviation sector.
According to reports, a letter was sent by the Chancellor of the Exchequer this afternoon which made it clear that there would be no industry-wide package of measures.
The Government did say, however, that it would be prepared to talk to airports or airlines "as a last resort" when they would otherwise need to appoint an administrator.  There would be no discussions until companies were at the brink and had exhausted all other options for raising finance.
The letter implies that any deal would involve the Government taking partial or full control of the airline or airport involved through the acquisition of newly issued shares and would not involve any Government loans.
Whether of not the Government chose to save any particular business would depend on:
"whether the business makes a material contribution to the economic activity of the UK, the importance of maintaining a thriving competitive aviation sector in the UK to deliver connectivity and the equitable and fair treatment across businesses in the sector"
Here is the full text (click to enlarge):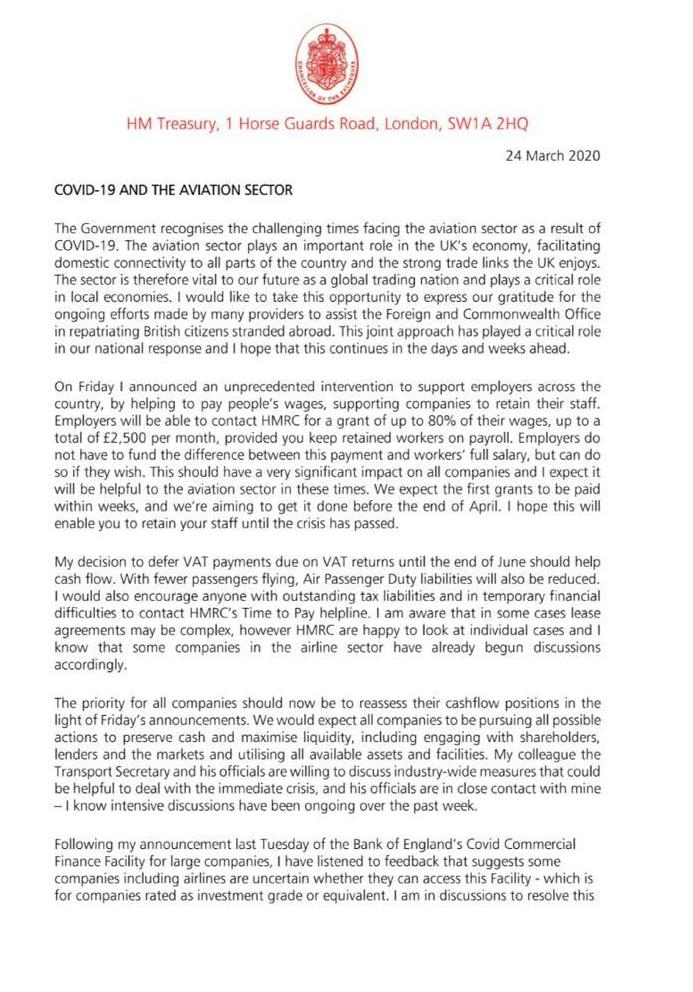 and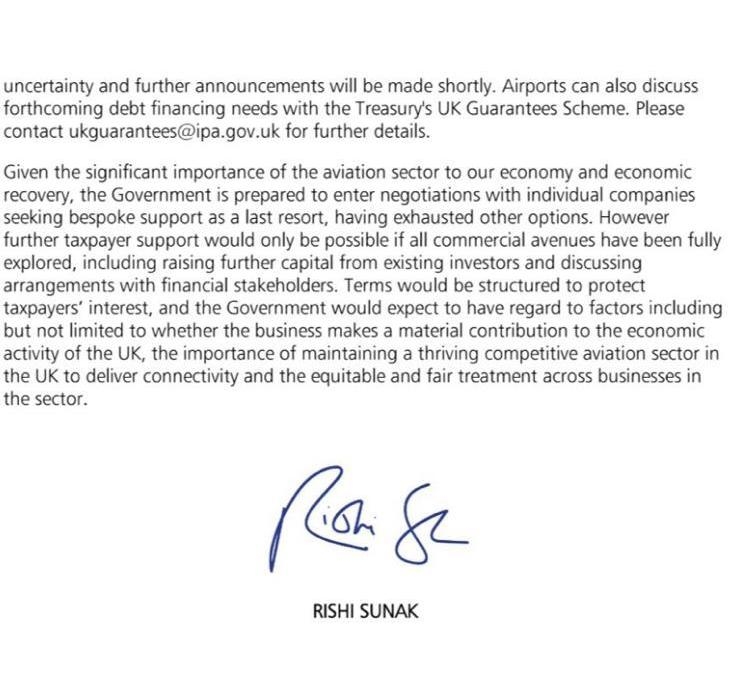 The reference to 'maintaining a thriving competitive aviation sector' looks like a signal to Virgin Atlantic that the Government is willing to take it over if required.  There had been some speculation that Virgin Atlantic could be sacrificed as long as British Airways was protected.
The Government stated that airlines and airports are already benefitting from the ability to reclaim up to £2,500 per month of the salary of furloughed workers.  There was also an implication that the Government may soon allow non-investment grade companies to access pots of state funding which may benefit the weaker players in the sector.
In terms of airports, Karen Dee, chief executive of the Airport Operators Association, said in a statement:
"After having publicly announced a support package for airports and airlines, we're surprised by where we find ourselves today. Our industry will now have to fight on its own to protect its workforce and its future"
In terms of 'what does this mean for me', I would say that in no circumstances now should you accept a credit voucher from British Airways, Virgin Atlantic or easyJet.  Insist on cash.  It is an unnecessary risk if you have an option.
Now that the Government had made it clear that no financial support will be available, it is unlikely that banks will be queuing up to provide loans to the sector.  The credit card companies are also unlikely to release the funds they are refusing to pass over for flights booked in the future.
In the case of IAG and easyJet, it would be virtually impossible for them to issue new shares in the market at this time – although both have enough reserves to keep going for 3-4 months.
The Sunday Times said last week that British Airways was losing €200m per week so, assuming IAG as a whole is losing €400m per week, their €9 billion of liquidity is good for another 3-4 months.
For more information on this, click this Google search link and visit the Financial Times story at the top.  Doing this gets you over the FT paywall.  The Sky News version is here.