SeatSpy 'officially' launches, adds premium tiers and availability searches for Air France and KLM
Links on Head for Points may pay us an affiliate commission. A list of partners is here.
Earlier this year SeatSpy launched as a new tool to search redemption flight availability on British Airways and Virgin Atlantic.
It is by far the easiest way of seeing Avios and Virgin Atlantic reward seats across an entire year without having to search for dates individually. It is the only service of its type with Virgin Atlantic availability since Reward Flight Finder lost access.
This HfP article looks at how SeatSpy works and what it can do for you. Membership is free so you can sign up and try it out without any charge.
When we originally wrote about SeatSpy it was still in a public beta, with all its features free to use. From today it is moving to a 'freemium' model with three tiers of benefits (click to enlarge):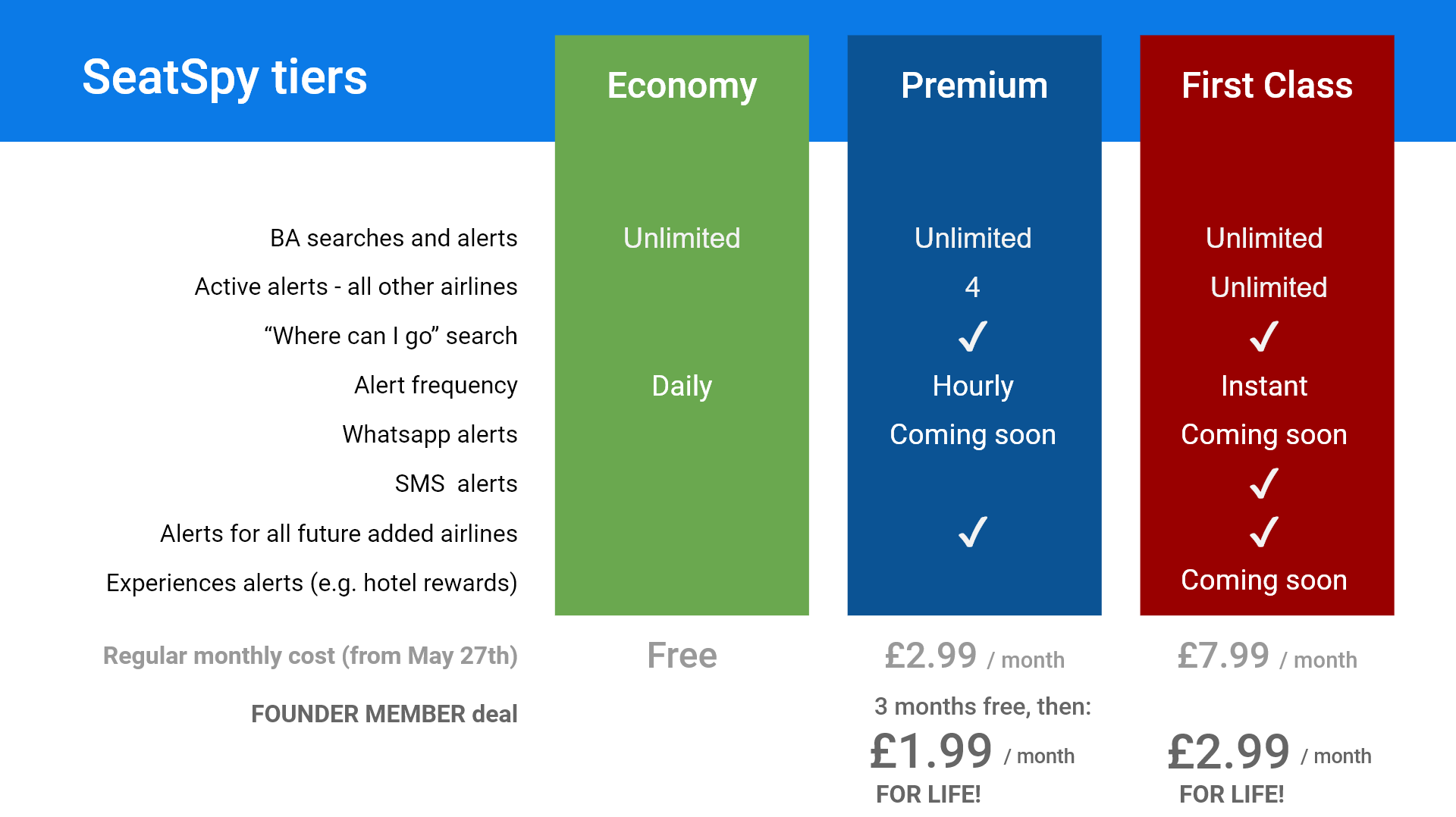 What are the new SeatSpy tiers?
Economy tier:
Importantly, basic functionality will remain free via the 'Economy' tier. This includes unlimited British Airways Avios searches and email alerts.
If BA data is all you want from SeatSpy, and you are happy with daily updates on availability, you can continue to pay nothing.
Access to Virgin Atlantic and other airlines is restricted, however. You can search freely but cannot set alerts. If your focus is on Virgin Atlantic availability, you will need to upgrade if you want email alerts.
You may also want to upgrade if you want faster notification of changes to British Airways Avios availability.
Premium tier:
The 'Premium' tier gets you THREE MONTHS FREE and is then £1.99 per month for life if you upgrade before 27th May. From 27th May the cost will be £2.99 per month.
For BA flyers, Premium will notify you within an hour if the seats you want have become available.
For other airlines including Virgin Atlantic, you can have up to four email alerts saved and will receive updates within an hour if seats open up.
First Class tier:
At the top end, a 'First Class' subscription at £7.99/month is reduced to £2.99/month if you upgrade before 27th May. The £2.99 monthly fee is guaranteed for life.
'First Class' members get IMMEDIATE notification of changes to reward availability on routes where they have set alerts. This puts you ahead of 'Premium' members (hourly alerts) and free members (daily alerts).
You can also have unlimited alerts on other airlines and – coming soon – alerts when availability opens up for new events with Marriott Moments, Hilton Auctions etc.
As a Virgin Flying Club member may be searching for availability across Virgin Atlantic or Air France or KLM, a First Class subscription may make more sense as the four active alerts allowed as a Premium member will soon be used up.
You can see the tiers on the SeatSpy website here.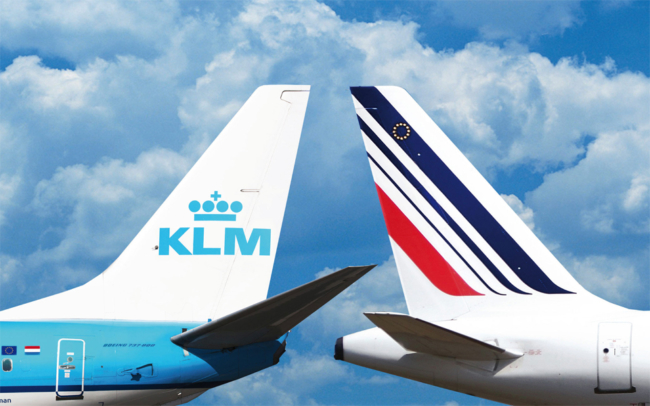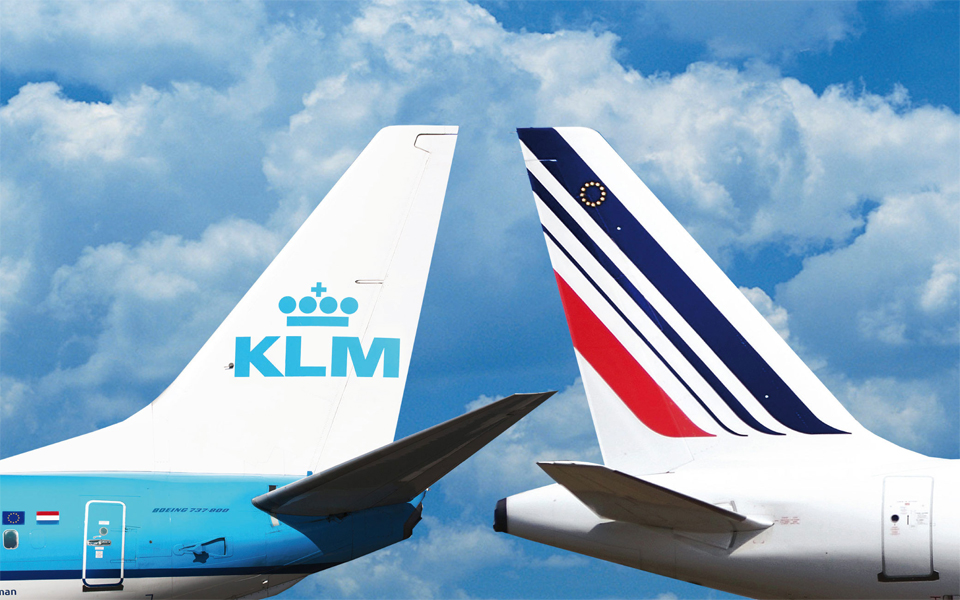 Air France and KLM availability added
As we aluded to above, in the last few weeks SeatSpy has also added the ability to search for reward availability on Air France and KLM. There are future plans to further expand the number of airlines on offer.
Air France and KLM availability is especially useful now that you can use your Virgin Atlantic Flying Club miles to book their redemptions. To do so you must select Air France or KLM – not Virgin – as your search term. You do not see Air France or KLM availability if you select a search for Virgin Atlantic.
It is worth noting that you may not be able to book all Air France and KLM redemptions using Virgin Atlantic miles. Air France, for example, restricts redemption availability of its first class La Premiere product to its own frequent flyers. Even other SkyTeam alliance members are not given the access, let alone partners such as Virgin Atlantic.
WhatsApp alerts coming soon
Another feature coming soon will be WhatsApp alerts. Whilst SeatSpy has traditionally offered email alerts on saved searches, with text message alerts for top tier users, the option to switch to WhatsApp alerts should mean you get a headstart on finding and booking popular routes.
As I mentioned above, SeatSpy is implementing hourly and instant alerts for paid members. These are particularly useful during sale periods such as when British Airways dumped a significant number of Avios seats in February. We had a lot of comments from people who saw availability on SeatSpy via their daily email updates but found that the seats had already been snapped up by the time they got to booking.
Conclusion
The addition of Air France and KLM as well as other new features makes SeatSpy of interest to a broader group of people beyond just core BA flyers. If you have reward balances across numerous airlines then the paid tiers will be attractive, although for many people the free British Airways search and alerts will be enough.
In some ways, it comes down to your personal travel patterns. If you are tied to specific peak travel dates, such as school holidays or over Christmas and New Year, the benefit of early notifications via a premium tier membership will be valuable. Similarly, any hard core Virgin Atlantic, Air France or KLM member will want to pay for the First Class tier in order to get beyond four active alerts.
On the other hand, if you don't have kids and your searches tend to be more general – 'alert me if any Cape Town seats appear during November' – then the daily alerts on the free tier may be enough.
You can see more about the new pricing tiers on the SeatSpy website here. You can still sign up for the free tier if that is all you're interested in – and you have a month to decide if you want to lock in the special deal on the paid tiers.