New 'App in the Air' features makes post-Corona travel easier – and a free offer for healthcare staff
Links on Head for Points may pay us an affiliate commission. A list of partners is here.
This article has been sponsored by App in the Air
With some countries easing their travel restrictions, others not letting anyone in, flights increasing in some places and holiday cancellations in others there are currently a lot of questions when it comes to travel post-Corona.
'Where can I go?', 'Do I have to quarantine?', 'What health declaration forms do I have to fill out?', and 'What are the cancellation policies of various airlines?' are just a few of the questions that App in the Air will help answer with two newly released features.
If you haven't heard of App in the Air and you are a frequent traveller, you might want to check out the app before you plan your next trip.
App in the Air describes itself as an all-in-one personal travel assistant app for frequent fliers. You can find it on the App Store, on Google Play and in the Galaxy Store. The app is also fully compatible with Apple Watch. Its 5.5 million users can consolidate all flight plans, documentation and travel information in one place and benefit from real time status updates when on the go.
Over 1,000 airlines globally are supported, along with detailed information on 5,000 airports.
App in the Air can also track your loyalty points balances. Let it know your account details and it will regularly update your balances in most major airline, hotel and car rental programmes.

How App in the Air helps you navigate post-Corona travels
According to App in the Air founder and CEO Bayram Annakov, knowing what to expect before leaving for the airport will make air travel better not only for frequent fliers but for the airlines, airports and destinations serving them:
"Predictability and preparation, from knowing what is needed ahead of the trip such as: the necessity of a completed health declaration form, to understanding specific airline cancellation policies, will help fliers returning to the skies have better experiences. Knowledge means choice. Our new tools will help app users understand the travel situation as it is and make real-time decisions based on their comfort levels."
Here are the new features:
Country-to-Country Travel Restrictions Guide
App in the Air has created a landing page where users can get airline or country specific travel information. This works on desktop as well as on the mobile app and users do not have to be Premium subscribers to access this information.
Simply enter the departure and arrival country to check their policies.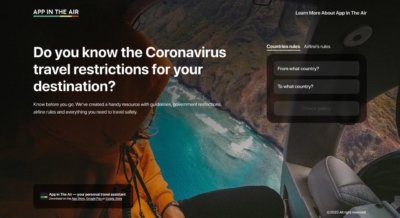 Here is an example for travel between the UK and Spain (click to enlarge, note that these rules might have changed since this article was written):
Here are the British Airways travel guidelines (again, click to enlarge and note that rules could have changed):
The website is updated regularly with official updates including government restrictions, airline and airport rules as well as everything else you need to travel safely. It is recommended to monitor the website in the days leading up to your flight.
On & off the ground intelligence
A further feature is user-sourced information sharing which will help keep on top of last minute changes like lounge or shop closures. It also helps reassure travellers by providing feedback about airlines, airports and letting others know what to expect when travelling during these special times.
This feature is also complimentary for all app users.

How to get the app
App in the Air is available on the App Store, on Google Play and in the Galaxy Store. There is a free version and a Premium version with a number of features to make your life as a traveller even easier.
The basic version let's you
store your history of flights – they are displayed on a map with detailed statistics
display your accumulated miles from various loyalty programmes
collect badges from locations you have visited
get compensation for flight delays
In addition the two new post-Corona features are also included in the free version.
For an annual subscription fee of £29.49 you can get further useful features with the Premium version:
Augmented Reality Luggage Measurement – Scan your bag with your phone and it will tell you if it is compliant.
Queue Busting – Track real-time updates from crowdsourced information on airport security wait times throughout any airport. You can also track your boarding and landing times, receive real-time updates for delays and wait times for check-in. (The app works offline, with gate changes and flight status updates available by SMS which requires no data roaming.)
Airport Information – Find reviews for each airport and aircraft, some of which will let you know which terminals to avoid, which check-in counters are the quickest, the wifi status (JFK is always spotty) – even where to get the best pre-flight beer or where to charge your phone.
Connect with other frequent flyers – With over 5.5 million users, and 20 million tracked itineraries, App in the Air's network is brimming with interesting business travellers, often travelling alone and at times looking for conversation or networking opportunities. The app's 'Nearby' feature prompts users with friendly conversation starters ("let's grab a coffee?") and allows you to see nearby flyers' occupations, travel stats, and their position on the app's top traveller leader board.
If you don't want to commit to an annual subscription just yet, you can test the Premium version of the app 14 days for free.
Free lifetime subscription for healthcare staff
If you are a healthcare worker, you can get Premium for free! To promote these new features and the (gradual!) resumption of air travel, App in the Air will provide healthcare staff with a free lifetime premium subscription to the service.
Healthcare workers can download the app and then upload their medical identification here for verification to get their account upgraded, for free, for life.
User privacy is very important to App in the Air. While there is an option to connect email to sync your trips, you can opt out at any time. We also provide several alternative ways to sync your trips: adding them manually, via TripIt or emailing myflight@appintheair.mobi