Reader story: what's it like doing two weeks enforced hotel quarantine in Australia?
Links on Head for Points may pay us an affiliate commission. A list of partners is here.
This week a long-standing HfP reader got in touch to share his family's fascinating experience of flying to Australia and subsequently spending two weeks in quarantine.
Being effectively locked into an aparthotel for two weeks is, clearly, not something that most people will ever experience and we thought it would make an interesting article. Let's jump in: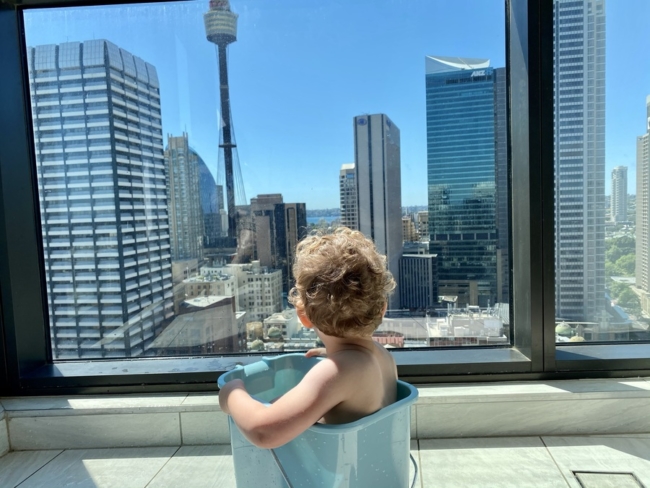 "With a toddler and a pregnant wife in tow, we decided to move to Melbourne for my (Australian) wife's upcoming maternity leave to avoid a new baby arriving in the height of the British winter during COVID.
For those not aware, Australia is one of the strictest countries when it comes to dealing with coronavirus. Entry is currently permitted to citizens, permanent residents and immediate family members and there is a controversial cap of 4,000 people per week entering the country.
This 4,000 seats per week figure is divided amongst various cities. Getting a seat can be a challenge with no new tickets available for sale until mid-December.
At present, Sydney is taking in 400 people a day, meaning planes are flying with between 30 and 50 passengers depending on the number of arrivals.
When we booked the caps weren't in place, and we originally booked to fly from London to Melbourne, taking advantage of Qatar's 'book with confidence' policy. This let us pay for flights from a UK airport to the cheapest Asian destination we could find and then re-route using Qatar's exceptionally generous re-routing policy.
Booking our flights this way saw us paying around 1/3rd of the standard business class fare to Melbourne – but this was something that later gave us cause for concern.
When Australia introduced passenger caps in mid July it also closed Melbourne Airport, so we had to rebook to Sydney in order to enter the country.
A month or so before departure, we started reading about people being bumped from flights at the last minute due to the caps. At this point I started checking the seat maps for our flight on ExpertFlyer on a near daily basis.
The seat map in business barely changed, but economy at one point went from around 40 seats to 12.
This extra layer of nervousness saw us arrive earlier than normal at Heathrow on the day of departure, where everything was more or less as normal for us. As a British passport holder with a partner visa for Australia, Qatar Airways did some extra checks on my passport but other than that, it was a normal check-in, albeit with 130kg of baggage!
With Qatar Airways departing from Terminal 5, one of the unexpected perks of being a business class passenger was being invited to the BA Galleries First lounge rather than the expected Galleries Club, where we enjoyed a nice breakfast delivered to our seats.
The flight
There were eight passengers in total in Business Class on our flight to Doha. My son and I enjoyed the centre Q-Suite which was ideal for travelling with a toddler due to being able to have him very close by.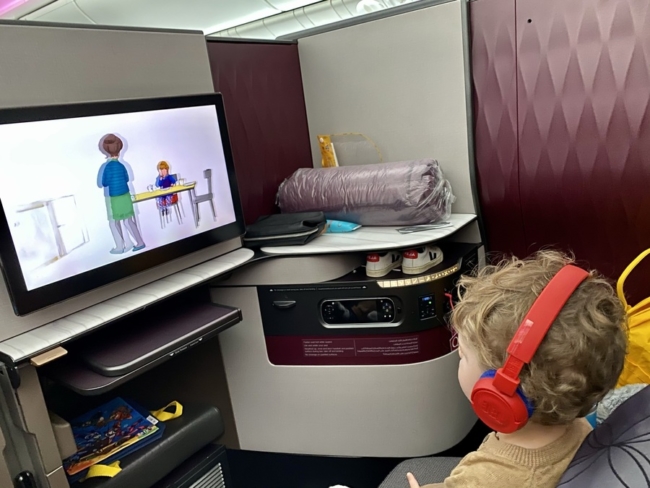 He quickly worked out how to slide the door to the suite open, to join his Mummy who had deliberately been booked in a rear-facing window seat to rest and enjoy some peace and quiet.
The service on Qatar Airways (and the centre seats) put British Airways First Class to shame. We enjoyed a proper menu with hot food to eat when we wanted.
Hamad Airport in Doha was quiet and the vast lounge seemed to have almost as many staff keen to greet and direct us as customers. There was more than enough space for a two year old to run and explore without causing too much disturbance.
Close to arrival in Sydney on the second flight, the crew optimistically gave out fast-track immigration cards alongside the Australia custom forms – not much use when you have 30 passengers on a Boeing 777-300.
Arriving in Sydney
Arriving in Sydney it was clear that things have changed.
Firstly, Australian health officials came on board to hand out paperwork outlining the quarantine process. We were then screened by nurses, had our temperatures taken and questioned on any potential COVID symptoms. We then went through immigration and collected our bags.
After clearing customs, we were directed to another part of the baggage hall where two border force officials were waiting with a list of all passengers.
Ahead of us we saw individual chairs for people to wait but after ticking us off the list, we were asked to go straight outside to where three coaches were waiting.
The officials manning the desk couldn't have been nicer or more helpful, with one leaving the desk to help us with the second baggage trolley.
We were escorted outside to find police and army officials and a couple of soldiers unloaded our bags onto the bus. We waited for all 30 passengers from our flight to make it through. Passengers were split between two buses, with families on one and singles / couples on another.
Given that we had a boisterous two year old with us, we did plenty of running up and down alongside the buses to wave to the police and army guarding each end of the parking area and looking at the police motorbikes waiting to escort our buses.
The journey to an unknown destination in the city began with a police motorbike following each bus.
Some 30 minutes in, we pulled up at the Meriton Suites on Sussex Street, a serviced apartment hotel opened in the summer of 2019. A policeman came onto the bus to explain the procedures and read out the rules of quarantine (executive summary – you don't leave your apartment for two weeks).
Two families were invited ahead of us to leave the bus and check-in and after that, we were called off the bus. Check-in was handled by the hotel, after which there was a second check-in with the police, including presentation of boarding passes for contact tracing from the flight.
Walking into the hotel, the lobby had police, army and private security people there. We had to identify our baggage, all of which was put straight onto a cart to go to our room.
Once check-in was complete, we were handed a brown paper bag with that evening's dinner and a soldier escorted us to our room.
We were initially given a one-bed suite, and the cot supplied by the hotel was dumped in the middle of the living area as it was too big for the bedroom.
For us, this was not how we could envisage spending two weeks with a two year old boy full of energy. We appealed to the hotel and police for a larger room.
The next morning, we were told that a two bed apartment was available, and we could move there with the caveat that we would have to pay a cleaning fee (around £130) for the apartment we had spent our first night in. This was a no brainer for us and we were moved at lunchtime.
Our quarantine since has been spent in a two bed apartment on the 31st floor which was nearly as big as the London flat we'd left. It has a balcony, full kitchen, washing machine, two bathrooms and (most importantly) some space!
Being high up, feeling removed from the world, made the quarantine experience psychologically easier than being on say the second or third floor. You feel like an observer rather than a participant in the world.
How to stay sane during a 14 day quarantine….with a toddler
How do you pass time when you've got a toddler to keep busy? We brought a suitcase of toys, stickers, a tricycle and plenty of books and (against our preference for entertainment) the iPad.
We've been creative, spending time looking at helicopters in the distance; boats in Darling harbour; trams below us; cranes on the buildings and adjusting to a slower pace.
The laundry bucket has been turned into bath / paddling pool on the balcony and plenty of water play has helped pass time. On top of that, lots of music has been played on the Bluetooth speaker in the living room with dancing and singing.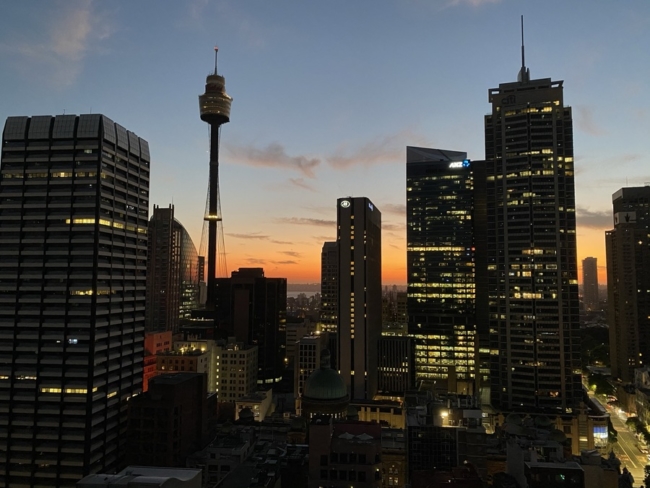 Exercise was also important and every afternoon (post toddler nap time) we'd blast an upbeat playlist from Spotify, set the timer for 45 minutes and create a circuit around the apartment, out onto the balcony and back. Cartons of UHT milk became 1kg weights for arm curls; star jumps were done on the balcony and my son and I did plenty of high-knees.
We'd typically walk around 3.5km around the flat in 45 minutes and according to my Apple Watch, I've walked over 100km in 13 days around the apartment.
Day two saw our first contact with humans since arrival with a COVID test to tickle your brain cells (it really was that far up the nose!) with a second test on day ten. Between those days, we had zero contact with other humans save for a man abseiling down the building next to our balcony!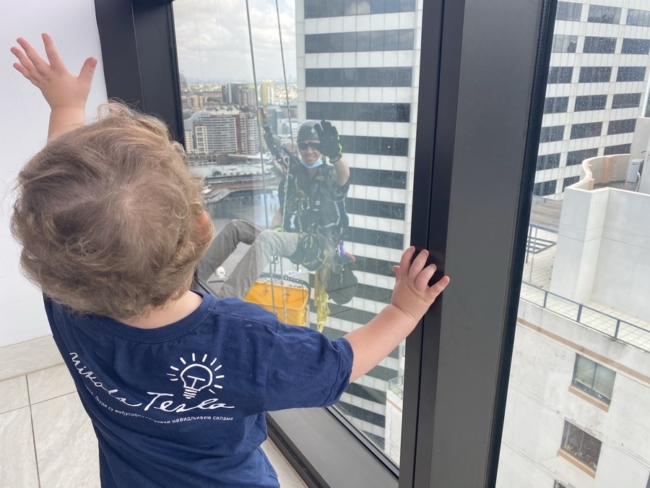 We get daily phone calls from the nurses listing off about ten different potential symptoms of COVID – you can feel them asking the questions so keenly actually wanting someone to say they have a symptom so they have something to do! My response once or twice has been 'sorry to disappoint but we're all fine thanks!'.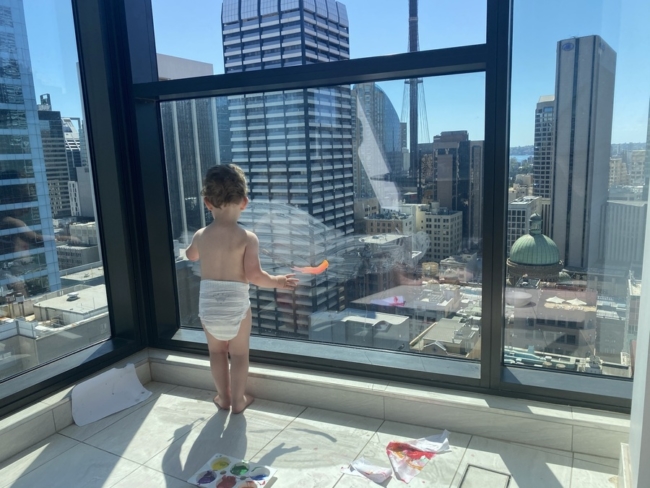 We've had plenty of Facetime with friends in London and Melbourne, grandparents in the UK and Australia and family members which has been a godsend in keeping us connected with the world outside.
Food wise, three meals a day of questionable quality and nutritional value are delivered to our door. Thankfully, having a kitchen enabled us to quickly do an online supermarket shop and we made our own breakfasts and quite a few dinners plus the odd Uber Eats delivery.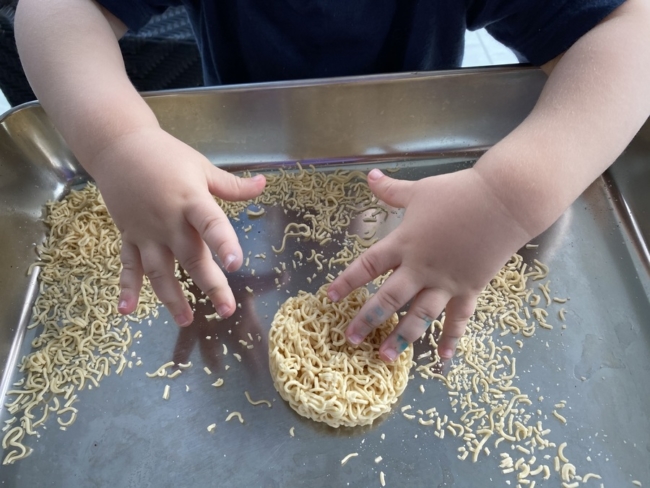 Lunches were the most tasty of the delivered meals and we probably enjoyed half of the delivered lunches.
We were very lucky to have a friend who is a chef in Sydney and she has dropped over a few special meals for us, making the whole experience that bit nicer.
Following our negative results from our day 10 COVID test, we were visited on day 13 for discharge procedures. Alongside a nurse to take our temperatures, a doctor accompanied by someone from the army gave us wrist bands for the following day and paperwork declaring us to be COVID free having completed the quarantine period.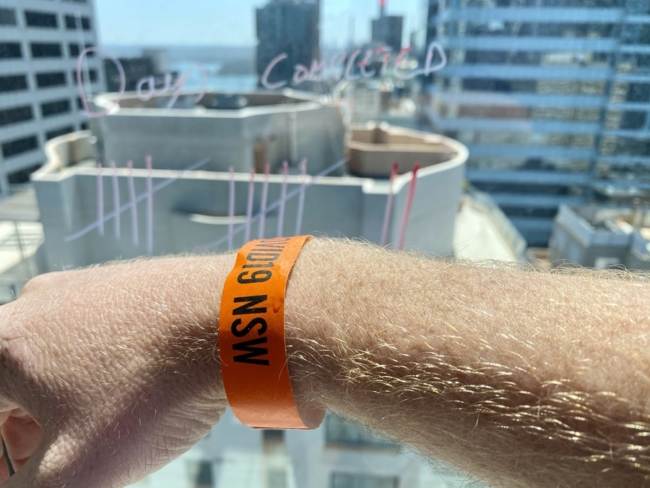 There are two departure slots. For those with flights arriving into Australia between midnight and noon, you can leave the hotel between 4am and 10am and for those with afternoon / evening flight arrivals, departure is between 4 and 6pm.
At 4pm on the day of departure, someone from the hotel arrived with the baggage cart, our bags were loaded up and we flashed our wristbands at the security person on the floor and down in the lift we went! After a quick check-out with the police at the hotel, showing our documentation, we were free to step out into a relatively normal Sydney.
It has not been the easiest two weeks, but the experience has certainly been far easier and less stressful than envisaged. All the staff we've encountered from the hotel staff to doctors, nurses, police and army have been kind, understanding and helpful.
Whilst our preference would of course not be to quarantine in this way, the benefits of a very low rate of infection in Australia (particularly when compared to the UK) make it worth it for all."