BA and Virgin celebrate US re-opening with a historic parallel take-off – and I'm on board!
Links on Head for Points may pay us an affiliate commission. A list of partners is here.
Today, Monday 8th November, is the first day in 601 days that the United States is open to visitors and tourists flying from the UK.
The re-opening has taken longer than expected – several industry pundits predicted it would happen much sooner alongside the G7 Summit in Cornwall in June – but it is better late than never.
It feels like things have finally come full circle. I (Rhys) was on holiday in Australia when Donald Trump announced the travel ban. I managed to piece together our article on my phone during an eight hour drive to Byron Bay (I was a passenger ….) so that it could run the following morning. I don't think anyone was expecting the ban to last for over 18 months.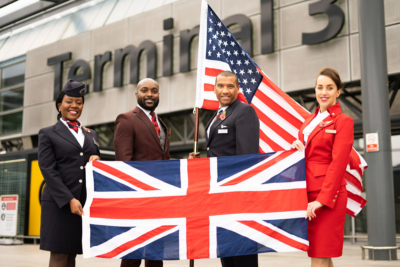 Record-breaking dual take-off
To mark the reopening both airlines have come together in a show of unity to stage a joint press trip which I will be on today. You can follow along with the celebrations on our Instagram page.
British Airways has brought back its BA1 flight designation, previously used for Concorde and the 'baby bus' all-business A318 flights from London City Airport, for this special occasion.
If the weather behaves, the celebrations will feature a unique synchronised dual take-off – the first of its kind for two commercial flights at Heathrow.
(You may remember something similar was originally planned for BA's Boeing 747 farewell. Poor weather conditions meant the occasion had to be postponed but the plans have been dusted off for the US re-opening.)
Both British Airways and Virgin Atlantic will fly their flagship A350-1000 aircraft with the latest business class seats. If you want to track the flights via FlightRadar or similar they are:
BA1, departing 8:30am from Heathrow's 27R runway
VS3, also departing 8:30am from Heathrow's 27L runway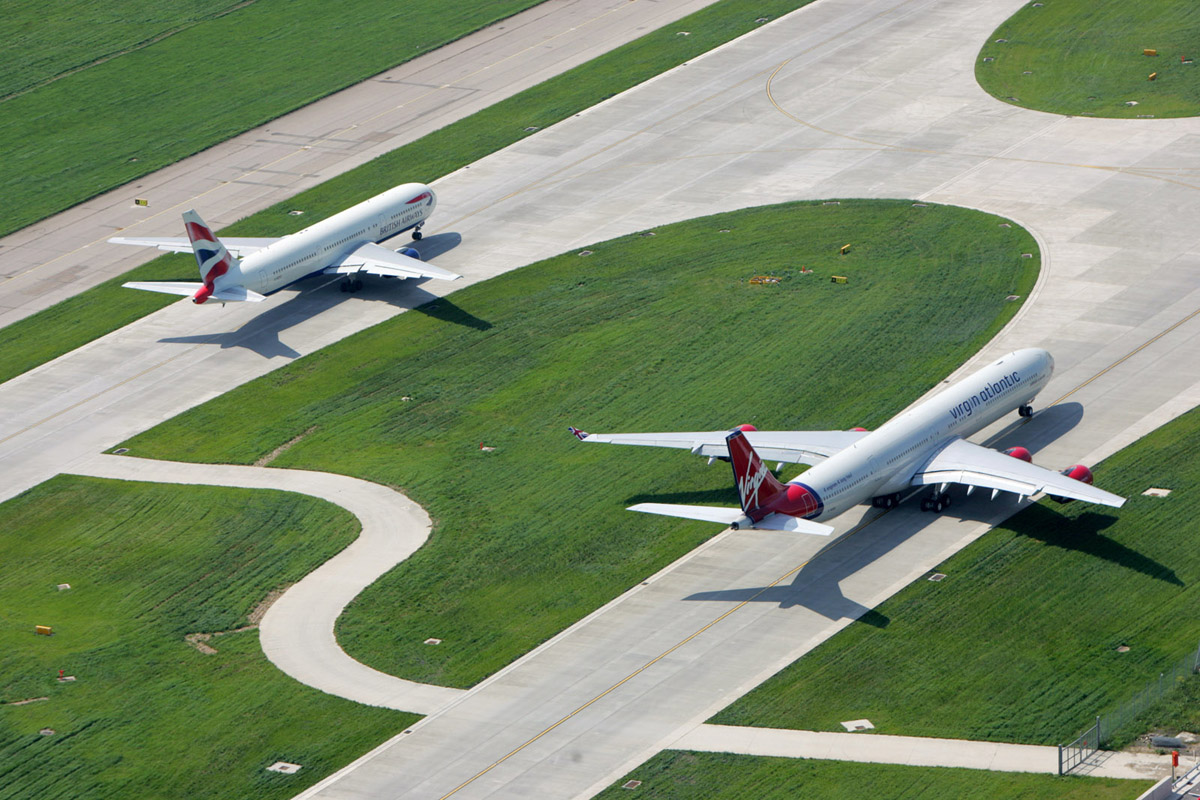 A synchronised take-off is a more complex affair than you might think, as Heathrow operations cannot be paused if there are any delays.
The flights will have to leave their stands on schedule and both BA and Virgin will have to liaise with Air Traffic Control to make sure they both arrive at their respective runways at the same moment, taking into account the different distances from terminal to runway and other aircraft movements.
Why is this so important?
The news of the reopening is especially important to both British Airways and Virgin Atlantic, both of whom make their bread and butter on transatlantic routes.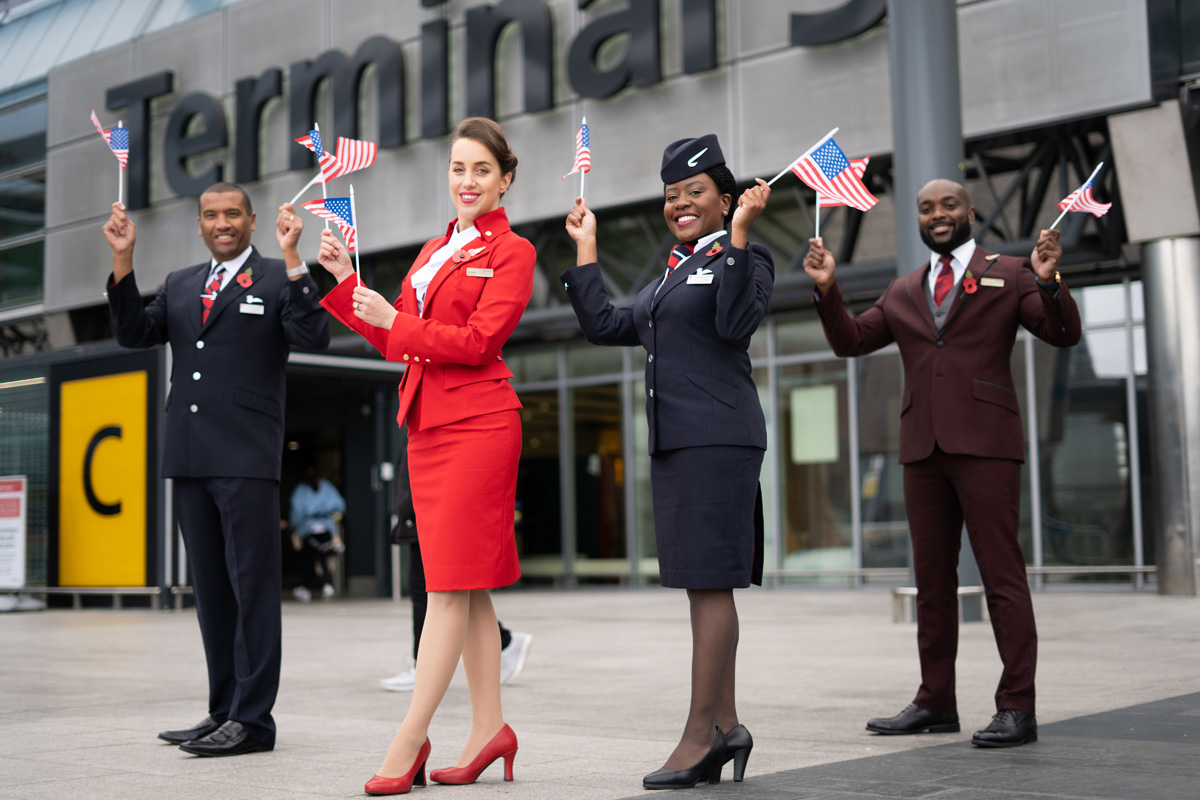 To give you a sense of just how important the reopening is, BA's London Heathrow – New York-JFK flights formed the only billion-dollar airline route in the world in 2019, according to OAG. There's a lot of money at stake.
Cirium tells us there is already a 21% increase in flights between the UK and US this month versus October. The number is likely to increase as both Virgin Atlantic and British Airways gradually re-instate their US route networks.
Sean Doyle, CEO of British Airways said:
"After more than 600 days of separation, today is our moment to celebrate the UK-US reopening. We're setting aside rivalry and for the first time ever, British Airways and Virgin Atlantic aircraft will be seen taking-off together to mark the vital importance of the transatlantic corridor"
Transatlantic connectivity is vital for the UK's economic recovery, which is why we've been calling for the safe reopening of the UK-US travel corridor for such a long time. We must now look forward with optimism, get trade and tourism back on track and allow friends and families to connect once again."
Whilst Shai Weiss, Sean's counterpart at Virgin Atlantic said:
"Today is a time for celebration, not rivalry. Together with British Airways we are delighted to mark today's important milestone, which finally allows consumers and businesses to book travel with confidence. The US has been our heartland for more than 37 years and we are simply not Virgin without the Atlantic. We've been steadily ramping up flying to destinations including Boston, New York, Orlando, Los Angeles and San Francisco, and we can't wait to fly our customers safely to their favourite US cities to reconnect with loved ones and colleagues.
"As the UK forges its recovery from the pandemic, the reopening of the transatlantic corridor and the lifting of Presidential Order 212F acknowledges the great progress both nations have made in rolling out successful vaccine programmes. The UK will now be able to strengthen ties with our most important economic partner, the US, through boosting trade and tourism. We are thankful to Prime Minister Johnson and the UK Government, the Biden administration and our industry partners for their support in removing these barriers and allowing free travel between our countries to resume."
Even Grant Shapps chimed in:
"This historic event marks a significant moment for the aviation sector. Transatlantic travel has long been at the heart of UK aviation and I'm delighted to see flights return in time for Thanksgiving and Christmas.
"Thanks to the work of industry and the US-UK Experts Working Group, these vitally important flight routes will help boost the economy, protect and create British jobs and through the work of the Jet Zero Council help to build back greener."
We will run a second article later today with photos and video from the event. Check back to HfP during the morning – we'll have official pictures from the two airlines along with my own personal shots (if the aircraft wi-fi is working …..).
Head for Points made a financial contribution to the Woodland Trust as part of this trip. The Woodland Trust creates and manages forests in the UK in accordance with the Woodland Carbon Code.