It's back! Earn up to 300,000 Avios with Nutmeg
Links on Head for Points may pay us an affiliate commission. A list of partners is here.
This is an advertisement for Nutmeg Saving and Investment Limited ("Nutmeg"). Nutmeg has agreed to pay the publisher an award for new clients acquired via the promotion of its services on this site. Head for Points is a journalistic website. Nothing here should be construed as financial advice, and it is your own responsibility to ensure that any product is right for your circumstances. Recommendations are based primarily on the ability to earn miles and points. Robert Burgess, trading as Head for Points, is regulated and authorised by the Financial Conduct Authority.
The excellent offer Nutmeg ran last year is back. You could earn up to 300,000 Avios when you invest with Nutmeg before 23:59 on 31st January 2022.
With many of us optimistic about the return to travel in the future, now is the perfect time to boost your Avios balance, ready for your next big trip.
Invest between £500 and £19,999 and for every £1 invested you'll receive one Avios on your total investment. Invest between £20,000 and £200,000 and you'll receive 1.5 Avios for every £1 of your total investment. This means that a £200,000 investment earns you 300,000 Avios. Terms and conditions apply.
Full details of the offer can be found here.
There are five Nutmeg products included in the offer: a Junior ISA, a Lifetime ISA, a stocks and shares ISA, a personal pension and a General Investment Account (GIA). Clients can select any one of four investment styles (Fixed Allocation, Fully Managed, Socially Responsible and Smart Alpha portfolios powered by J.P. Morgan Asset Management) and adjust their risk level as they see fit.
What is Nutmeg?
Nutmeg is an innovative online wealth management service that builds and manages sophisticated global investment portfolios.
It is for anyone looking to invest as little as £500 in an ISA, GIA or Pension, or £100 for a Lifetime ISA or Junior ISA. Nutmeg uses technology to keep costs low and help boost your returns. Your money will be invested in what the company calls a robust, diversified portfolio that spreads risk across asset classes, geographies and industries.Users can view their investments and returns using the Android or iOS app, or via their website.
Nutmeg was awarded the Boring Money Best Buy ISA 2021, Best For Sustainable ISA 2021 and Best For Sustainable Pension 2021. They also won Best LISA Provider at the Online Personal Wealth Award 2021 and the company is rated 'Excellent' on Trustpilot.
The company is the first, and the largest, digital wealth manager in the UK (Source: Boring Money, January 2021) and now manages over £4 billion on behalf of over 150,000 clients.
How much do I need to invest?
You can open an account with the minimum contribution for an ISA, General Investment Account , or pension of just £500.
For a Lifetime ISA or Junior ISA, while the minimum investment amount for these products is £100, you will also need to invest a minimum of £500 to be eligible for this promotion.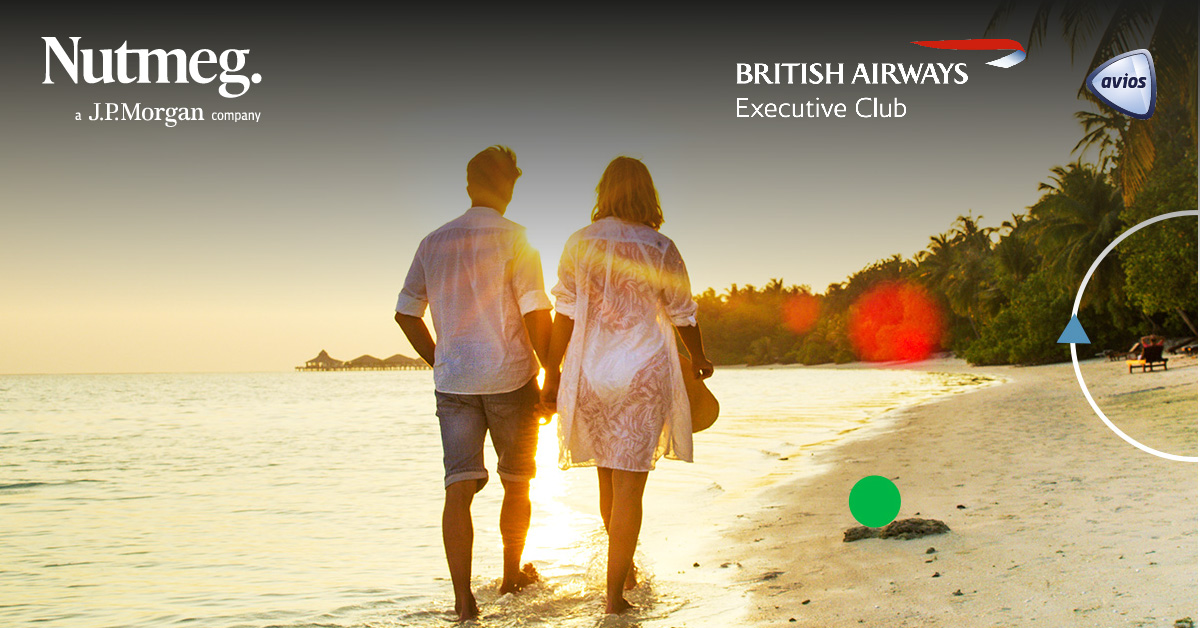 What is the maximum I can invest?
The maximum you are allowed to invest in an ISA this tax year, which runs to 5th April 2022, is £20,000. You can invest more with Nutmeg, but anything you commit beyond £20,000 will be placed in a General Investment Account.
In addition, you can also put up to £9,000 this tax year into a Junior ISA on behalf of your child. This will not affect your personal ISA allowance.
Alternatively, you can transfer ISAs from previous tax years or old pensions of any size above £500, and you will still qualify for the promotion.
Please note: Avios are not awarded for clients opening a Nutmeg 100%-cash pot. The reward you receive will be based on the total amount contributed to the first Nutmeg product that you open and contribute to.
Why should I invest with Nutmeg?
In their own words:
"We take the best elements of a high-end investing service, strip out the complexity and excessive cost, and provide it to you online. Let our team of investment experts look after your money and see how your portfolios are performing any time of the day online or via our Android or iOS app."
How many Avios will I receive?
You will receive one Avios per £1 invested in a pension, ISA, GIA, Lifetime ISA or Junior ISA up to an investment of £19,999.
Invest between £20,000 and £200,000 and you will receive 1.5 Avios per £1 of your total investment.
For example, if you invest £10,000 you'll receive 10,000 Avios. Invest £20,000 and you'll receive 30,000 Avios. Terms and conditions apply.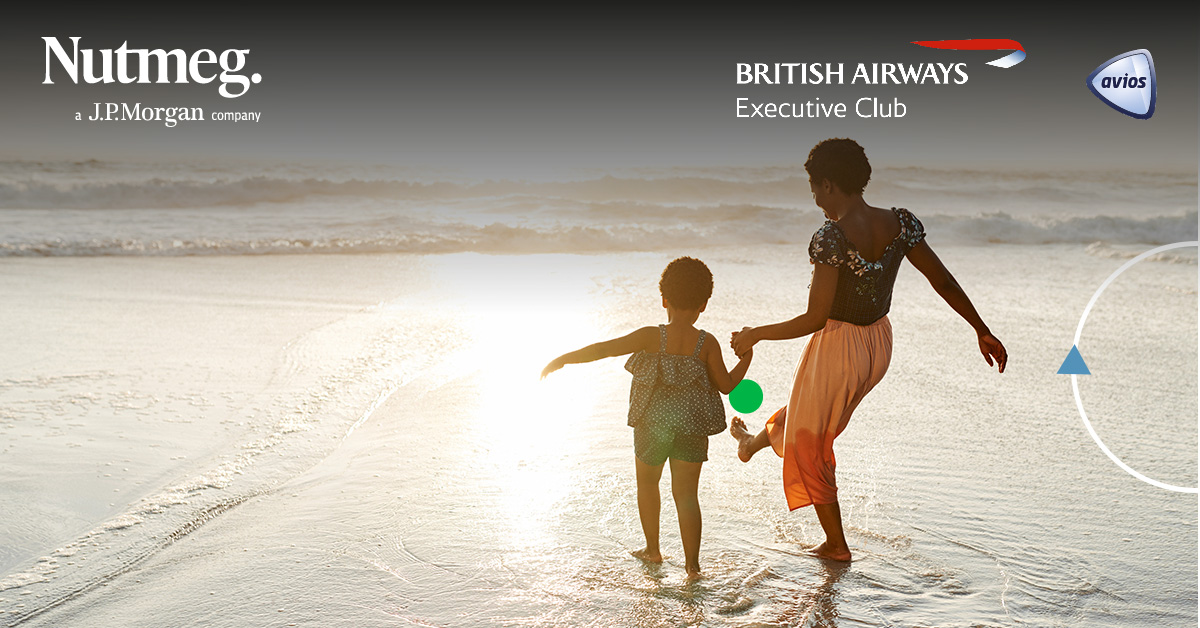 You can of course invest more, but the Avios reward is capped at 300,000 points.
It's important to note that the offer is only open to new Nutmeg clients – defined as someone who has not previously invested with Nutmeg. This offer is valid for invested accounts opened and funded before midnight (23:59) on 31st January 2022. ISA, pension and Junior ISA or Child Trust Fund transfers initiated before the deadline also qualify. Any half Avios awarded will be rounded up to the nearest full Avios.
When do I receive my Avios?
Your bonus Avios will be credited to your British Airways Executive Club account. Nutmeg will calculate your Avios 30 days after the promotion ends and it may take up to a further 45 days for the Avios to reach your British Airways Executive Club account.
If you make a withdrawal within 24 months of opening your account, which takes your account balance below your initial invested amount, Nutmeg reserves the right to withdraw a cash amount from the closing balance, this deduction is linked to the amount you initially invested. You can see the full table of deductions in the terms and conditions.
How do I apply?
You need to sign up and invest via this special landing page to earn Avios. Remember, you will need a valid British Airways Executive Club account in order to receive your Avios. Applications via the standard Nutmeg home page will not earn any Avios.
Remember, as with all investing, that your capital is at risk. The value of your portfolio with Nutmeg can go down as well as up and you may get back less than you invest. Tax treatment depends on your individual circumstances and may be subject to change in the future.