LAST CALL: Save 30% on a SeatSpy subscription with our exclusive HfP offer
Links on Head for Points may pay us an affiliate commission. A list of partners is here.
SeatSpy has brought back its popular discount promotion, offering HfP readers 30% off a 'First Class' plan until 31st December.
Since it launched a few years ago, SeatSpy has been a convenient way of finding reward seat availability on British Airways and Virgin Atlantic.
The site offers subscribers the option to search for Avios and Virgin Points reward seats across an entire year without having to search individual dates. It is the only service of its type with Virgin Atlantic availability.
A recent development also means you can search for seat availability on individual flights on Virgin Atlantic too, as you can see here: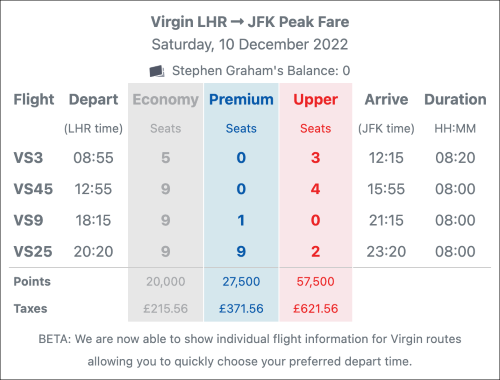 The REAL value is in immediate notification of reward seats opening up
More importantly, SeatSpy can notify you when reward seats open up on specific routes. You can narrow your request down by date or date range, travel class(es) and number of seats needed.
We use it here at HfP for researching articles on routes with good Avios availability and for planning our own personal travel. Rob has had a run of being caught out at inconvenient times by SeatSpy availability alerts, causing him to immediately sneak off to a quiet spot and attempt to book a flight via his mobile ….
New SeatSpy developments
The SeatSpy tool has regular updates and developments. Recently they moved to a brand-new data collection system for Avios. This has put an end to the issue of 'ghost availability' which would occasionally appear.
Avios data in the system is currently being refreshed up to three times an hour. It is as near to real time as you're going to get from a third party and means that it is highly likely that British Airways will still have the seats when you search at ba.com.
SeatSpy is also trialling a service to alert you when Hilton Honors and Marriott Bonvoy add new events to their ticketing platforms. Rhys and I attended Hilton's Stormzy gig at the Hilton Metropole earlier this month after Rob got an alert saying that Hilton was offering members just nine pairs of tickets for an exclusive Christmas gig.
The latest development is an integration with Award Wallet. You can now link your Award Wallet account to SeatSpy and see your balances in all the different loyalty programmes that are listed on SeatSpy. This should be very handy if you hold points in a variety of programmes.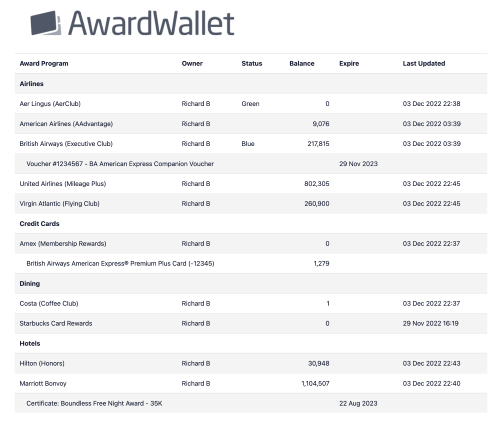 To find this feature in SeatSpy, you'll need to head to the 'Account Details' section of your profile. You will then need to connect your SeatSpy account to your AwardWallet account by entering the credentials into a secure login form served by AwardWallet themselves.
From then on, you can click the AwardWallet icon at the top of the SeatSpy website to quickly see your balances: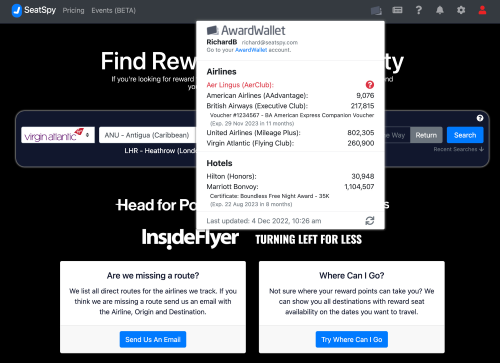 When you are viewing search results, a slider now appears under the flight search panel to allow you to optionally filter out seats that you cannot "afford":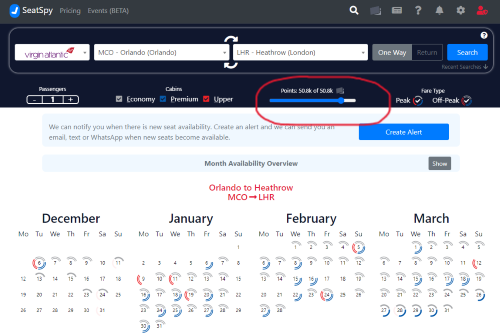 Your AwardWallet balance is shown on the slider and the slider can set to this value by clicking the AwardWallet icon.
Save 30% on 'First Class' membership
For another couple of days, until 31st December, SeatSpy is offering a discount of 30% on 'First Class' membership to HfP readers when you commit to an annual plan:
First Class membership is £4.66 per month under this offer (£6.66 normally)
Premium membership is unchanged at £2.49 per month
The discounted rate is locked in for life.
Note that:
there is no discount if you sign up for a month-by-month plan (First Class is £7.99 per month, Premium is £2.99)
both plans have a 14-day free trial so you can set up test alerts and see how it goes
How do the tiers differ?
The two key differences between 'First Class' and 'Premium' are:
'First Class' members are sent availability alerts as soon as seats are found, whilst 'Premium' members receive alerts once per hour. It is up to you to decide if being up to 59 minutes behind other people will mean the seats you want are gone.
'First Class' members can have an unlimited number of saved alerts whilst 'Premium' members are limited to four active alerts
The latter one is likely to be the big differentiator. It is very easy to use up your quota of four alerts, especially if there are multiple airports you could use for a flight (eg San Francisco or San Jose) or you have a lot of potential holiday ideas.
You can search for multiple flight classes in one alert. You don't use two alerts by looking for either Business Class or First Class – this is only counted as one.
The link to sign up with the 30% discount is here. The offer ends on 31st December.