STRIKE TO GO AHEAD: British Airways issues strike guidance for Heathrow Terminal 5
Links on Head for Points may pay us an affiliate commission. A list of partners is here.
British Airways has, finally, issued some guidance to passengers using Heathrow Terminal 5 between tomorrow and 9th April.
UPDATE 8pm: Talks have collapsed and the strike is on. Click here for the press release.
UPDATE FRIDAY: So far, so good. Click here for a semi-live update of the situation at Heathrow from Flyertalk.
Services through the terminal are expected to be hugely disrupted due to a strike by security staff.
Apart from cancelling 5% of flights (with many passengers rebooked on other Terminal 5 services!) and stopping last minute ticket sales, the airline has done little to reassure passengers. Most other major airlines – operating from terminals which will not be as badly hit – are offering travel waivers.
BA has confirmed that First Wing security will be closed for ten days and Fast Track will be 'reduced'. It isn't clear if First Wing check-in desks will remain open.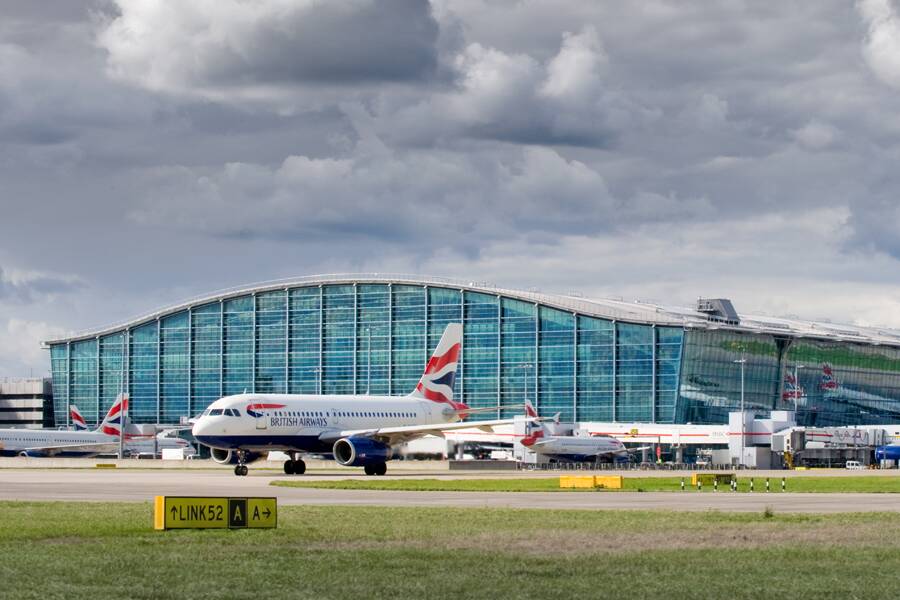 What happens to my flight?
The crux is that if you are disrupted during the strike you cannot fall back on EC261 for compensation.
The view via the comments below is that BA is still liable for EC261 rules on rerouting due to strike cancellations. This is a relatively moot point, however, as you will struggle to find empty seats over the Easter period on key leisure routes. It does not apply if you miss your flight due to security delays.
Covid experience shows that BA is likely to refuse to rebook on other carriers irrespective of the rules. If you wish to travel in the short term you would need to buy new tickets for cash – and probably from another airport, given the cap on Heathrow ticket sales – and look for a refund via a legal route.
British Airways retains a 'duty of care' to you if your flight is cancelled or delayed. I'm not sure if 'duty of care' rules apply if your aircraft departs and you are not on it due to security delays – it would seem unlikely.
Remember that there are no BA ticketing facilities at Heathrow (IIRC) if your flight is cancelled.
What is the official BA passenger guidance for strike days?
The British Airways passenger guidance is here (updated at 9am on Thursday).
Here are the key points:
anyone on a 'Hand Baggage Only' ticket can check in luggage free of charge
First Wing is closed
Fast Track will be 'reduced'
At the time of writing, this is what it says:
Due to the industrial action being taken by Heathrow Airport staff, the number of security lanes in operation will be reduced. Our First Wing will be closed and Fast Track will be reduced. We expect that it will take longer than usual to pass through security and we will have additional BA colleagues available to support customers.

Helping you to travel as normal

Check-in will open 3 hours before departure for long-haul flights and 2 hours before departure for short-haul flights. Please do not arrive at the airport before these times. To keep everyone moving through security and keep queues to a minimum, please minimise the number of hand baggage items you travel with. To help ensure your journey through the airport is as smooth as possible, you can check-in your hand baggage allowance free of charge by visiting one of our airport check-in desks or self-service bag drops.

Please also ensure you only take permitted items through with you.

As we are expecting more customers to check in their bags than usual, please ensure all baggage stays within the permitted weight allowance.

Your kind co-operation will help us provide everyone travelling with us as smooth a journey as possible. If you've made a booking on behalf of someone else or if it includes other travellers, please ensure everyone travelling is aware.

Customers can check Heathrow's website and the airport's social media channels for the latest updates on the potential strike, and ba.com for the latest flight information.

Frequently Asked Questions

Are there any restrictions on what items I can travel with in my hand baggage?

Please ensure you aren't carrying any restricted items in your hand baggage. For example, you can take liquids in your checked baggage but there are restrictions on the types and quantity you may carry in your hand baggage.

I need extra assistance. How does this affect my journey?

If you're travelling with medicines, wheelchairs or mobility aids these can be taken through security as normal.

I'm travelling with children. Can I still take a pushchair?

Yes. You can still take a pushchair through security.

What if I'm travelling on a Basic Fare?

We're asking all customers to minimise the amount of hand baggage they take through security on strike dates. This applies to all ticket types and cabins of travel. If you are travelling on a ticket that does not normally allow a checked bag, to help ease queues at security, we will still ask if you are able to check in your hand baggage, free of charge. Please ensure your hand baggage meets the correct weight allowance.

What if my flight is cancelled?

If your flight has been cancelled, we encourage you to view your options in Manage My Booking. You can request a full refund or opt to rebook your flight. If you still require assistance you can contact us on:

0800 727 800 (from with the UK) +44 (0)203 250 0145 (from outside the UK)

If you have booked via a travel agent, please contact them directly to discuss arrangements for your booking.

We'll continue to update this page ba.com/heathrow-strike with the latest information.