Review: we try the new Luton Airport Express train and the DART airport link
Links on Head for Points may pay us an affiliate commission. A list of partners is here.
This is our review of the new Luton Airport Express rail service and the DART rail-air link.
The UK's latest train service, the Luton Airport Express, officially launched on Monday.
This was also the day that the DART light rail shuttle between Luton Airport Parkway rail station and the airport terminal launched 24/7 operations.
You can learn more about Luton Airport Express on its website here.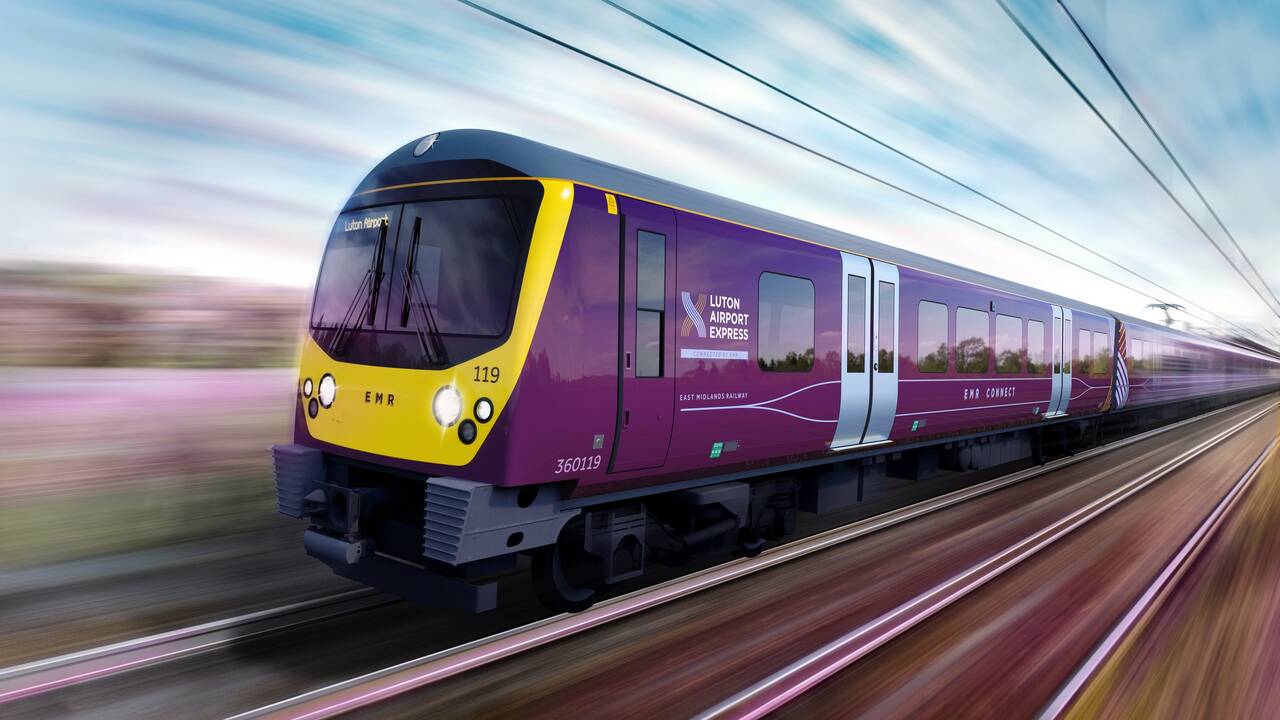 Luton Airport Express is operated by East Midlands Railway, which runs trains from London St Pancras towards Sheffield on the line which passes Luton Airport Parkway station.
The new Luton Airport Express runs every 30 minutes Monday to Saturday and operates non-stop to the airport. The quickest journey time from St Pancras to the airport, including the DART transfer, is 32 minutes, of which around 22 minutes is the National Rail portion. I did it in 31 minutes.
There are trains on Sundays but they are less frequent. There are also other stopping trains to Luton Airport Parkway, both on Thameslink and East Midlands Railway.
Fares are advertised as 'from £10'. In reality they appear to be as low as £7.60 one way for an adult single. This is excellent value given that the standalone price for the DART is £4.90 each way. Railcard discounts apply.
I headed up to Luton to take a look. Booked the day before, one way fares in Standard Class started at £8.70, including the DART fare, if you were willing to commit to a specific train. The snag is that few people can commit to a specific train, especially when returning to London from the airport.
To maximise my flexibility, I booked an Off-Peak Day Return for £27.90, although obviously anyone flying and staying overnight somewhere would not qualify for one of these. A full open return is nearer £40.
You must book your ticket to Luton Airport (LUA station code) and NOT Luton Airport Parkway if you want the DART trip to be included.

As an East Midlands Railway service, the trains operate from the upper platforms at St Pancras (1-4).
What is confusing is that, despite the Luton Airport Express branding, these are actually trains to elsewhere – in my case, Corby in Northamptonshire. They just happen to run non-stop to Luton Airport Parkway.
This means a) the trains are not adapted to carry excessive amounts of luggage, b) on your return trip, you have a risk of deing delayed if the train gets stuck between the Midlands and Luton and c) trains into London are likely to be busy when they reach Luton Airport Parkway.
Whilst the train had 'Luton Airport Express' branding on the outside, this was not mentioned in any of the on-train announcements.
I had an open ticket with no reserved seating although I had indicated the 10.15 train when I booked. At 10am I got a text message saying that 'a limited number of unreserved seats are available in Coach C'.
I have no idea what algorithm triggered this. The train was, at most, 10% full. There were just three of us in my carriage and I was able to take this photo: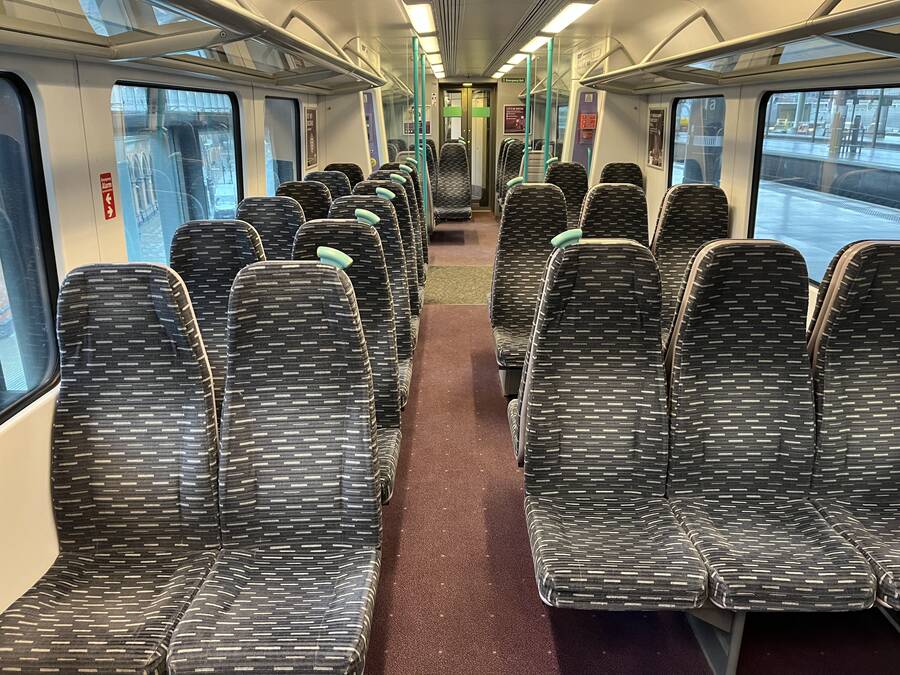 …. without getting a single person in shot.
Seating in Standard is 3×2. There are no tables. Wi-fi was free, did not require registration and worked well – albeit in a train with virtually no passengers.
You can't knock the speed. I departed at 10.15 and pulled into Luton Airport Parkway on schedule at 10.37, 22 minutes later.
Connecting to DART at Luton Airport Parkway
This is, I have to say, a VERY slick process and far more effective than I anticipated.
There are escalators on the platform at Luton Airport Parkway, as well as lifts. Once on the upper level, you walk across the tracks and through the ticket gates.
You then have a very short walk to the DART ticket gateline: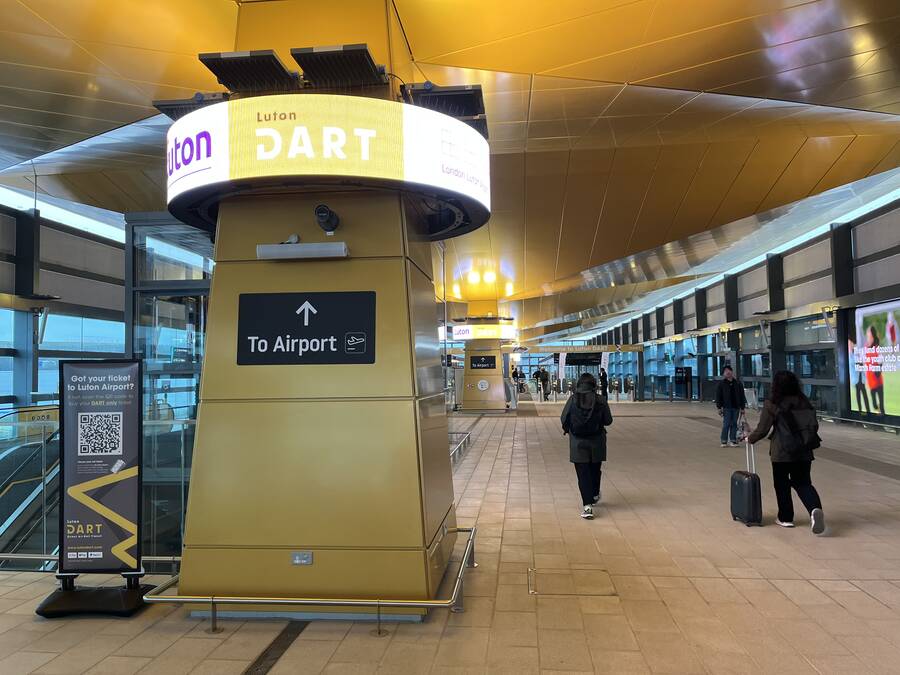 As long as you bought a rail ticket to Luton Airport and not Luton Airport Parkway, the same ticket will let you through to the DART platform.
It is a very similar set up to the intra-terminal train at London Gatwick, with trains operating from both sides of a central island.
The trains are not the height of luxury but then we are talking about a four minute ride. That said, padded seats would not have gone amiss.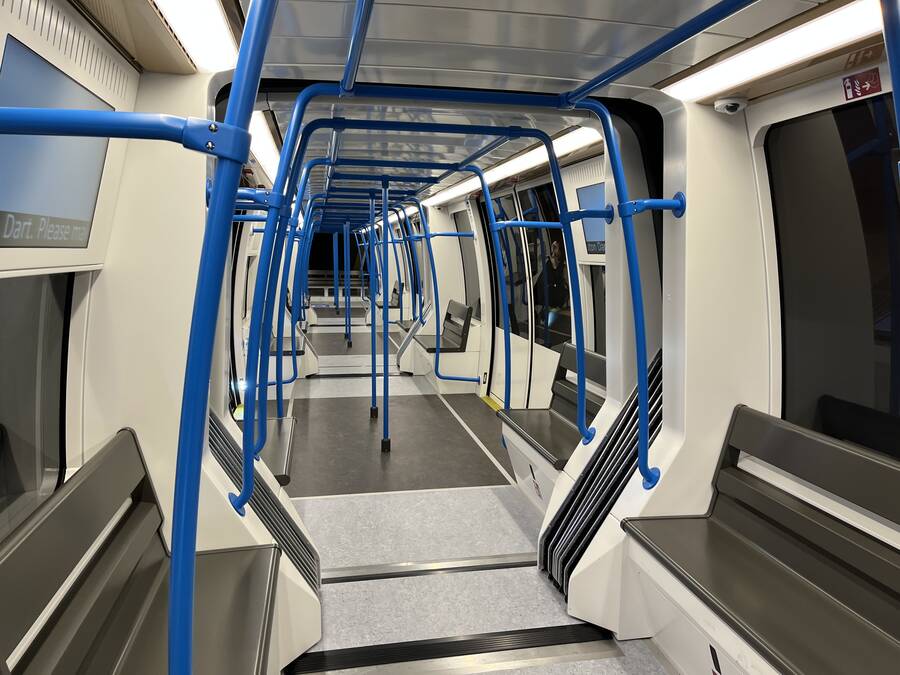 Looking out of the front: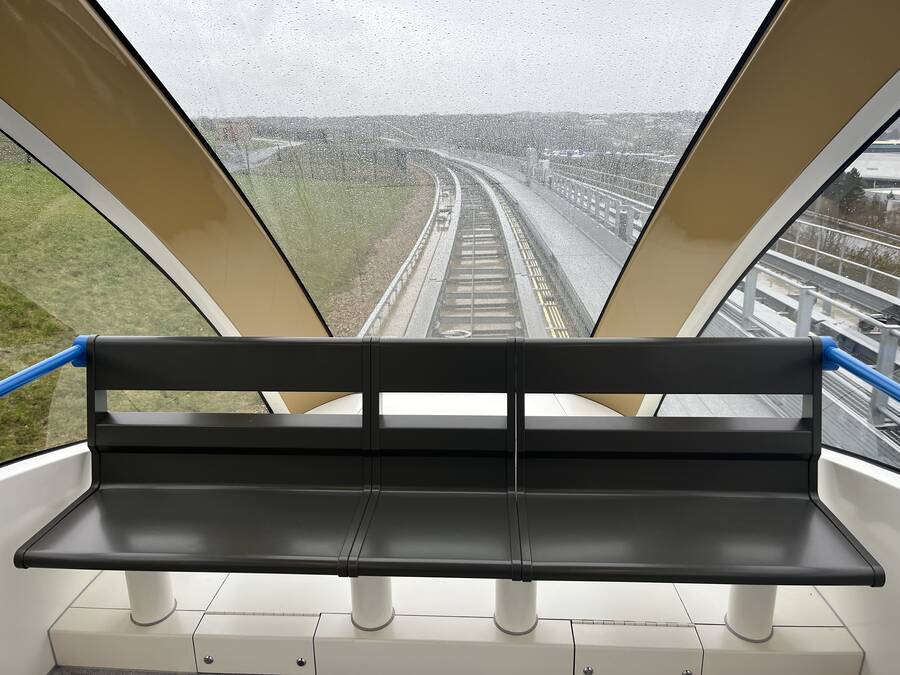 The final part of the trip to the airport is in a tunnel and you need to exit via two steep escalators or a lift. Here is the airport station: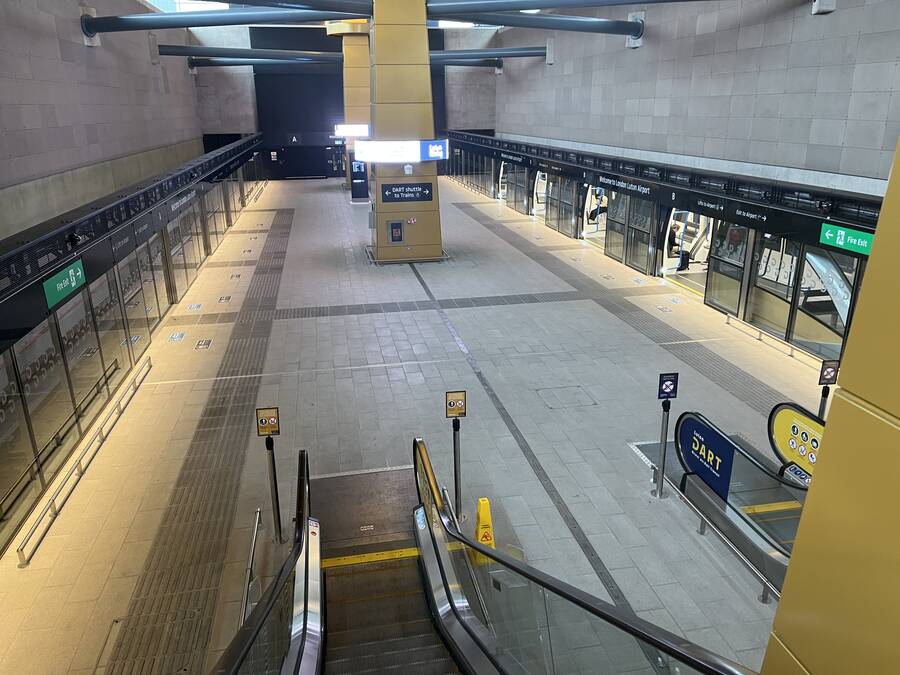 The only downer is when you emerge from the DART and you realise that you still have to walk for a couple of minutes to reach the terminal. Whilst technically covered, the airport is on a hill and I had wind and rain coming at me from the side: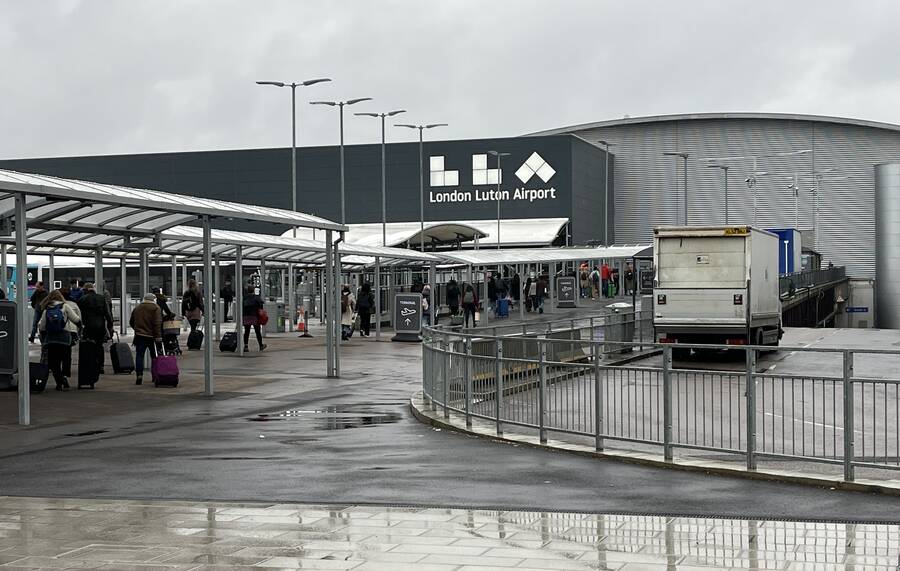 Conclusion
This is a very slick operation, except for the need to walk from the DART station to the terminal.
The trip from St Pancras to the DART station in the airport took just 31 minutes. Apart from the walk from your Luton Airport Express carriage to the platform escalator at Luton Airport Parkway, the entire trip is covered (a good job, given the rain!).
The cost, of course, is an issue. At £27.90 for an off-peak open return, it is £16.90 more than a return tube trip from Central London to Heathrow. It's just one of the extra costs that (for someone living in Central London) often ends up making a 'low cost' flight with Wizz Air or another Luton carrier into something that costs the same as a legacy carrier from Heathrow.
That said, the combination of the DART and the non-stop trains from St Pancras (you can also take Thameslink services from Central London to Luton Airport Parkway) does make it more likely that I will fly from Luton in the future – and that was the point of the building it.