Review: Sandy Lane, Barbados
Links on Head for Points may pay us an affiliate commission. A list of partners is here.
HfP does not do trip reports, in general. However, we have just returned from 10 nights at Sandy Lane in Barbados and as this hotel has a fairly high profile (mainly due to the celebrities who flock there every Christmas and New Year) I feel obliged to make some random comments.
We have been to Barbados before, at the Fairmont Royal Pavilion and Cobblers Cove, but this was before we had children and we thought that Sandy Lane would be a better choice with kids.
We had originally managed to get 3 British Airways World Traveller Plus seats down and 3 Club World back, but a couple of weeks before departure the outbound opened up and we put both legs into Club World. It would have been possible to go in First, but with a 13-month old baby that seemed a little unfair on everyone involved!
BA runs a 777 on this route, and whilst our outbound did have the new First Class product on it, this was a fluke as it seems a Heathrow 777 is currently covering at Gatwick. The Gatwick 777's are well down the list to receive the new F product.
Sandy Lane is not cheap although, because the rooms are big, it is actually a decent deal on a 'per square foot' basis. Secondly, it is the only place I have ever been which insisted on charging for my children (well, my 4 year old anyway).
The headline price for the entry level room (Garden Room) is $1,040. You need to add $355 to that for a child, so $1,395 per night, plus 10% service. (At Christmas, the child supplement goes up to a whopping $605 + 10% per day.)
You soon chisel that down, though (would you have expected any less from me?!). There is a 'pay 8, stay 10' deal which takes the average down to $1,116 + 10%. This also comes with a pile of spa treatments (massage, scrub, head massage, pedicure, a lunch for 2) which carry a retail price of around $1,500 between them.
Because we booked the room via a travel agent who is a member of Virtuoso, we got an extra 60-minute massage and a round of golf, which I traded with them for a 3rd free massage. My Virtuoso booking also got me a 2-level upgrade to what I was told was a Luxury Ocean room, base price $1,545, so a notional $505 per night of saving.
It is worth noting, with kids, that you can get a 2nd room for children for a 50% discount on the standard rate.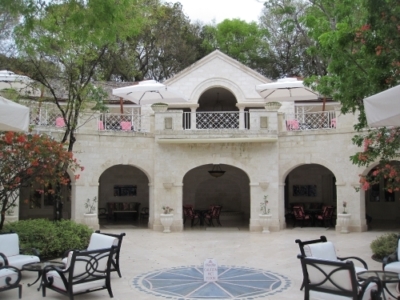 You may want to know what the difference is between Garden View (72 sq m), Deluxe Ocean (66 sq m) and Luxury Ocean (80 sq m). However, I have absolutely no idea. The photos on the website all show the same room, our room! All rooms, even Garden View, face the sea I believe. One wing, Orchid, is set back a bit from the sea which may be where those rooms are.
The rate includes breakfast (an excellent spread), the kids club (no more than 4 kids were there during our stay, although at peak times like Easter the resort has 80 kids in it over the 112 rooms we were told), transfers and soft drinks from the mini-bar.
Everything else is expensive. The hotel does offer a 'meal deal' of US$70 per person per meal which you can take, but this didn't work us as eating with 2 very young kids does not lead to a leisurely 3 course meal – more like a hurried main.
The most egregious pricing was, I think, 'smoked salmon with brown bread' as an appetiser, which came in at £30 equivalent!! Remember this is not The Maldives, there is a big supermarket 10 minutes walk down the road so they are not paying a fortune to import produce!
When you see photos of Sandy Lane, they often focus on the huge pool. What is a bit of a surprise is that the pool is behind the hotel, along with the spa and kids club.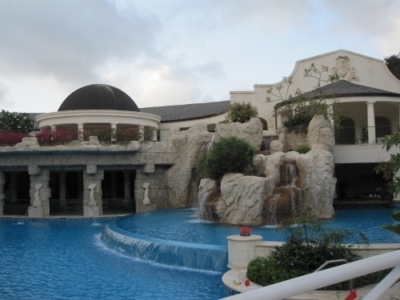 Design-wise, the hotel is trying but needs to try harder. The spa, pool and the Country Club (the restaurant attached to the golf course, 3km from the hotel, with astounding views) are very well done, modern buildings, albeit a little soulless in places. The hotel layout itself is fine and is practical, given the humidity and rain, with lots of marble.
Where it falls down, to me, is in the rooms, which are full of the sort of brown furniture last seen in a 1980's Marriott, and which must have been out of style even when the hotel was rebuilt in 2001.
So formal is the styling that when you walk into the loos by the restaurant and see green glass sinks you take a step back in shock. They are trying, I think – there is a fair bit of modern art and modern fabrics around the place – but the rooms still need some livening up.
What is impressive is the double vanities, huge shower and loo (with bidet), the astoundingly huge amount of wardrobe space (it took all our stuff, and the kids, AND our suitcases, which plenty of space to spare!) and the new automated lighting, curtain drawing and TV system – although the 50+ inch TV's are HUGE, probably too huge.
The beach is fine, very sandy although with a few feet of stones as you enter the water and then a sharp drop of a foot or so, which makes it tricky to enter and leave. Beach service is excellent, including a button to summon the staff. Buckets and spades also available!
The beach is huge given the size of the property and the number of guests (occupancy was 42% on the day I saw the headline numbers), and whilst the beach is technically public, it is tricky for people to walk into the bay as the water comes up the shore at both sides.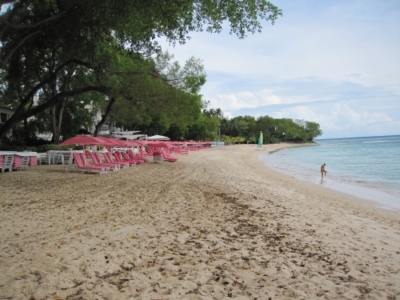 We had a nanny for 4 hours a day to look after our baby and she was great, working all 10 days for us (this was chargeable at c £17.50 per hour).
I am not a great expert on spa treatments, so don't feel qualified to comment. Out of all the free treatments we were given, I had two of the three free massages, which I have to say were done very well. In general, the staff were very pro-active and friendly, with very little of the 'manana' approach you often hear about in the Caribbean. I also didn't use any of the 3 golf courses, but from the Country Club restaurant they looked great and if you are a golfer this is a no-brainer destination.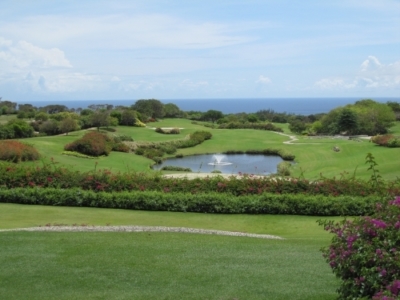 All in all, we were very happy with our stay (once we had got over the food costs). I didn't, to be honest, feel overwhelmed at any point (the only time I went 'wow' was walking around the spa), but it works well and we would happily go back.
If you are travelling without kids and don't need the space of the Sandy Lane rooms, you should price up the Royal Pavilion as well, though. This was gutted and redone just before we stayed in 2006, and felt more modern at the time (although this is 6 years ago of course and I don't have the photos to hand to compare). Should it ever get finished, it will be interesting to see how the Four Seasons competes as well.
---
Hotel offers update – February 2023:
Want to earn more hotel points? Click here to see our complete list of promotions from the major hotel chains or use the 'Hotel Offers' link in the menu bar at the top of the page.
Want to buy hotel points?
Hilton Honors is offering a 100% bonus when you buy points by 7th March. Click here to buy.