British Airways vs easyJet vs Ryanair – who is really the cheapest?
Links on Head for Points may pay us an affiliate commission. A list of partners is here.
The BBC News website ran an interesting piece of research recently into airline pricing – in particular, how it jumps around. This was linked to a BBC programme "Flights and Fights: Inside the Low Cost Airlines".
The link to the original story is here. The research compared British Airways, easyJet and Ryanair pricing on typical flights from London to Berlin, Barcelona and Rome, tracked over six weeks.
You can see the results in pictures here: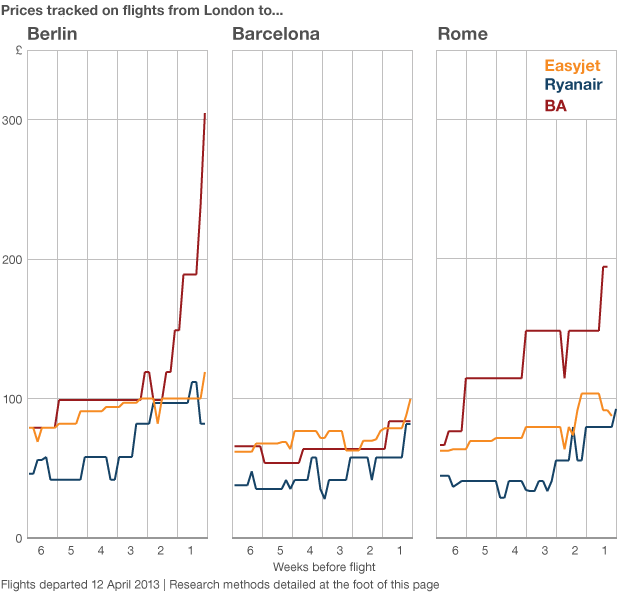 Whilst this won't come as a surprise to many Head for Points readers, what you see is:
Prices do not just go upwards, they move around. However, British Airways pricing was more stable that easyJet or Ryanair.
British Airways is not necessarily more expensive than easyJet or Ryanair
BA actually looks worse than it should be for the Rome and Berlin examples, because the experiment was done assuming 'hand baggage only'. British Airways would have allowed a free suitcase, which the easyJet and Ryanair flights would not.
For Barcelona, the BBC has compared BA's experimental 'hand baggage only' fare from Gatwick.
You also need to factor in the cost of getting to different airports. Assuming that you aren't prepared to take a bus, it is cheaper to get to Heathrow on the tube than it is to get to Gatwick or Stansted via National Rail. That would have worked in BA's favour on the Berlin comparison, which compared the Heathrow service to competition from Stansted.
At the end of the day, the low cost carriers have been hugely successful in convincing people – often wrongly – that they are actually 'low fare' airlines. As the example above shows, this is not necessarily true. Why British Airways has failed to tell the other side of the story is a different matter.