Etihad launches Etihad Regional – now fly from Cambridge to the world!
Links on Head for Points may pay us an affiliate commission. A list of partners is here.
Etihad announced the latest step in the quest for world domination by the Middle Eastern airlines last week. And this one is quite clever.
Etihad has announced that, subject to regulatory approval, it will acquire a one-third stake in Swiss airline Darwin. (No, I've never heard of it either.)
The airline will then be given a massive overhaul and will launch a swathe of new routes into small airports across Europe. It will be branded Etihad Regional and will look like this: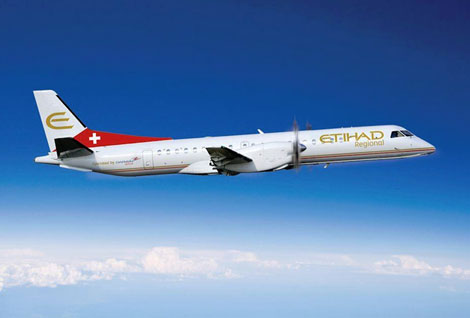 Etihad Regional will act as a feeder for its other partner airlines, primarily airberlin. That said, until the new Berlin airport opens and slots become available, it is having to focus initially on the airberlin hub in Dusseldorf.
It will also feed passengers into other airports that have direct Etihad services to Abu Dhabi, such as Geneva, Amsterdam and Paris.
From the UK, Etihad Regional will fly from Cambridge and London City Airport, in both cases to Dusseldorf only at first.
The full list of routes which will be active in the first half of 2014 is, according to Business Traveller:
Dusseldorf – Berlin / Cambridge / London City
Berlin – Poznan / Wroclaw
Geneva – Toulouse / Belgrade / Bordeaux / Marseille / Nantes / Verona
Zurich – Leipzig / Geneva / Florence / Turin / Linz / Graz / Verona / Lyon
Rome – Tirana / Zagreb
To be honest, I am not sure about this one. There is a lot of talk about the Etihad model of taking small equity stakes in Aer Lingus, airberlin, Air Serbia, Virgin Australia and Air Seychelles. However, you could never seriously suggest that this comes close to the power you have as part of an alliance like Star or oneworld.
The most successful of these investments has been airberlin. Even then, though, there is a limit to how much value Etihad gets from feeding traffic into Dusseldorf and Berlin to connect to Abu Dhabi (and, of course, to connect again).
How many people in Cambridge would fly Cambridge – Dusseldorf – Abu Dhabi – Bangkok, for instance, rather than driving to Heathrow and flying direct?
The formal press release on Etihad Regional can be found here.