Earning miles and points from Hertz – a beginners guide
Links on Head for Points may pay us an affiliate commission. A list of partners is here.
I am not an expert on car rentals – I only tend to hire a car two or three times a year, almost always for a trip out of London. I was therefore grateful when Head for Points reader Felix offered to write an introductory piece on Hertz Gold Plus Rewards and earning airline miles from Hertz.
As usual with guest posts, blame me for any errors and not Felix, because I have edited the piece and added a few extra details here and there! Over to you, Felix ….
When renting a car, like flying, there are nearly always a number of options at your chosen pick-up point, from the single branch operation to a multinational behemoth. Also, like flying, your loyalty preferences can pay an important part in choosing which one to pick.
This post is about Hertz – one of the biggest and in my opinion often one of the best, with offices from Albania to Yemen and a good, clean product.
Hertz Gold Plus Rewards
Rather like a hotel loyalty programme, Hertz gives you the option of taking points in its own programme (Gold Plus Rewards) OR receiving a one-off chunk of airline miles.
Unlike most hotel programmes, though, with Hertz you are usually better off taking the airline miles!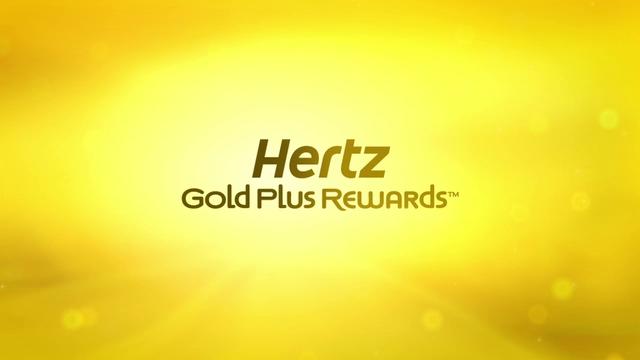 Let's look at the various tiers of Hertz Gold Plus Rewards:
Hertz Gold Plus Rewards – basic tier
This is free to join – click here – and confers a number of benefits such as storing your details in a profile for quicker rentals and points accrual.
In my opinion the most valuable benefit of the scheme is it removes the requirement of the counterpart licence, meaning I could just walk into any Hertz office and drive out within minutes using only a credit card and my plastic DVLA photocard.
While in city centre locations you may receive quicker service, staff permitting, at a Hertz Gold Plus counter, the airport pickup is infinitely faster with your name and bay number displayed on a board and keys in the ignition. Showing the rental document and your licence allows you to leave the parking lot immediately.
(Raffles note: too true. I remember a woeful 50 minutes spent queuing in Hertz at Cape Town airport two years ago. Had I bothered to sign up for the programme at that point, I could have saved at least 45 of those minutes.)
Hertz Gold Plus Rewards – Five Star
The next level up is available FREE if you have an Amex Platinum charge card. As long as you put your Platinum card number into your Hertz Gold Plus Rewards profile, you should be automatically upgraded. It can also be earned after 10 rentals a year. Five Star gives two more valuable benefits :
A 4-hour grace period
A 1 car-class upgrade where available. This can also be leveraged when bargaining with the rental desk for a car you actually want rather than the one you have been assigned.
Hertz and Amex
Many HFP readers will have an American Express Platinum card and therefore will probably already have a Hertz Gold Plus Rewards – Five Star membership. This relationship has true benefits as I mentioned above.
Hertz also offers the following discounts for Amex cardholders:
Platinum (CDP 211672 or 633306) – 15%
Centurion (CDP 591064) – 20%
Speak to an agent at Hertz and they can load the CDP into your profile permanently so it appears as a dropdown when you log in.
It is worth noting that the Platinum and Centurion discount codes above AUTOMATICALLY give you the additional 4-hour grace period. This means that you can still access this benefit even if you take airline miles from your rental instead of Hertz points. This can be surprisingly useful if going away at the weekend – a rental from 12 noon on Friday to 4pm on Monday is only priced as three days and not four.
Amex Platinum and Centurion cardholders also benefit from car rental insurance for primary and supplementary cardholders so you have the option of declining all offered packages where not mandatory. As a quirk, one cannot claim against oneself, so if you crash into a vehicle rented by a supplementary card holder your insurance is invalid!
You will also find a range of other discount codes online. Some are theoretically restricted to members of certain frequent flyer programmes or employees of certain companies. The Hertz website will also often give lower prices depending on which country website you book with. It is up to you whether you are happy going down this route and claiming discounts to which you are not technically entitled.
Should you collect Hertz points or airline miles from your rental?
You have the option of taking Hertz Gold Plus Rewards points or airline miles from your rental.
I usually select airline miles as they offer better value. With airlines, the earning rate varies. The most generous is Virgin Atlantic Flying Club at 1,000 miles per rental. I'm currently saving up American Airlines AAdvantage miles (1 per $1 spent, although there is a 400% bonus until June 2014) for a US transcontinental booking – American has much lower taxes than UK carriers and you can take advantage of a 'free' US leg after or before an international flight.
If you want to earn Avios from your booking, you will need to credit it to Iberia Plus. You will earn 300 Avios per day, more for larger cars. You cannot credit your rental to British Airways Executive Club due to the exclusive deal that BA has with Avis.
If you opt to earn Hertz Gold Plus Rewards points, you will earn 1 point per pound/dollar/euro spent excluding multipliers. These can be redeemed for free days on a sliding scale of expense, although the redemption amounts differ by country.
This is the UK points redemption chart: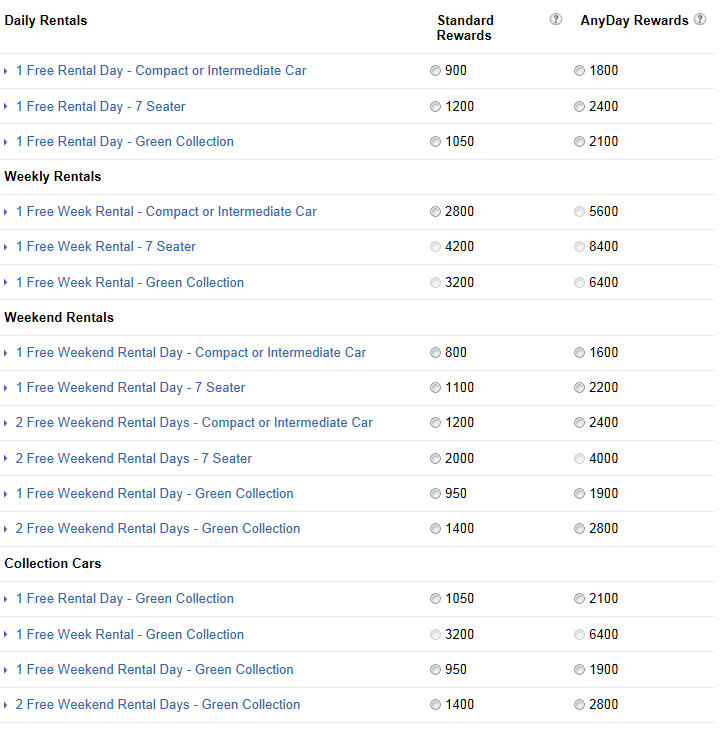 Points expire after no account activity within a two year period. However, you can transfer them for free to your spouse or 'domestic partner' by calling.
In addition, Hertz points can be transferred to these airline programmes in 600 point blocks: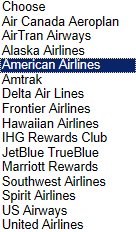 600 Hertz points = 500 airline miles, 1,200 Southwest Points or 1,000 IHG Rewards Club Points. This is generally a poor deal compared to using them for a free rental.
The intricacies of booking
Booking a car is where things start to get interesting. Below is a price comparison of a number of searches for a midsize car between Friday 6th and Monday 9th June. Totals in yellow are the marginally more expensive Pay at Location prices.
From London Marble Arch: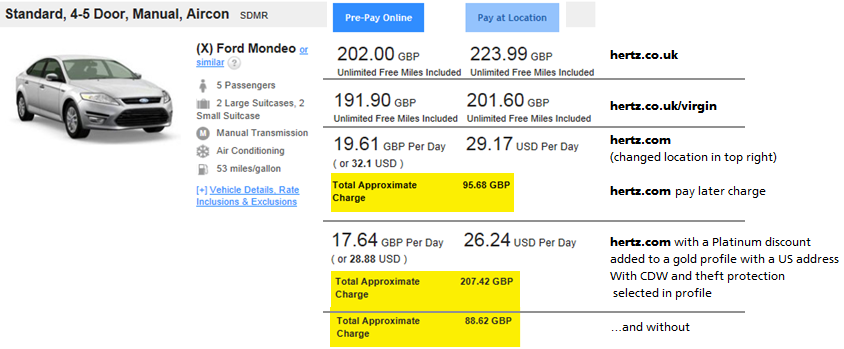 From Las Vegas McCarran:

You can see from this that there is huge variance in prices, so putting in the time to play around with location and discount variables can lead to some tangible rewards. This holds true for every location.
Booking in Europe is generally cheaper from the USA and vice versa, but try selecting a country with a (relatively) devalued currency, such as Russia and you may find some good deals if you don't mind paying in Rubles.
Not happy?
Finally, as a seasoned traveller you will know there is always room for negotiating. You'll also know that whingeing is the fastest way to shut down any progress you could be making, so put on your best 'is there any chance of an upgrade' face and wind up the charm.
Hertz counter staff are empowered to make any substitutions possible. If you visit one location regularly it is worth striking up a conversation about how, while you ordered a VW Golf but you've been given a Volvo estate, you don't really need all that space and would much rather an Audi A4.
Another tactic for those that visit the same location more than once is to enquire about the fleet. You can save £10 per day by ordering a cheaper car you know they don't carry at that branch.
If all else fails, offer a cookie (Benny at London Victoria is partial to chocolate chip) and a smile and they'll remember you for next time …..