Buy £20 of Uber credit for just £5
Links on Head for Points may pay us an affiliate commission. A list of partners is here.
From April 2018, please use our new Uber sign-up code UBERHEADFORPOINTS via this link, or download the app and add the code via the promo code box on the 'Payment' tab.  This gets you £3 off your first ride.
Fresh from selling £16 redspottedhanky gift vouchers for £8 (now sold out), Amazon Local has moved on to London car service Uber this week.
Via this link (EDIT – deleted as now dead), you can purchase a £10 Uber voucher for just £2 and a £20 Uber voucher for just £5.
These vouchers are ONLY available for new accounts.  You can, of course, open a new account for yourself with a different email address or in the name of your partner ….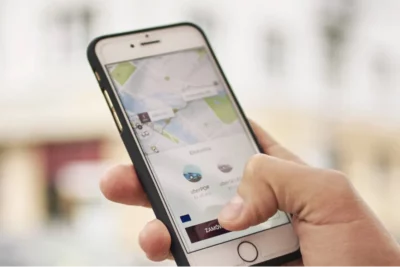 If you haven't heard of Uber, it is the relatively new private hire service available in London, having already been operating in New York, San Francisco, Chicago and Paris, amongst other places, for some time.
The core of the service is the Uber app for your smartphone.  Download it, and at the click of a button you can summon either a modest car (via UberX), an executive car (via UberExec) or a luxury vehicle (via UberLux) with all rides automatically charged to the credit card stored in your Uber account.
Whilst I signed up for Uber last year, it was only when I got my new iPhone recently and loaded the app that I got around to trying it.  I was at a pub in a fairly remote corner of Shepherds Bush, with no chance of getting a black cab by chance, so I fell back on Hailo and Uber.
As I had a Uber sign-up credit banked, I gave them a go, requesting a mid-level UberExec car.  They had 8 cars very close to me and a driver appeared within 6-7 minutes.  The wonders of sat nav meant that he had no problem finding my house and the £18 fare was very reasonable compared to a black cab.
Don't buy a £2 voucher ….
I do NOT recommend buying the £10 voucher for £2.  You can get £15 of Uber credit for free simply by signing up via my referral link – http://www.uber.com/invite/headforpoints – so don't waste £2 buying a £10 one!
Vouchers are valid for six months, which is good.  Note that you will not get change if your ride is less than the value of the voucher, so don't use it on a short journey.
UberX claims to be 30%-50% cheaper than a black cab, and UberExec is unlikely to be hugely more than, say, Addison Lee.  Airport trips come at a fixed price.