My review of Eurostar's London lounge, and how to redeem for Eurostar tickets
Links on Head for Points may pay us an affiliate commission. A list of partners is here.
This is my review of the Eurostar lounge at London St Pancras International station.
I was over in Paris a couple of weeks ago, a trip which will form the basis of a few posts over the coming days.
I travelled out and back on Eurostar – out in Standard Premier and back in Business Premier.  I will be comparing the two, as well as looking at the Paris lounge.
First, a quick reminder of how you can redeem points for free Eurostar tickets.  You really need to read this post, this post, this post and this post which ran on Head for Points last year which explains everything in detail.
In summary, though, your options are:
Use Avios via avios.com – the points required are based on the cash price (roughly 0.6p per Avios), return tickets only, Standard and Standard Premier only, tickets not refundable or changeable.  The upside is that any train is available as long as you have enough Avios to pay!
Use American Express Membership Rewards points for a direct redemption – it costs 15,000 points for Standard class return or 30,000 points for Standard Premier return.  No one-way trips, no mixed class trips.  It can only be booked on trains where cash tickets are still very cheap, which reduces its value.  This will get you roughly 0.5p per Amex point.
Use American Express Membership Rewards points transferred to Eurostar Frequent Traveller – one-way and return tickets are available, all classes are available, very good availability, you need a  fixed number of points per seat so the value varies depending on the ticket cost on the day, tickets can be changed once for free
Use American Express Membership Rewards points transferred to Nectar – you receive a fixed 0.5p discount per Nectar point / Amex point.  Only Standard and Standard Premier available, you must book a return ticket.  Any train is available and you can pay part cash, part points if you prefer.
I used the third method.  It cost me 2,150 Eurostar Frequent Traveller points for my ticket to Paris – outbound Standard Premier @ 900 points, return Business Premier @ 1,250 points.  I had to transfer over 32,250 Amex Membership Rewards points to get 2,150 Eurostar Frequent Traveller points.
The cost of a cash return in Standard Premier was £204.  Assuming the extra value of Business Premier is worth £50 (ignoring the real cash price) it was £254 of value.  That works out at 0.79p per Amex MR point – not the greatest value in the world, but preferable to using 'real' money.
The Eurostar London lounge
It is important to note that Standard Premier tickets do not get lounge access.  I was only allowed in because I have an American Express Platinum card.  This allows the holder (no guest) to use any Eurostar lounge.
Given that the lounge was planned into the St Pancras terminal when it was converted, it is a surprisingly odd shape.  It is on two levels, very long and very narrow.  The plus point is the huge amount of daylight it gets, overlooking the street facing toward Kings Cross.
This is the lower level.  Note the roomy chairs: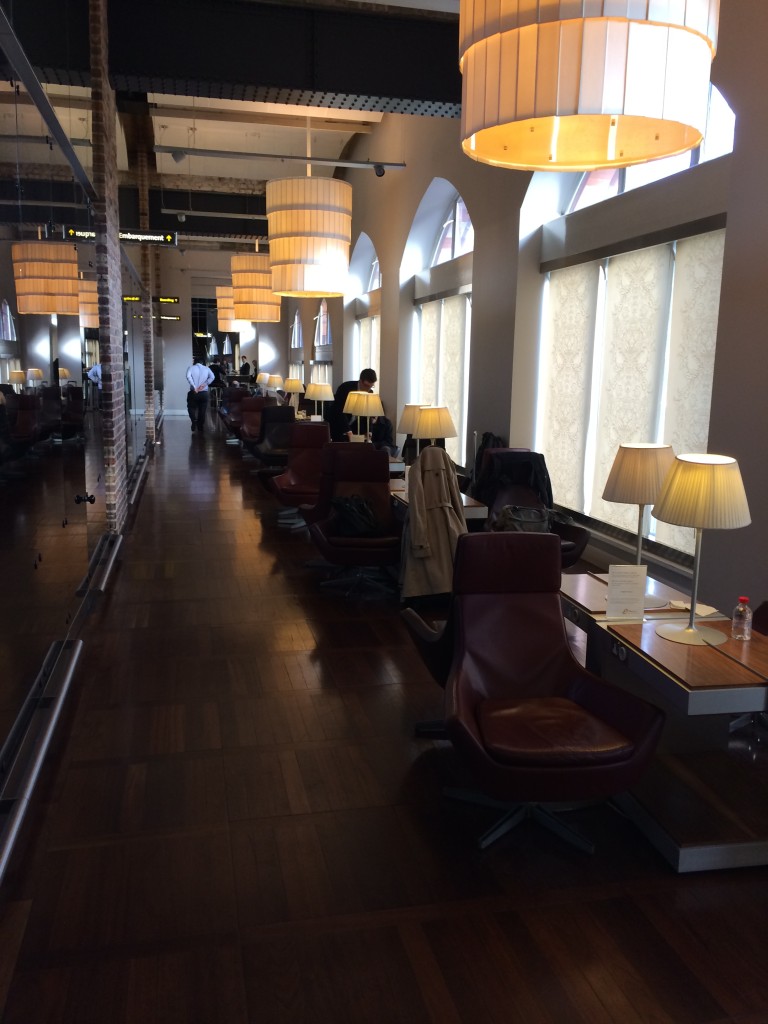 This is the upper level: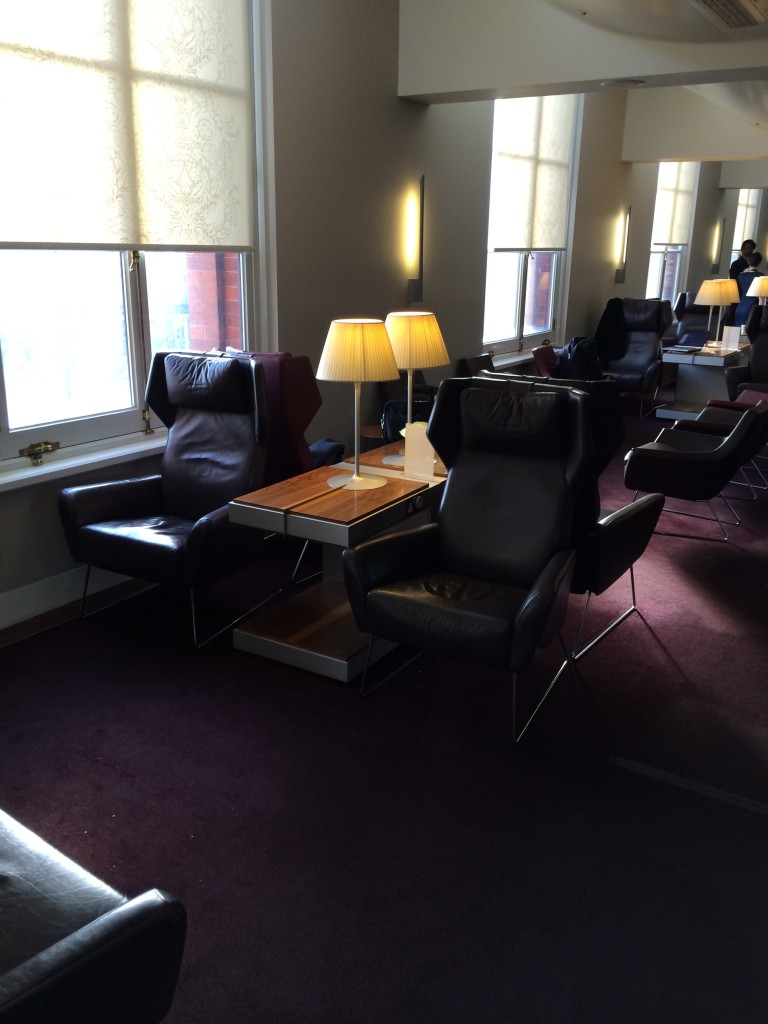 Do NOT come here if you are hungry!  This is the entire extent of the food offering at 8am on a weekday: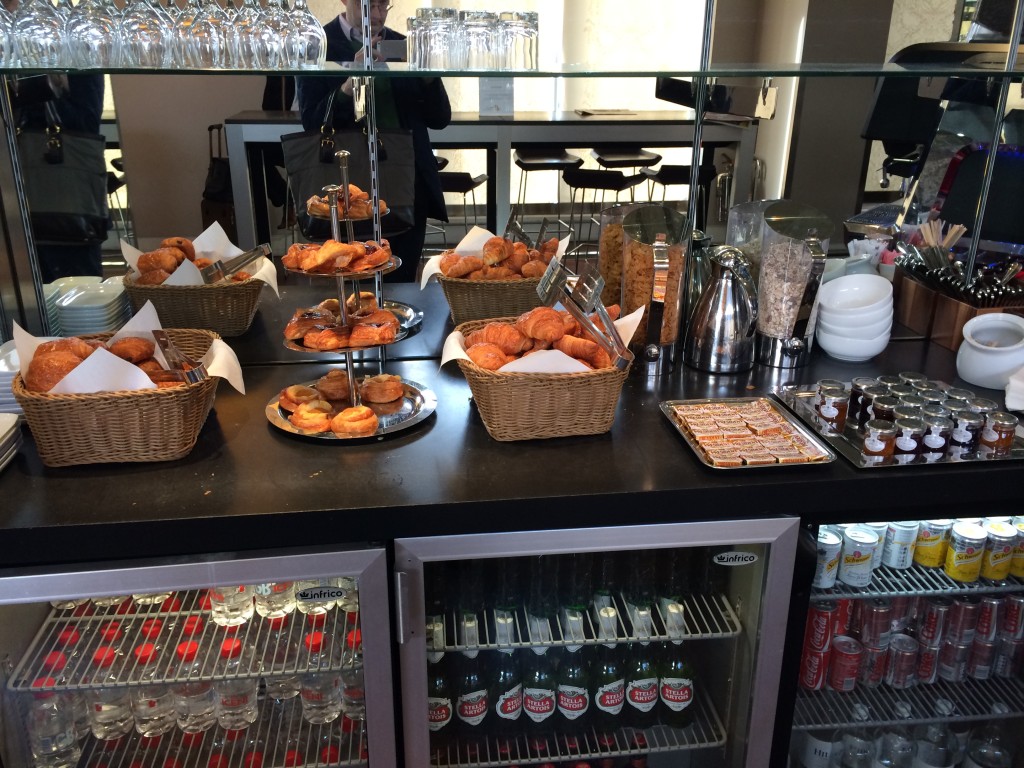 This is the strongest part of the offering – a fantastic free magazine selection.  Here is my top tip – the best selection is upstairs, not downstairs: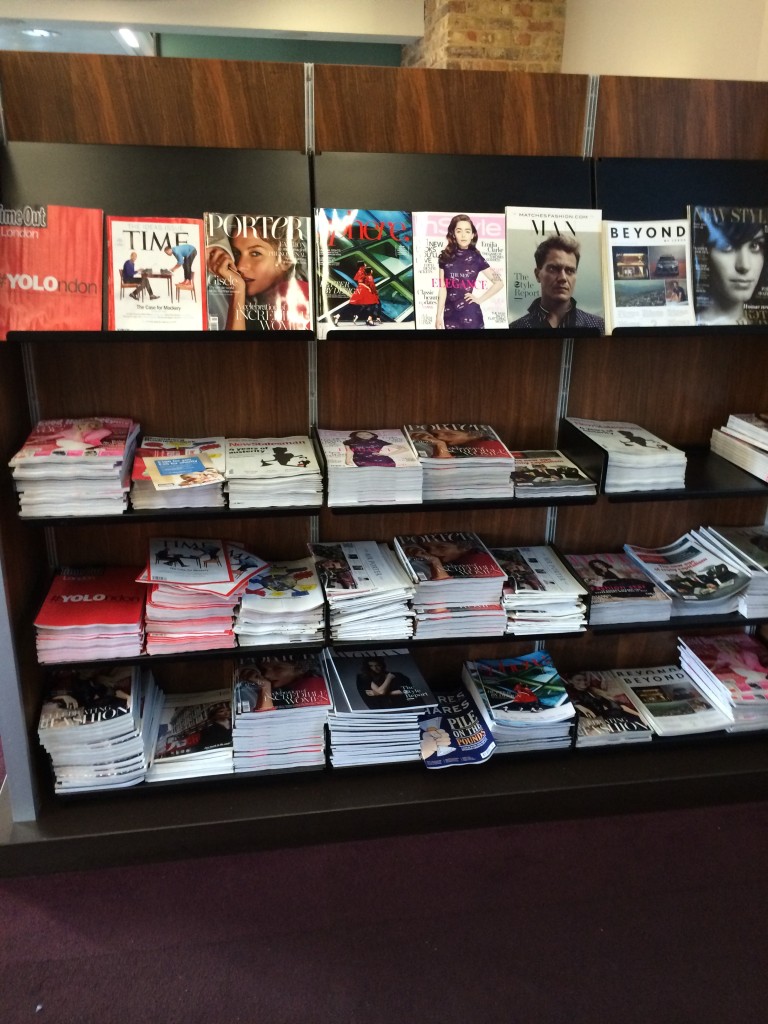 It is a perfectly pleasant place to pass half an hour before your train departs.  You wouldn't want to spend the morning there, though.  Standard Premier customers must clear security 30 minutes before departure, so you are likely to have enough time to pop in.
Tomorrow I will take a look at the (frankly shocking) food offerings in both Standard Premier and Business Premier!