Bits: 75% bonus for buying Hilton points, see the pilot and crew rest areas of a 777
Links on Head for Points may pay us an affiliate commission. A list of partners is here.
News in brief:
Up to 75% bonus when you buy Hilton HHonors points
This offer is poorer than the 100% and 80% bonuses which Hilton HHonors has offered in recent months so I am not focussing on it strongly.
The full bonus is not even given on all purchases.  10,000 – 29,000 points only gets you a 25% bonus whilst 30,000 – 39,000 gets 50%.  Only at purchases of 40,000 points or more do you get a 75% bonus.  At the top end, you can buy 140,000 Hilton points (80,000 plus 60,000 free) for $800. That is 0.57 cents each.
Regular readers of Head for Points will know that I tend to value Hilton points at 0.3p each which is LESS than you are paying here.  However, Hilton HHonors IS a decent deal at cheaper point levels. The Hampton by Hilton in Sheffield is 10,000 points per night. At 0.57c per point you would be paying roughly £35 per night if you bought the points. That is a 65% discount on the typical nightly rate of £100. Hampton properties include free breakfast as well.
If you just buying a handful of points to top off your account, the price per point doesn't matter anyway. If you a few thousand short of a redemption then this is a cheap opportunity to buy them.  The offer closes on October 5th.  The link to buy is here.

The pilot and crew rest areas of a Boeing 777-300
Here is a little oddment which doesn't really fit into one of the Air New Zealand profile pieces that I am running throughout September.  When I was touring their 777-300 at Heathrow, I was allowed to go into the pilot rest area.  It was fascinating.
Inside the cockpit is a set of stairs.  Climb up and this is what you see: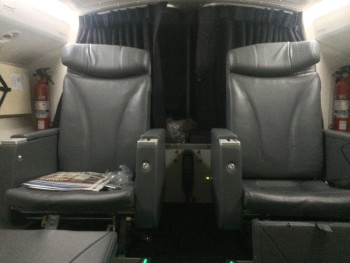 Each pilot has their own relaxation seat.  Out of shot is a TV monitor for each seat so they can watch the IFE.
Also out of shot, behind the curtain, is a mattress for each pilot where they can choose to sleep.  I found it a little claustrophobic, to be honest!
Meanwhile, this is where the off duty cabin crew get to sleep: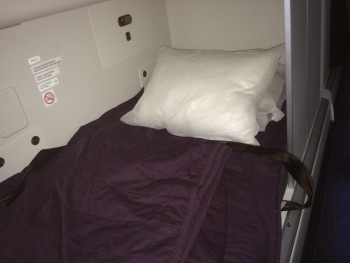 A bunk bed in an equally dark corridor in the belly of the aircraft!