The Emirates Air Line – flight review from, erm, Royal Victoria to North Greenwich!
Links on Head for Points may pay us an affiliate commission. A list of partners is here.
I spent a chunk of last week at World Travel Market, the biggest travel show in the world and, in fact, the biggest trade show of any sort hosted in London.
Whilst I was over at Excel, I thought it was worth reviewing the Emirates Air Line cable car which runs between Royal Victoria DLR station and North Greenwich underground station.
As the terrible usage numbers bear out, this is pretty much a cable car ride from nowhere to nowhere.  The only reason I could see someone using it is if you were at a concert at the O2 and were staying in a hotel at Excel.  This would work fantastically well as you would be in your hotel room within 15 minutes of leaving the arena.
The Emirates Air Line cable car is now available on Oyster Pay-As-You-Go.  I was charged £3.40 for a one-way trip which, to be fair, makes it pretty good value compared to most other London tourist attractions!
This is the station at Royal Victoria: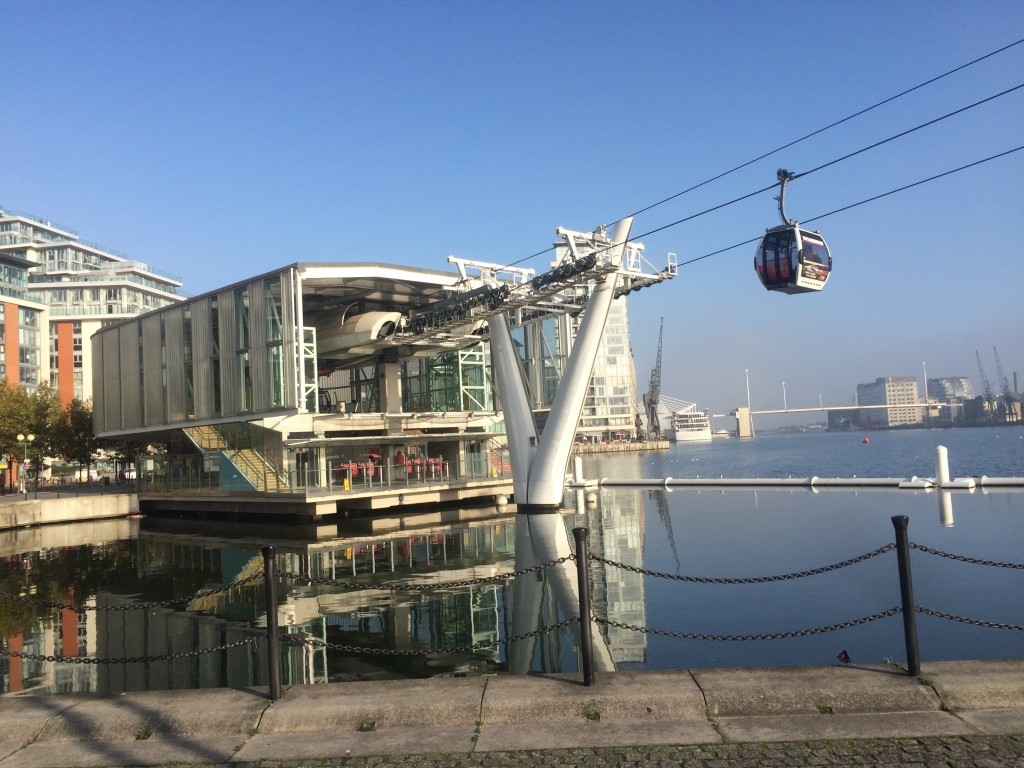 Boarding
Security was not an issue (there isn't any) and, surprised to find that there was no Emirates lounge, headed straight for the departure gate: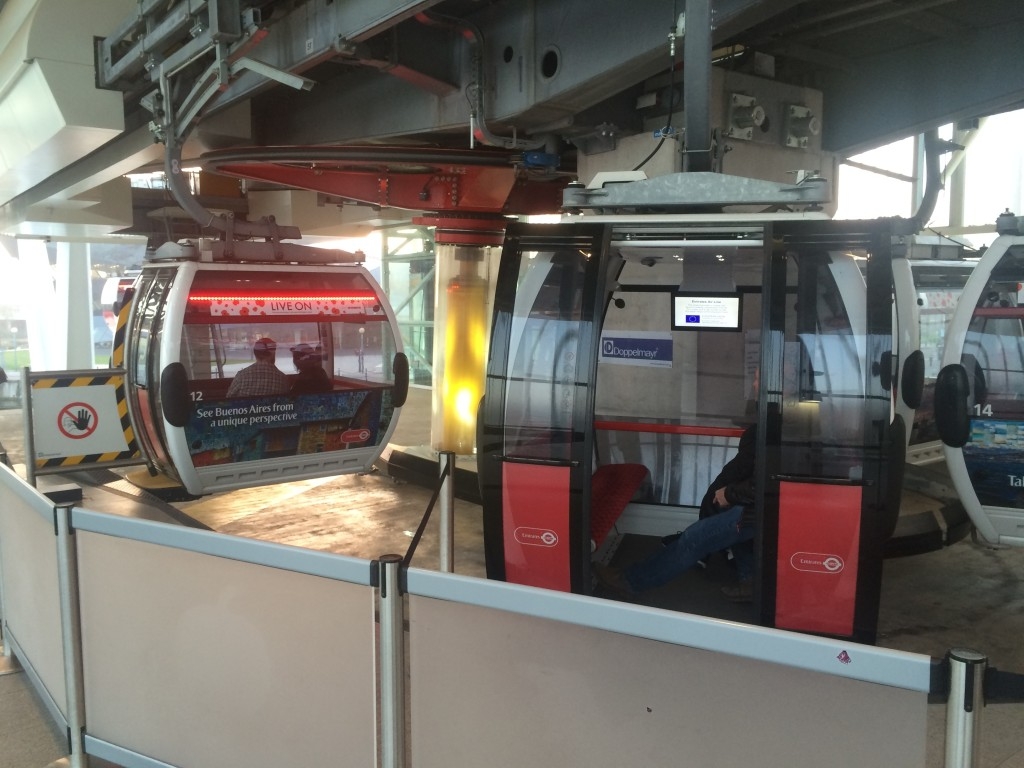 There was no boarding announcement and no attempt to board by status or ticket class.  Instead, the three of us who were waiting just hopped into the next available car.
Take-off
There was no time for any pre-departure drinks to be served (and indeed no-one to serve them) and we were soon in the air.
As this is essentially a short-haul economy service there was no in flight entertainment.  However, the views were impressive: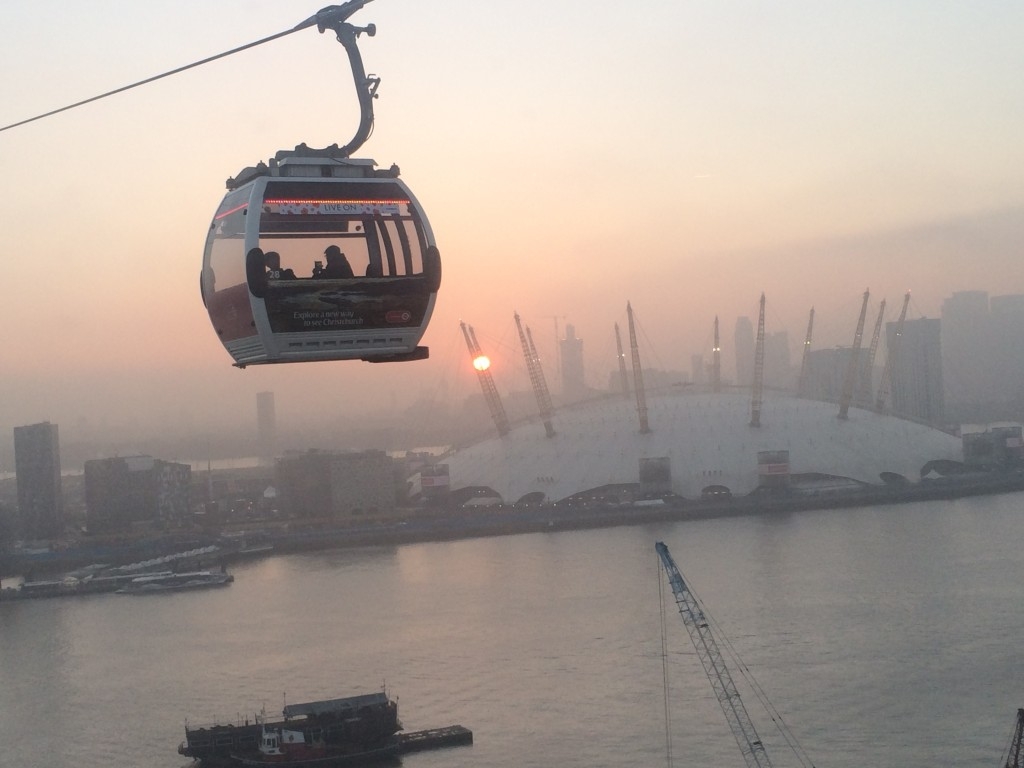 and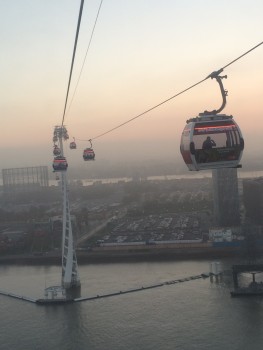 Landing
We landed promptly at five minutes past departure.  Oddly, at weekends, it runs at half speed with the trip taking ten minutes.  As I was travelling with just hand baggage, I was able to quickly depart the pod and was back on the street within seconds.
You are just a short stroll from North Greenwich underground station.  There are a huge number of bars and restaurants both inside and outside the O2 these days so it is not a bad spot to take a break from sightseeing.
The biggest problem with the cable car is you need to fit it in with some other sightseeing activities.  On its own, it doesn't really merit the detour.  You could potentially visit on the way to Greenwich itself – perhaps going from North Greenwich to Royal Victoria and then taking the DLR to Cutty Sark.  You could also make a detour if you are heading to the Westfield centre in Stratford.  I wouldn't necessarily head out from Central London just to ride it and come back.
There is another attraction in the station at North Greenwich – the Emirates Aviation Experience, which includes flight simulators.  I did not have time to visit.
If you happen to be down at Excel or the O2 and you have a pay-as-you-go Oyster, however, it is worth a trip for the novelty value.