My review of The Resident Victoria hotel in London (formerly The Nadler)
Links on Head for Points may pay us an affiliate commission. A list of partners is here.
This is our review of The Resident Victoria hotel in London, formerly known as The Nadler.
When this review was written, the hotel was still branded The Nadler.  We have retained the original text for the rest of the article, except in the headings.
What does a hotel need to become a well regarded high end choice in London?  A bar that is popular with the rich and famous? A restaurant with 3 Michelin stars? A pool? Large gym?
'None of the above' appears to be answer when you look at Nadler Hotels. You might not be familiar with the name, but two of its three London hotels are in the top 12 'highest rated' list on TripAdvisor.
Rob met up with the founder of the chain, Robert Nadler, recently and we agreed that it would be interesting to take a look at what makes his hotels tick.  Nadler Hotels provided us with a free night for this review but, as usual, HFP covered all other costs.
Nadler's first hotel opened in 2006 in Kensington under the name base2stay, followed by base2stay Liverpool in 2010. In 2013 the Nadler Soho opened its doors and the two base2stay properties were re-branded as Nadler Hotels.  They describe themselves as 'four star luxury boutique' properties.
The newest addition was The Nadler Victoria in 2015.  This is where I spent a night to find out what Nadler hotels are about, who the man behind the name is and whether you should consider a Nadler hotel for your next stay in London (or Liverpool).
The Nadler Victoria is located between Buckingham Palace and Cardinal Place, right next to the new St. James Theatre. Victoria tube station is about a 5 minute walk away and Green Park about 15 minutes. The location is especially good if you want to explore 'tourist London' by foot as everything around Buckingham Palace, Trafalgar Square and Westminster Abbey is in easy walking distance. Having Victoria Station around the corner is another plus as nowhere ends up being too far away.
When I arrived, I realised that I've actually walked past the hotel many times before without ever noticing it.  (The same goes for The Nadler Soho, which is just off Soho Square and directly opposite a WeWork office we use occasionally – neither Rob nor I had realised that was a hotel either!).  The exterior is pretty simple and you wouldn't expect a luxury hotel on the inside.
The reception area is wide and open with a well lit sitting area next to the entrance.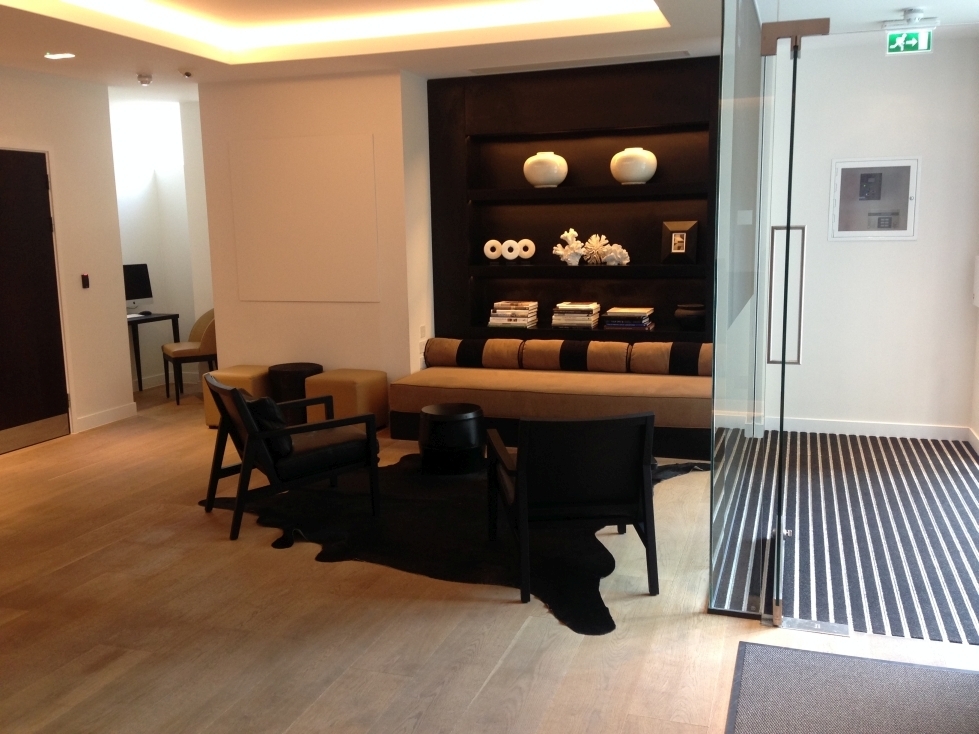 A lift serves all floors. The only thing you will find on those floors are rooms. Unlike many other hotels, Nadler is focusing on high quality rooms instead of a gym, restaurant or bar.
The reason for this is two fold.  Firstly, of course, it keeps the price for the hotel guests down.
Secondly, it helps the guests to engage with the surrounding area. Instead of having its own gym, guests can use the nearby Fitness First gym (with its equipment, classes and sauna) for £5 a day.  Instead of having its own restaurant – and hotel restaurants rarely make money apart from a few high profile examples – the surrounding bars and restaurants offer discounts to guests of the Nadler.  The hotels saves substantial amounts of money which helps drive good value room rates.
My Room at The Resident Victoria
My room was a Deluxe which seems like a great size for a couple or a family with two small children.
The first thing I have to say is that, honestly, the bed was one of the most comfortable beds I've ever slept in.  In fact Nadler's beds are so comfortable that, after guests kept asking about the mattresses, you can now buy them through the Nadler website.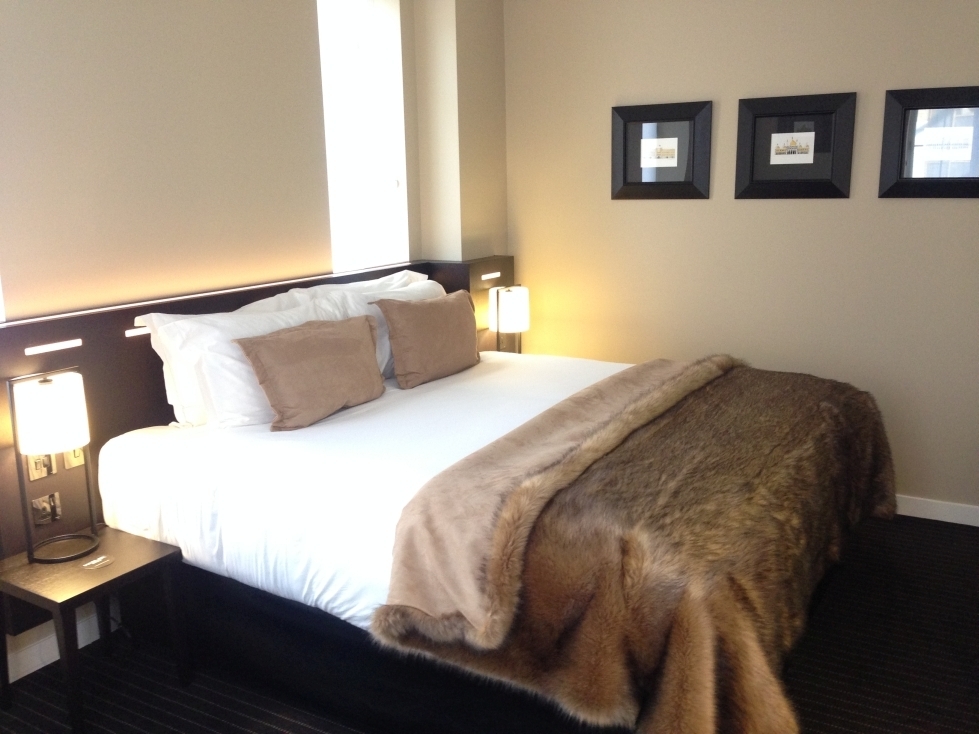 The sofa was actually a sofa bed and can sleep two children who won't be charged extra.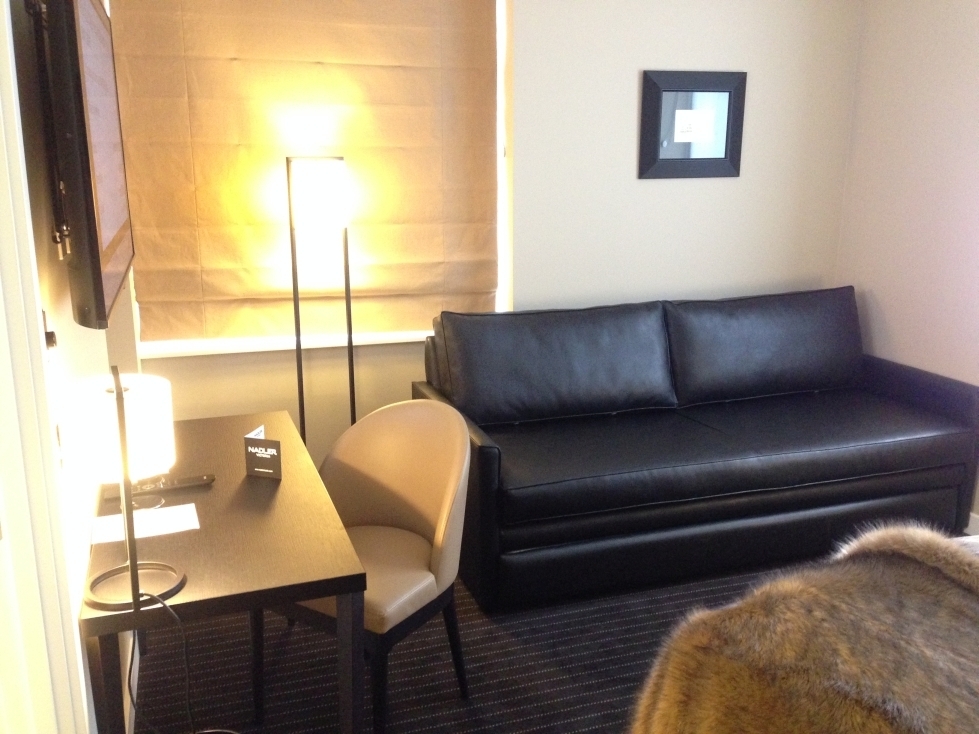 The desk was an ok size.  It was big enough for a small laptop and having plugs (UK, European and USB) on top of the table was perfect for charging whilst working. As you can see in the picture the room has a large smart TV where you can find information about the hotel and area, listen to playlists and watch TV.
The hotel is working on a system that allows to stream directly from your devices to the TV. For now you can connect your devices with a cable in the room to, for example, work on presentations.
The wifi was super fast and is for free for every guest.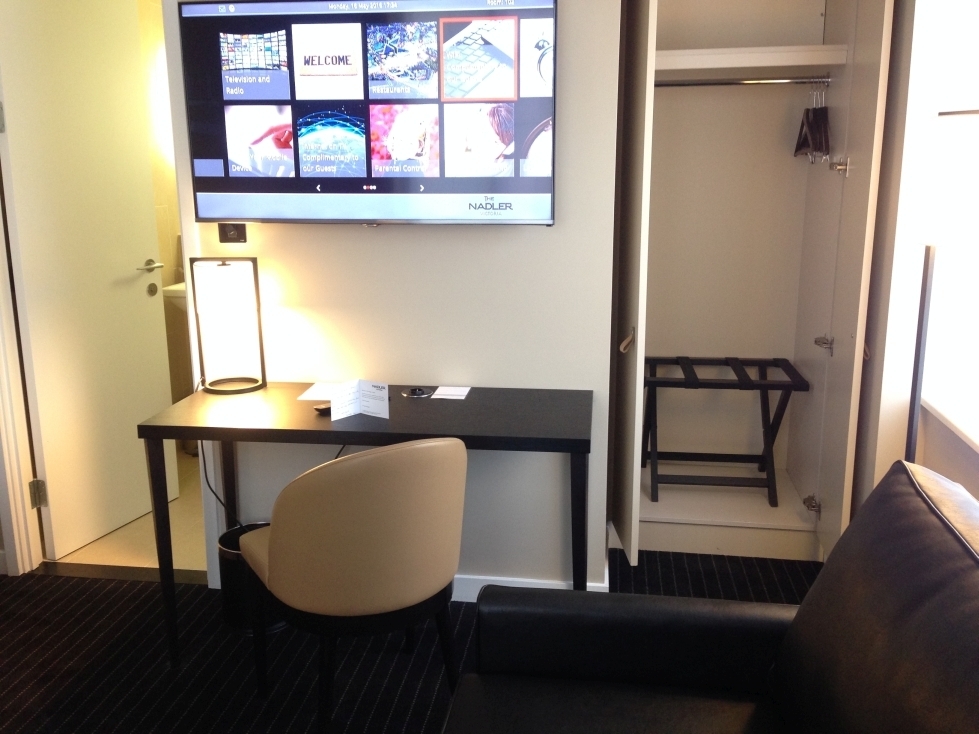 You can see in the picture above that there was a wardrobe next to the desk, but this was not the only one. To the left of the small hallway you can find another one with mirror door and plug for the hair dryer – which makes a womans life a lot easier!
Rob told me that, for regular guests, Robert Nadler has a bathrobe embroidered with their name which is kept in storage and brought out exclusively for them whenever they stay.  These are the sort of touches which he believes work better for his chain than having a traditional hotel loyalty scheme.
The bathroom was a decent size with a combined shower / bathtub: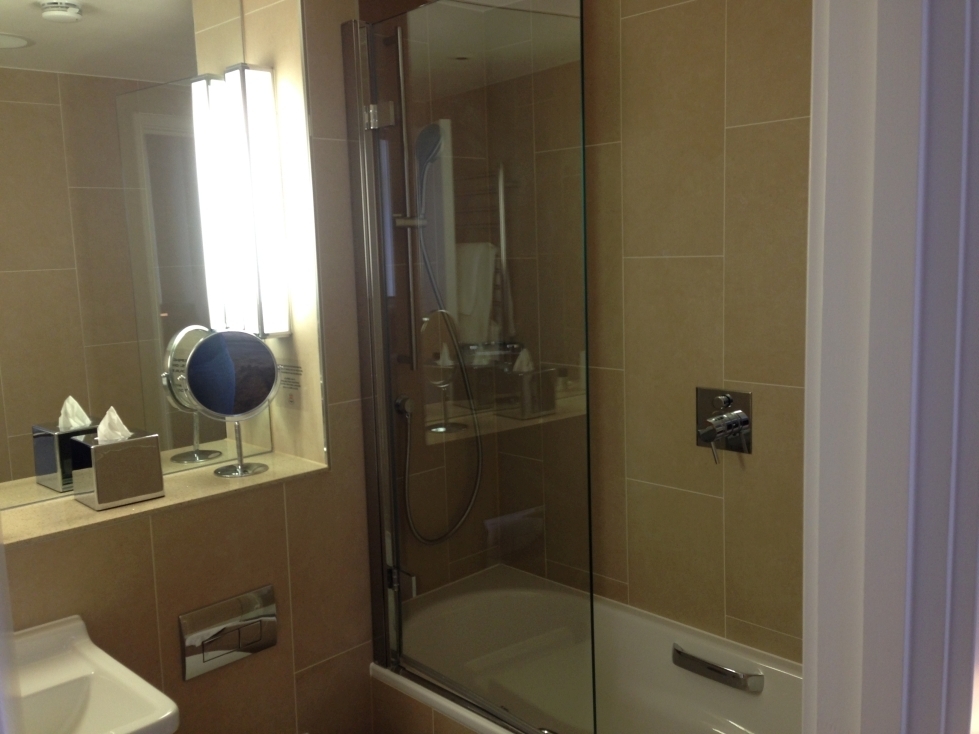 …. and with enough room to put a few washbags next to each other. It also had a speaker so you could listen to the TV when being in the bathroom.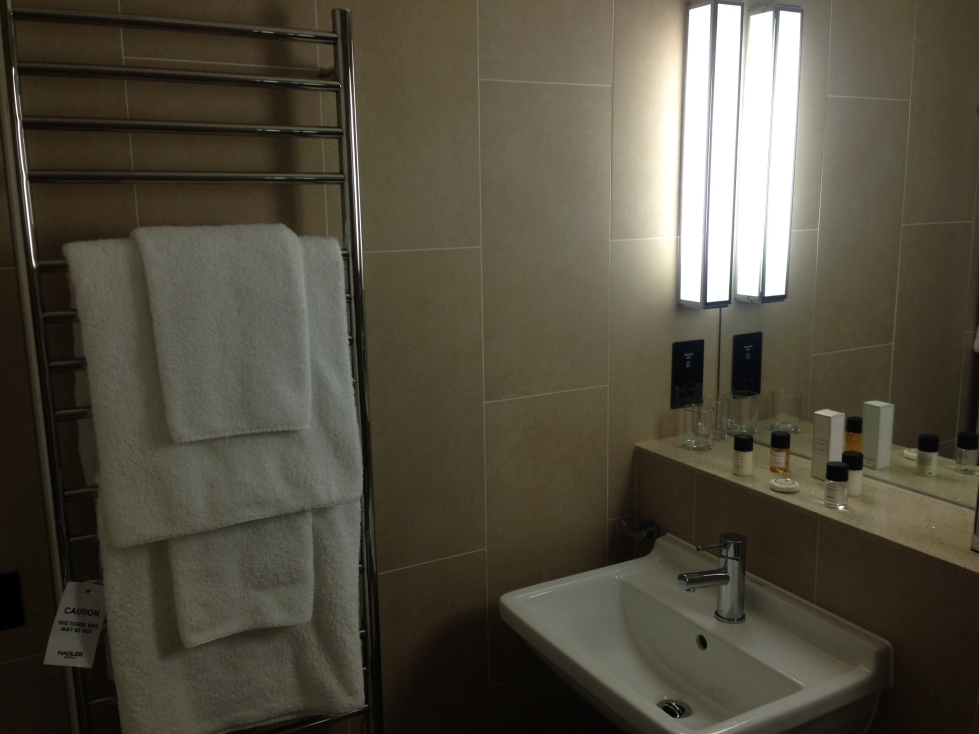 The toiletries were by Gilchrest & Soames.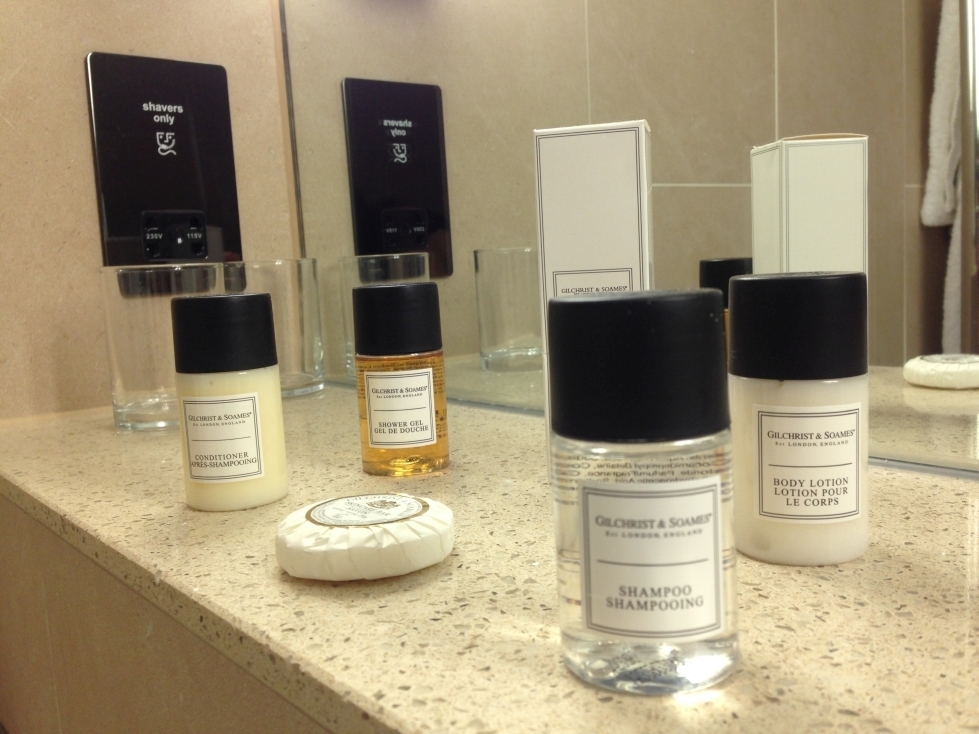 Every room in the hotel has got a kitchen with everything you need to prepare a quick snack (microwave), to have cereals in the morning (good size fridge) and to make a good cup of Nespresso (free capsules). The hotel also offers a breakfast delivery service for the same price as if you went down to the nearby bakery yourself, only adding a small delivery charge of £1.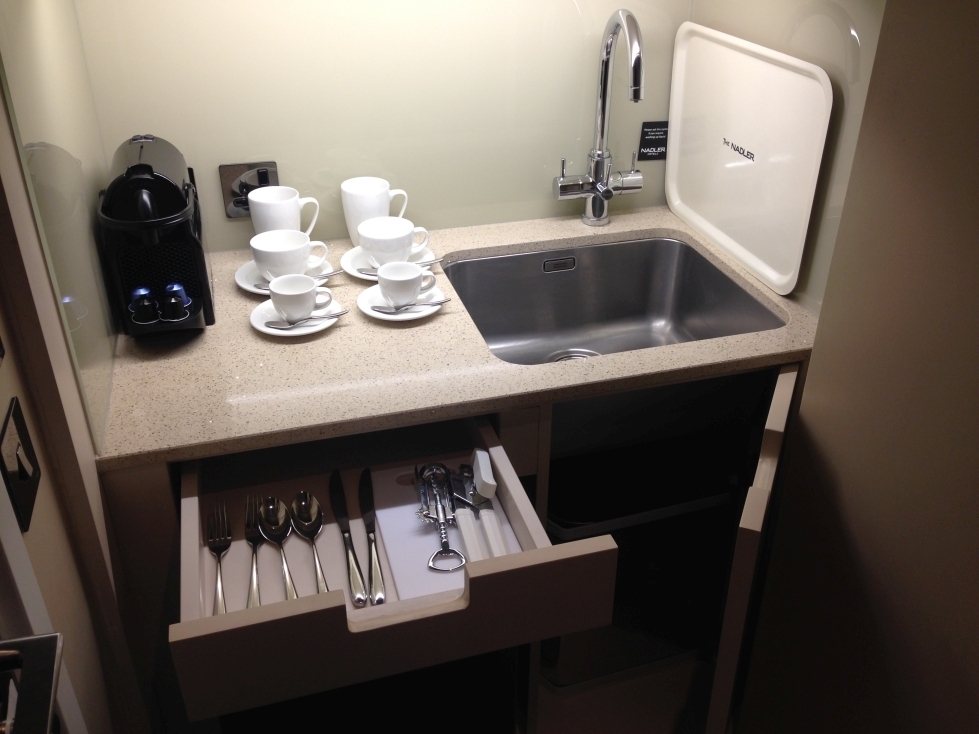 If you are familiar with the Victoria area, you know that there are never ending construction works going on all over the area.  Almost all of Victoria Street as well as the tube station is being rebuilt over a number of years.  In order for the hotel guests to not be bothered by noise, the windows are triple glazed. I can confirm that I didn't hear any of outside noise.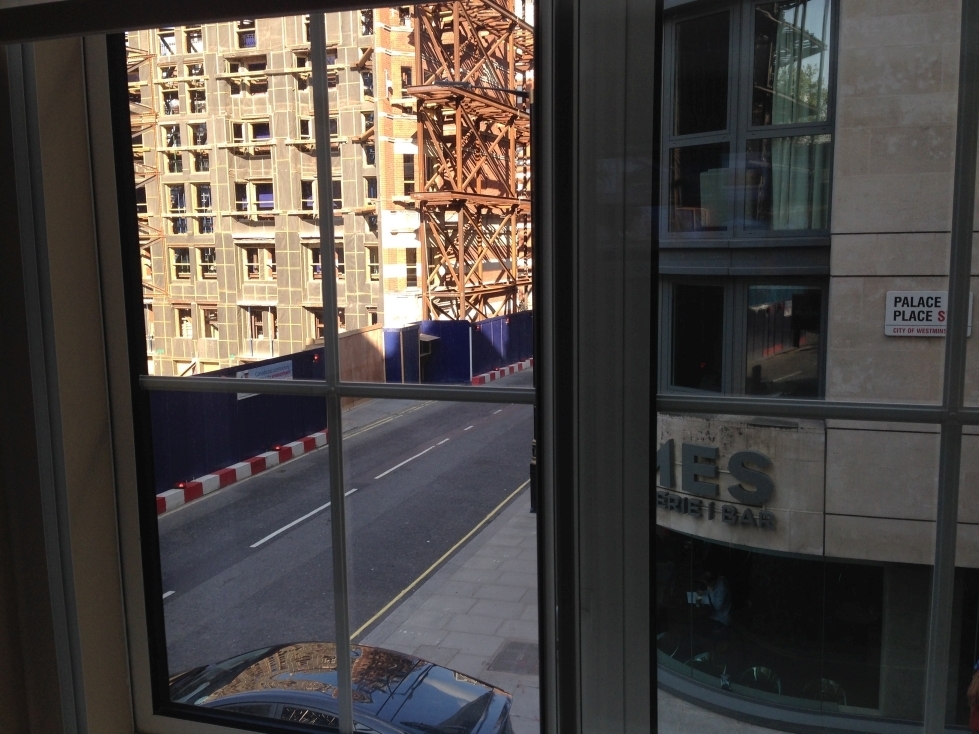 Your other room options at The Resident
The superior rooms are slightly smaller than the deluxe rooms, having an armchair instead of a sofa. These rooms can sleep one additional person as there is a trundle bed with a thick mattress under the bed which can be pulled out at night and stored away during the day.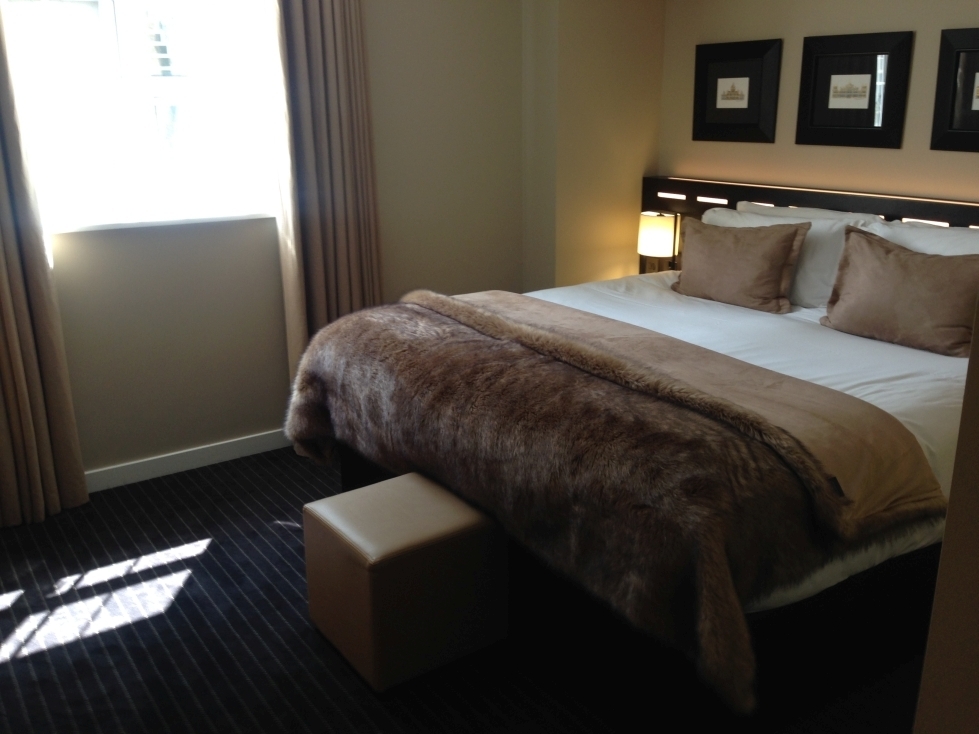 The bookcase rooms have (as the name suggests) gorgeous old book spines as wall decoration. These rooms are a bit smaller and don't have a bathtub in the bathroom.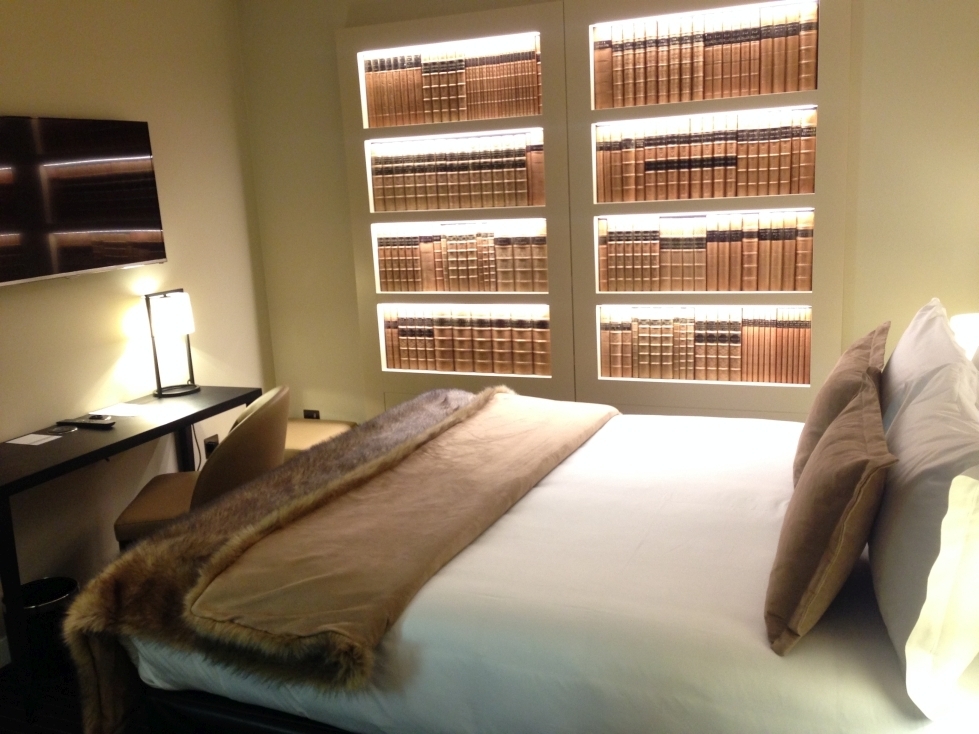 As you can see the rooms differ only in size and not style.
Did it work for me?
Robert Nadler's philosophy is that his hotels are part of the community and that he works alongside other hospitality businesses instead of taking business away from them. By doing so, the hotel group is also able to keep the prices for the rooms down. This is a great approach which is a win win situation for the hotel, its guests and surrounding businesses.
(I have not discussed detailed pricing here because it obviously varies from night to night.  For Wednesday 15th June, however, the cheapest refundable room at The Nadler Victoria is £266.  The Conrad nearby – which is 5* rather than 4* – is an astonishing £445.  The unremarkable DoubleTree Victoria is £299.)
The Nadler Victoria is well designed, by Robert Nadler's wife, has location related artworks throughout the building and rooms (painted by Robert Nadler's stepson), the beds are incredibly comfortable and the location works well for many key tourist attractions and business areas.
It always depends, of course, on what you personally expect from a hotel.  If you prefer to have restaurants and bars only a lift ride away, The Nadler Victoria is probably not for you. We are, however, talking about Central London here and the Nadler hotels have easy access to the wide range of venues in Kensington, Soho or Victoria depending on which one you choose.
If you like to explore the areas you are staying in and appreciate a luxury room for a modest price then this is a brand worth considering.  The lack of loyalty benefits may put off some HfP readers but booking through, say, hotels.com (where the hotel is rated 'Outstanding' with an average user score of 4.8/5) would let you pick up Hotels.com Rewards credit.
---
Hotel offers update – August 2022:
Want to earn more hotel points? Click here to see our complete list of promotions from the major hotel chains or use the 'Hotel Offers' link in the menu bar at the top of the page.
Want to buy hotel points? Hilton Honors is offering an 80% to 100% bonus when you buy points by 18th September 2022. The annual limit is doubled to 160,000 points plus your bonus. You can buy here.