CANCELLED AT THE LAST MINUTE: Crazy Wyndham / SPG hotel promo, should you bite?
Links on Head for Points may pay us an affiliate commission. A list of partners is here.
Wyndham Rewards cancelled this promotion at the last minute – see here for details.  I have left the original article intact below but do NOT do anything with your Starwood points!
(EDIT 1: Wyndham has changed the email address for this offer. The address is below is correct.)
(EDIT 2: The full rules are now available online, which were not given to me in advance. They are copied at the bottom of this article. They appear to preclude moving points out of your account in the last 24 hours in order to 'hide' some SPG points. I have amended the article to reflect that.)
(EDIT 3:  As more 'clarifications' may emerge, I recommend not taking any action until later today and the offer is active.)
Last night I received a fascinating press release, announcing what is probably the oddest promotion I have written about in the last four years.
I honestly don't know what to make of it.
It is probably best if I repeat the press release word for word: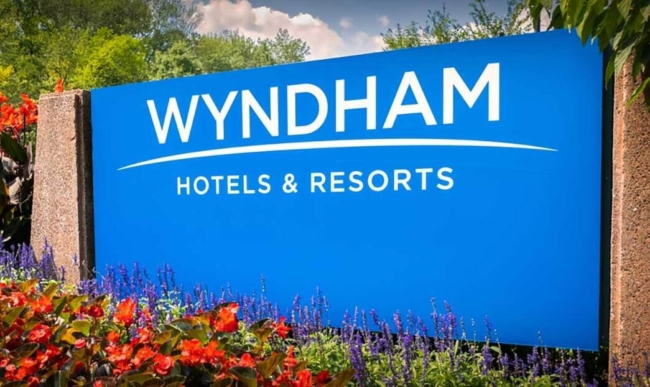 Tuesday, 11th October, London: Today the battle for traveller's loyalty is being ramped up in an unprecedented bold move from the world's largest hotel company.
Last week, Wyndham Hotel Group's loyalty program Wyndham Rewards was found to be the industry's most generous programme by independent consumer researcher, Idea Works, whilst Starwood's SPG programme was found to be the least.
To celebrate Wyndham Rewards is offering members of the least rewarding loyalty programme the opportunity to become members of the most rewarding. For twelve hours only, when Starwood SPG members donate the entire balance of their rewards points to charity, Wyndham Rewards will match their membership status and reward them with quadruple (4x) Wyndham Rewards points. Since Wyndham Rewards is the most generous loyalty programme in the industry, with a 15,000 points flat-fee redemption rate and no blackout dates, donating just 3,750 Starwood points to charity will earn a free night at more than 7,800 hotels worldwide.
The offer is the latest in a series of moves that demonstrate the programme's aim to offer the most generous rewards in the market, reward customer loyalty and empower its customers to fulfil their travel dreams.
The offer is valid from 17.00 on Tuesday, 11th October BST until 04.59 Wednesday 12th October, meaning consumers need to act quickly to unlock the many advantages of Wyndham Rewards membership.
To take advantage of this incredible offer, Starwood SPG members need to submit a screenshot showing their entire points balance has been emptied as well as screenshot confirming the entire balance of points have been donated to charity. This documentation can be sent via e-mail to [email protected].
So, are you clear?!
You take a screenshot of your SPG points balance
You take a screenshot showing a donation of your SPG points to charity via their charity portal
Wyndham Rewards will match your SPG status and quadruple your old Starwood points balance
The fact that we are talking about Wyndham Rewards makes this a tricky one to call because of the odd way the Wyndham scheme is restructured.
Let me explain …..
About Wyndham Rewards
Wyndham – even though you may never have heard of it – is actually the largest hotel group in the world with over 7,800 properties.  The majority of these are low-cost hotels in the USA, primarily outside major cities, and you are unlikely to stay in one unless you are doing a US road trip.
In the UK, Wyndham Rewards is the loyalty scheme for hotel chains Ramada and Days Inn.  It also covers chains which you don't find in the UK – Wyndham, Tryp, Wingate, Hawthorn, Microtel, Baymont, Super 8, Howard Johnson, Knights Inn and the US (not UK) Travelodge.
There are roughly 90 Wyndham Rewards hotels in the UK.  The Days Inn hotels are generally found on motorway service stations which is why you may have missed them.  Many of the better Ramada hotels, such as London Excel or The Mailbox in Birmingham, have been lost to other chains in the last year or so.
Wyndham Rewards is a simple scheme:
You earn 10 points per $1 spent (minimum 1,000 points) with a 3,000 point bonus on your first stay
You can also earn points by crediting Alamo, National, Avis or Budget car rentals or by completing e-rewards online market research surveys
There is no ability to earn points in the UK via a credit card or airline scheme transfer
This is why Wyndham Rewards is interesting:
ALL hotels – every single Wyndham Rewards property on the planet – costs a flat 15,000 points per night
Some hotels will also be available for 'points and cash' for 3,000 points per night plus a cash component
This is pretty radical stuff.  There are no charts, no peak or off peak dates.  Wherever you want to stay, it is 15,000 points.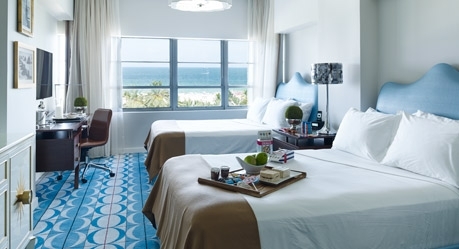 In reality, it is not quite so radical:
By introducing flat pricing, Wyndham actually increased the cost of a lot of hotels.  Far fewer came down in price.  Whilst the old range was from 5,500 points to 50,000 points, there were very few hotels in the higher bands.
You still need to spend $1,500 to get a free night.  Because Wyndham does not run a lot of bonus point promotions, you may still get free nights more quickly with other chains.
Wyndham has very few aspirational properties.  The luxury London Wyndham Grand hotel – at Chelsea Harbour – has now changed hands and is part of Millennium & Copthorne.  There is nothing in the UK that I would get excited about.
There are certainly some good aspirational places elsewhere.  I liked the look of the Shelborne Wyndham Grand South Beach in Miami, picture above.  There are also New York options which would be good value.
Some deals are exceptionally good.  Look at the Ramada Plaza Jumeirah Beach in Dubai.  Over half term in October it is selling for £307 per night.  Alternatively, you can book a room for 15,000 Wyndham Rewards points which will cost you 3,750 SPG points under this promotion!
There is another interesting option.  Wyndham bought the upmarket Dolce chain recently which has a number of European resorts.  These cannot be booked online as redemptions but they can be booked via the telephone.
The official website for Ramada in the UK is here.  The Days Inn site is here.  There are Wyndham Rewards sign-up links on both sites.
Can you do other things with Wyndham Rewards points?
Yes.  You can convert to airline miles at 5:1.  This is pointless, from the perspective of this offer, as SPG offers 1:1 transfers into 30 airlines.
You can also convert Wydnham Rewards points into Melia Rewards at the rate of 10:7.  I don't necessarily see value here either.  There isn't any value converting to Melia and then on to a Melia airline partner.
Conclusion
I'm not sure what to recommend here, to be honest.  I don't even understand why this deal is being promoted out of London – I am assuming it is not restricted to UK residents.
On the face it, the maths is attractive.
3,750 Starwood points will turn into 15,000 Wyndham Rewards points.  This will get you a free night at any of the Wyndham hotels – including the few very expensive ones – whereas it will get you next to nothing in terms of Starwood Preferred Guest redemptions.
On the other hand, there are not many Wyndham properties that you would actually want to redeem at …..
This is how I see it:
This is not, in my mind, something you should do speculatively, especially as your Starwood balance is now more valuable following the ability to transfer points into Marriott Rewards.
If you have a specific trip in mind where there is a suitable Wyndham Resorts hotel, this may be worth a look.
You may also be willing to take a punt.  After all, if you're heading to New York in the next couple of years then you can be sure you won't get a hotel for 3,750 SPG points, whilst Wyndham has a few options … unless they devalue.
For clarity, I don't think I will be jumping in.  This is simply because I cannot see, given my family commitments, a realistic chance of using these points.  If your travel plans are more flexible, you may see real value.
In truth, if I was 25 and single and with a long period of holiday time available, the temptation to take 50,000 Starwood points, convert them into 200,000 Wyndham points and enjoy two weeks in one of their top resort hotels or the Miami Beach property would be irresistable …..
Full Terms and Conditions
Loyalty Intervention offer ("Offer") is open to new and existing Wyndham Rewards® members ("Members") who reside in a participating country, territory, or region. Offer is valid Tuesday, October 11, 2016 from 12:00 p.m. – 11:59 p.m. EST only ("Offer Period"). All Wyndham Rewards Program Terms & Conditions apply. Visitwyndhamrewards.com for complete program terms and conditions and to learn more about the various Wyndham Rewards Member Levels. All capitalized terms not otherwise defined in these terms and conditions shall have the same meaning as in the Wyndham Rewards Program Terms & Conditions. Offer may not be valid with any other offer, promotion, or discount. Offer is subject to cancellation or change, at any time, and without notice. Wyndham Rewards, Inc.'s ("Wyndham Rewards") decisions are final on all matters relating to this Offer. All trademarks cited herein are the property of their respective owners.
Offer
During the Offer Period, Members have the opportunity to donate substantially all of their points in the Starwood Preferred Guest program ("Competitor Program"). All points verified to have been donated through the Competitor Program's Charity Partners program will be matched with four (4) times the same number of points in their Wyndham Rewards account ("Trade-In Bonus Points"). Additionally Wyndham Rewards will upgrade Members' new or existing Wyndham Rewards Member Level to a level equal to, but not higher than, their current loyalty elite tier/status level in the Competitor Program ("Status Match").
Claim Process
To claim the Trade-In Bonus Points and Status Match opportunity described in the Offer, Members must transmit the following information, during the Offer Period, to [email protected]: 1) Your Wyndham Rewards member number; and 2) A screenshot of your points donation receipt from the Competitor Program indicating the referenced transaction was completed during the Offer Period; and 3) A screenshot of your final points balance with the Competitor Program upon completion of the transaction; and 4) A screenshot or current Competitor Program account statement indicating your status level and recent transaction history. All information received is subject to further review and confirmation, as needed, by the Wyndham Rewards Program personnel. Member is solely responsible for any fees, costs, taxes or any other liabilities associated with any Competitor Program transactions. In most cases, Members will receive their Trade-In Bonus Points and Status Match within ten (10) days of a qualifying submission. If Members have questions concerning the Offer, they should contact Wyndham Rewards Member Services at 1.866.996.7937 or visit wyndhamrewards.com.
Trade-In Bonus Points
As a condition of eligibility for any Trade-In Bonus Points awards, Members' Competitor Program account: 1) may not reflect any other transactions within the preceding 24 hour period; and 2) may have no more than 499 points remaining in their Competitor Program account upon completion of the transaction or transactions; and 3) all transactions must be completed within the Offer Period.
Status Match
Status Match will allow members to upgrade their new or existing Wyndham Rewards Member Level to a level equal to, but not higher than, their current loyalty elite tier/status level in the Competitor Program. The Wyndham Rewards Program offers Members the following membership levels ("Member Levels"): Blue (achieved upon enrollment), Gold (achieved upon Member completing 5 Qualifying Nights in one calendar year), Platinum (achieved upon Member completing 15 Qualifying Nights in one calendar year), and Diamond (achieved upon Member completing 40 Qualifying Nights in one calendar year)*. Wyndham Rewards Member Level upgrades will, generally, be processed according to the following schedule:
Preferred to Blue
Gold to Platinum
Platinum to Diamond
However, Wyndham Rewards personnel will determine the equivalent Wyndham Rewards Member Level that matches the Member's current Competitor Program loyalty elite tier/status level, based upon a review of the number of nights, stays, and/or points required to meet the comparable elite tier/status level. Only elite tier/status level will be matched (Competitor Program benefits may not specifically be matched). Members who receive a Status Match under the Offer will retain such level until December 31, 2017.
*A Qualifying Night under the Wyndham Reward Terms & Conditions is defined as a paid, stayed night during a Qualified Stay at a Participating Hotel (see Section I of the Wyndham Rewards Terms & Conditions for definitions of "Qualified Stays" and "Participating Hotels"), so long as the Qualified Stay has an average daily rate of $25 per night; (ii) a paid, stayed night at a Go Fast Award Participating Hotel, which night was obtained by using a Go Fast Award pursuant to these Terms and Conditions; or (iii) a stayed night at a Participating Hotel, which night was obtained by using a Go Free Award pursuant to these Terms and Conditions.
---
Hotel offers update – August 2022:
Want to earn more hotel points? Click here to see our complete list of promotions from the major hotel chains or use the 'Hotel Offers' link in the menu bar at the top of the page.
Want to buy hotel points? Hilton Honors is offering an 80% to 100% bonus when you buy points by 18th September 2022. The annual limit is doubled to 160,000 points plus your bonus. You can buy here.