Flybe to start Avios-earning services to Heathrow in March 2017?
Links on Head for Points may pay us an affiliate commission. A list of partners is here.
According to reports in The Scotsman, Flybe is about to announce flights to Heathrow from Edinburgh and Aberdeen.
This is not as crazy as you might think, because the cost to Flybe is limited.
We need to go back to the acquisition of bmi British Midland by British Airways in 2012.  As part of the competition remedies put in place at the time, BA had to make certain Heathrow landing and take-off slots available to allow competing services to launch to Edinburgh and Aberdeen.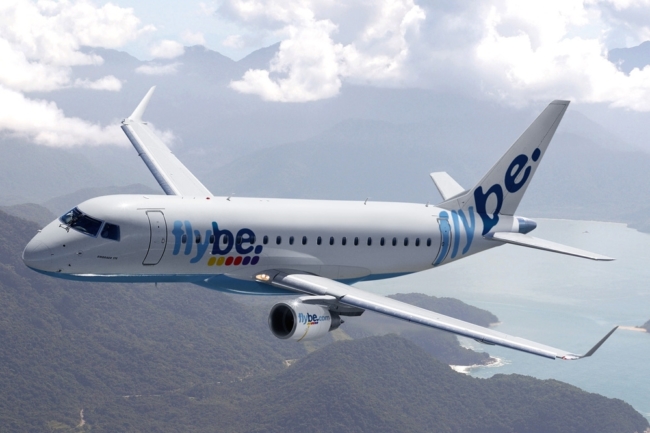 Virgin picked up these slots and launched its ill-fated Little Red services.  These were well-run flights (I reviewed one here) but hampered by the costs of wet-leasing aircraft and crew from Aer Lingus.  A lot of the passengers towards the end were Head for Points readers who were attracted by being able to status match their BA card to Virgin Flying Club if they took one Little Red flight ……
Little Red was closed last Autumn.  The Heathrow slots reverted to British Airways but had to be made available if a new competitor came forward who wanted to run flights from Edinburgh and/or Aberdeen.  And here comes Flybe …..
If the reports are accurate, the Flybe services will begin in March 2017.  The Little Red flights went from Terminal 2 at Heathrow and it is likely that the Flybe services will go there – which means that the excellent Plaza Premium departure lounge will be available for anyone with a Priority Pass.  Only Terminal 2 and Terminal 5 are set up to cater for domestic passengers.
Don't forget that you will be able to earn and redeem Avios on these services as Flybe uses Avios as its loyalty programme.  Because Flybe awards Avios based on £ spent, it is likely that non-status BA passengers would earn more Avios on pricey peak time flights on Flybe than they would on BA …..  This article outlines how to earn and spend Avios on Flybe.
Can Flybe make a go of this where Virgin failed?
It is possible they don't care.  Here's why.
This is what the European Commission said when it ruled on the BA / bmi divestments originally:
As a general rule, the slots obtained by a prospective entrant must be operated on the city pair(s) for which they have been requested from IAG and cannot be used on another city pair unless the prospective entrant has operated them during at least six full consecutive IATA seasons ("the Utilisation Period"). The prospective entrant would be deemed to have grandfathering rights for the slots once appropriate use of the slots has been made on the city pairs at issue, for the Utilisation Period. Once the Utilisation Period has elapsed, the prospective entrant would be entitled to use the slots obtained on the basis of the Commitments exclusively to operate services on any route connecting London with any other part of Europe (including Aberdeen and Edinburgh), or on London-Moscow, London-Cairo and London-Riyadh.
Assuming that the above rules are still in place, if Flybe runs these services for three years it can close down the routes and retain the slots.  These slots could only be used for flights to Europe, Moscow, Cairo or Riyadh which is why Virgin did not bother to stick it out.
For Flybe, however, the attraction of being able to pick up some very valuable Heathrow slots  and being able to cherry pick which European cities it flies to (once the three years is up) may have been too good to resist.