Back in 2013 Rob wrote about SPG Flights, the Starwood Preferred Guest redemption option where you exchange your Starwood points for a flight ticket.
Two facts made this offer sound quite attractive.  Starwood is buying you a cash ticket, therefore there is no problem with availability.  And, because it is a cash ticket, you will receive airline miles and tier points back when you fly.

However, looking at the cash value of your SPG points, this deal turned out not to be Starwood's best redemption.  You were getting around 0.8p per SPG point which was not great value – our valuation target is 1.5p per point.
With the Pound currently being rather weak it's worth taking another look at this redemption, because the value should have improved sharply.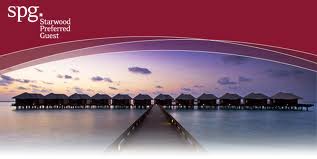 What do I get for my SPG points via SPG Flights?
Starwood is very upfront about the pricing structure for SPG Flights. The number of points required is based on the cost of the flight (plus a $15 admin charge), set against various point bands:
up to $150 10,000 SPG points
$150-$215 15,000
$215-$280 20,000
$280-$345 25,000
$345-$410 30,000
$410-$475 35,000
$475-$540 40,000
$540-$605 45,000
$605-$670 50,000
$670-$735 55,000
$735-$800 60,000
$800-$865 65,000
$865-$930 70,000
$930-$995 75,000
$995-$1060 80,000
Higher prices (examples) :
$2,880-$3,140 235,000
$4,960-$5,220 395,000
$9,900-$10,160 775,000
Looking at the cheapest option you trade 10,000 SPG points for a $135 flight – plus the $15 admin fee – meaning you'd get 1.35c per point.  Back in 2013 (when £1 was $1.55) 1.35c was 0.87p.  Today it's 1.07p.
The other price examples are roughly the same, if you go for the higher price within the bracket. The value per point has gone up by roughly 20% proportionally and you will get around 1p per point.  You will still get better value if you use your Starwood points for a well chosen hotel redemption, but getting 1p via this route is not terrible.
Even though, in general, the weak Pound can be a problem when travelling, at least when exchanging points for something priced in a foreign currency you are better off than a couple of years ago.
(Want to earn more hotel points?  Click here to see our complete list of promotions from the major hotel chains or use the 'Hotel Promos' link in the menu bar at the top of the page.)