This is my review of the American Express Nectar credit card.
Head for Points mainly focusses on credit cards which offer airline miles or hotel loyalty points for your spending. However, as Expedia is a partner with Nectar, it is worth taking a look at the Amex Nectar credit card.
This review was updated on 1st January 2018 and all the information was correct on that date.
Link: American Express Nectar credit card
Key facts: No annual fee in year 1, £25 annual fee thereafter
The Nectar credit card has a representative APR of 28.2%, including the fee, based on a notional credit limit of £1,200.
If you want to check your credit record before applying for a new card, click here to get your free Equifax credit report and score. Your first 30 days are free then it's £14.95 per month. You can cancel at anytime.
Most rewards cards are not suitable products if you do not clear your balance in full every month. You should focus on a credit card with a low interest rate such as the Tesco Clubcard MasterCard Low Rate card. This has a very attractive representative APR of 5.9% variable – and you can transfer your Clubcard points into Avios or Virgin Flying Club miles.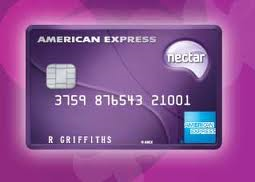 As with all the credit cards I look at, you need to think separately about the sign-up bonus and the on-going bonus. There are actually two separate questions to consider:
"Is it worth getting this card just to benefit from the sign-up bonus?
and
"Is this a card I want to keep in my wallet for the long-term?"
What is the sign-up bonus?
The Amex Nectar card has the usual generous sign-up bonus. They are currently offering 20,000 Nectar points, which is worth £100 when spent with any Nectar partner, including Expedia. This page on our sister site Shopper Points shows the best value Nectar redemptions if you want to maximise the value of the points.
You need to spend £2,000 within three months to receive this – you do not receive it as soon as you are accepted for the card.
The American Express Nectar credit card comes with a £25 annual fee. For the first year, however, the card is free. This gives you 12 months to decide if you can spend enough on the card to justify keeping it long term. If not, you can cancel within the first year and will have paid nothing.
What is the on-going earning?
You earn 2 Nectar points per £1 of general spend. This is effectively 1% cashback.
Be warned – the Amex website for the card is VERY disingenuous. It says: "Collect up to 4 Nectar points for every full £1 spent at Nectar partners". However, these are weasel words!
You do NOT receive 4 points per £1 spent just on the credit card. What Amex means is that you will receive your USUAL Nectar points for spending at Sainsbury, BP etc PLUS the 2 points per £1 spent on the credit card. You are NOT receiving 4 points per £1 via the credit card plus your usual Nectar points from your shopping.
Amex is being a little naughty in writing its advertising like this, although Tesco does something similar in its advertising for the Tesco Clubcard MasterCard.
What more should I know?
American Express no longer has a minimum income requirement for its cards.
What alternative cards are worth a look?
The Amex Nectar card is a perfectly acceptable piece of plastic.  It is worth getting for the sign-up bonus and for the on-going earning rate.
Look at Amex Gold too:
Once you have your Amex Nectar card and have spent enough to trigger the sign-up bonus points, you should also take a look at the American Express Preferred Rewards Gold card.   I wrote a review of American Express Gold here.
This card also has NO annual fee in the first year and comes with 20,000 American Express Membership Rewards points. These can be transferred into 20,000 Nectar points – so you get the same bonus.
However, you can receive a higher bonus of 22,000 points if you are referred by an existing Amex Gold cardholder. I am happy to do this for you – see my review for details of how to do it.
The earnings rate is not as good at just 1 Amex point (= 1 Nectar point) per £1 on most purchases.  The Amex Nectar card is better for your day to day spending.
I don't think that Amex Gold is worth its £140 annual fee for Year 2 onwards so make sure to cancel it during the first free year.
It is important to remember that the Gold card is a charge card, not a credit card – you MUST repay the full balance each month.
Look at the Amex Platinum Cashback cards too:
The two American Express Platinum Cashback cards are the highest paying cashback cards currently available in the UK. I wrote a review of those here. You will earn up to 1.25% cashback on these cards, which is worth more than 2 Nectar points per £1.
It is still worth getting the Amex Nectar card for the big sign-up bonus, but you may prefer to switch to a Platinum Cashback card for your long term spending.
Conclusion
For day-to-day spending, the Amex Nectar card is not a bad deal, effectively giving you 1% cashback. The £25 fee means that – after the first FREE year – this is not a great deal if you are not a high spender. For the first year, though, the 20,000 Nectar points sign-up bonus means that you will certainly come out on top.
You should consider Amex Gold as well once you have earned the bonus on Amex Nectar. Take the 20,000 American Express Membership Rewards points sign-up bonus and convert it to 20,000 Nectar points. The card is free for the first year, so you have 11 months to get around to cancelling it.
If your main aim is a card you can rely on for the long-term to provide you with cashback, think about the American Express Platinum Cashback cards after you have banked the Amex Nectar bonus. 1.25% cash in your pocket is better in every way than 2 Nectar points per £1.
(Want to earn more miles and points from credit cards?  Click here to visit our dedicated airline and hotel travel credit cards page or use the 'Credit Cards Update' link in the menu bar at the top of the page.)