Low-cost NYC with, erm, Primera Air from B'ham and London – book or avoid?
Links on Head for Points may pay us an affiliate commission. A list of partners is here.
One thing about getting older is that you get a better sense of perspective on news announcements.  This is why I wasn't rushing to write an article when that well-known airline Primera Air announced low-cost flights to New York and Boston from Birmingham and Stansted.  On an A321.
The list of small airlines that have tried, and failed, to make a go of 'all business class' services to New York is disturbingly long.  La Compagnie is the latest to try and fail, but they were simply the last in a long line which starts with Laker Airways and takes in Eos, MAXjet and Silverjet along the way.
Primera Air is different, because they appear to be even madder.  They will be offering a primarily economy service.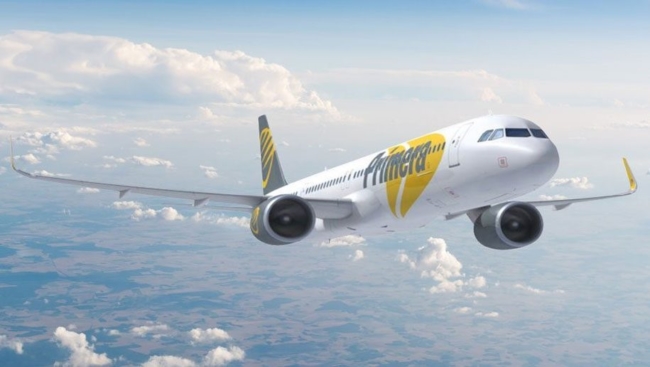 And yet …..
The economics is not totally bonkers.  The list price of an A321neo – a price which no-one actually pays – is $127m, or $700k per seat.  The list price of an A350-800 is $275m, which seats 280 people in a typical 3-class configuration, so let's assume 330 or so if it was 'all economy'.  That is a similar – in fact, slightly higher – cost per seat to buy the aircraft.
Running costs, of course, are a different matter, but in the world of $50 oil these are less important than they were.  And your chances of filling an A321 are clearly higher than your chance of filling an A350 if you are a start-up.
Reselling an A321, if you fail, is also a doddle.  The bigger the aircraft, the harder it is to find a home for it second hand as Emirates and Malaysia are finding with their A380's.
Who is Primera Air?
In their favour, Primera Air is not a startup.  The airline was founded in 2003 as a charter group.
That said, it hasn't exactly made huge strides between 2003 and today.  Whilst it has bases in Iceland, Denmark, Sweden and Finland, it only has a fleet of nine aircraft – two new generation Boeing 737-700 and seven Boeing 737-800.
Whilst Icelandic owned, it has a head office in Riga and uses a Danish operating licence.
What do we know?
This is what Primera Air has announced:
Flights to New York Newark and Boston to start in April 2018
Bases to opened at London Stansted, Birmingham and Paris CDG
Routes to be served with new Airbus 321neo aircraft
Additional destinations to be announced later this year
Both Birmingham and Stansted to New York will be daily, Boston will be 4 x weekly.
Is Primera Air really cheap?
Primera says that it will "offer transatlantic flights at prices previously unseen".  Except it isn't.
Here is some sample pricing, based on Primera's 'comfort' package which includes meals, hold baggage and seat selection.
NEW YORK (7th June – 11th June)
Birmingham to New York (Newark) (Direct) – Primera Air (Comfort) = £411 return
Birmingham to New York (Newark) (Via Paris) – Air France/KLM (Standard Economy) = £380 return
Manchester to New York (JFK) (Direct) – Virgin Atlantic (Standard Economy) = £394 return
London Heathrow to New York (Newark) (Direct) – United Airlines (Standard Economy) = £380 return
London Gatwick to New York (JFK) (Direct) – Norwegian (LowFare+) = £493 return
BOSTON (22nd June – 26th June)
Birmingham to Boston (Direct) – Primera Air (Comfort) = £325 return
Birmingham to Boston (Via Dublin) – Aer Lingus (Standard Economy) = £430 return
Manchester to Boston (Direct) – Thomas Cook (Standard Economy) = £400 return
London Heathrow to Boston (Direct) – British Airways (Standard Economy) = £860 return (!)
London Gatwick to Boston (Direct) – Norwegian (LowFare+) = £437 return
To be fair, prices can change sharply when booking flights 11 months in advance.  Boston looks decent, but is there really that much demand from Birmingham to Boston?
Birmingham to New York could be a winner.  Both United and American Airlines have dropped the route but there should easily be enough demand to fill an A321.
What is the bottom line cheapest fare?
Looking at the first 6 weeks of operation in May and June 2018, the cheapest one-way tickets between Birmingham and New York move around from £189 to £249.
You get NOTHING included with this.  No meals, no seat selection, no baggage.  You do get 1 piece of hand baggage but with a very low 10kg weight limit.  The 'comfort' package which includes a checked case and meals costs an extra £50 one-way.
Premium starts at £600 one way.
I repeat.  Do not be fooled.  These are not exceptionally cheap fares.  If you live near Birmingham Primera Air is certainly convenient, but don't think it is necessarily a bargain.
What will Primera Air offer?
It WON'T be offering IFE.  This may be a deal-breaker for some people, although there will be USB charging ports if you bring your own devices.
Wi-fi is available for a fee which puts them ahead of British Airways.
Food, seating etc is chargeable if you take their cheapest tickets.  Seats with extra leg room are available.
Is there business class?
Sort of, yes.  Primera Air has a Premium Economy cabin.  It doesn't seem to include much (one of the "features" is "an individual bottle of water") but on the face of it, it looks OK: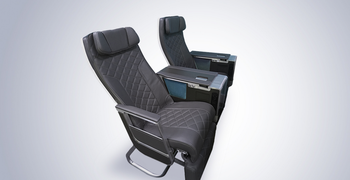 The 2 x 2 seating intrigues me and, purely on that basis, I'd be interested in trying it.
Any tips?
Day flights to New York and Boston are relatively short and painless, whoever you fly with and however you do it.
What is good about Primera Air – and Norwegian for that matter – is that you can buy a one-way ticket without penalty.  Why not fly out one-way in Primera Economy or Premium Economy instead of wasting Avios, and just use your points to fly back in British Airways Club World?  It is only the overnight flight where a flat bed in Business Class really comes into its own.
And, if you do book, use a credit card and not a debit card.  That Section 75 bankruptcy protection may be needed.