I try 'Flight Experience London' in Putney and land a Boeing 737
Links on Head for Points may pay us an affiliate commission. A list of partners is here.
The closest I've come to flying a plane was a computer game my brother had when we were kids. Though most of the time he wouldn't let me fly the plane and I'm pretty sure whenever he did let me have a go I crashed …..
Anyway. I can now say I've safely landed a Boeing 737-800 in Hamburg and at the old Hong Kong airport at Kai Tak. Obviously I wasn't actually in Hamburg and Hong Kong, but in the rather more prosaic surroundings of Putney, at Flight Experience London.
Flight Experience is a flight simulator business based in Australia, and this is the first franchise in the UK.  It is the only company to operate officially licensed Boeing 737 flight simulators.
I was offered the chance to have a free session – how could I refuse?
Putney is a 15 minute train ride from Waterloo.  Flight Experience is just around the corner from the mainline Putney Station.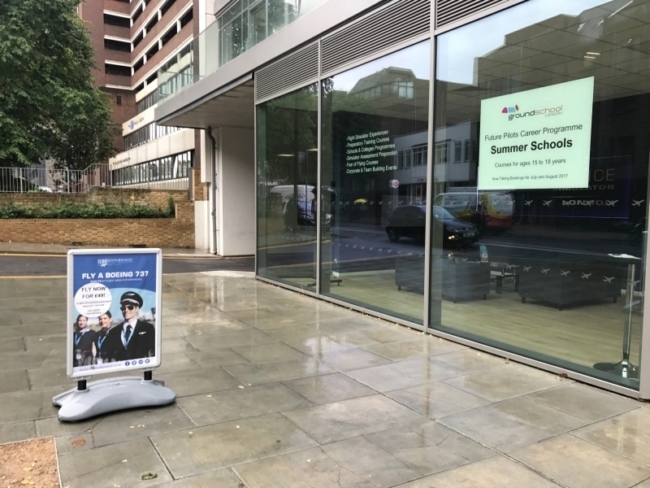 The company has two parts to its business:
A Boeing 737-800 flight simulator
Groundschool London
The flight simulator is for everyone over the age of 14 who would like to experience a flight from the inside of the cockpit, taking charge of the plane.
Groundschool London is a training academy where future pilots can prepare for the complex application process.
Inside the Boeing 737-800 simulator
The best thing about the simulator is that the cockpit used to be in a functioning aircraft belonging to Alaska Airlines.  All of the switches, levers and buttons are exactly how you would find them in a real plane.
A 180 degree screen outside the windows shows the surrounding areas.
To be honest I got a little bit nervous when I saw the amount of switches and was worried that I'd crash – although as the simulator doesn't move an accident would not have been that bad!  Luckily I had a co-pilot who explained everything and told me what to do.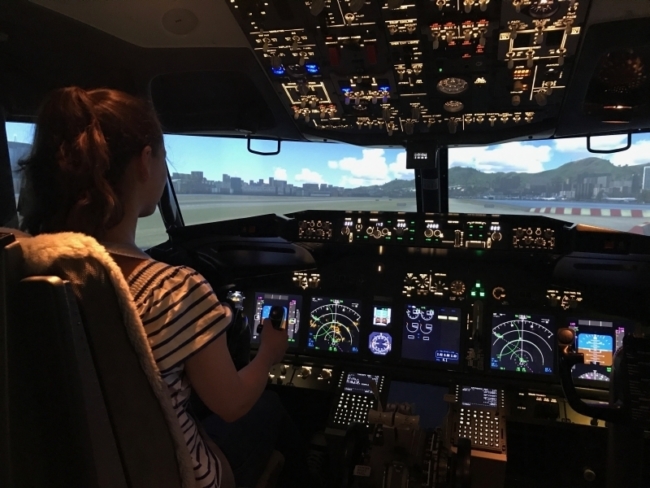 I got to do two take offs and landings. The first airport I chose was Hamburg, one I have flown into as a passenger many times.  I took off, did a large circle and landed safely.
The second take off was from the new Hong Kong airport, landing at the old airport of Kai Tak (image below), famous for its white knuckle approach between the skyscrapers.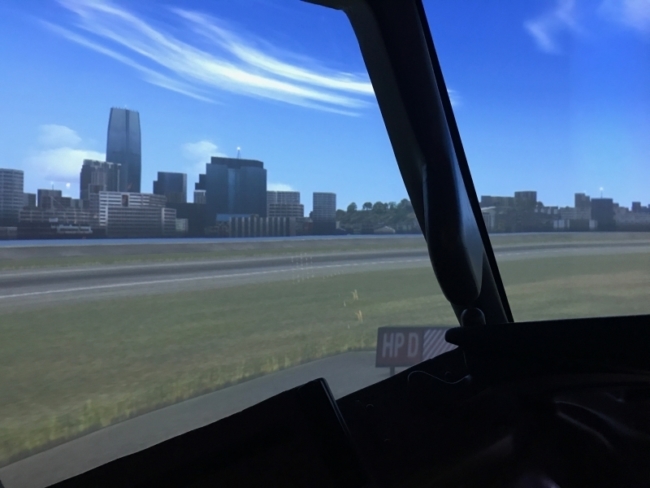 Conclusion
I am by no means an aircraft geek but this experience was genuinely amazing.  As I spend quite a lot of time in planes it was interesting to find out what's happening in the cockpit whilst I'm drinking gin & tonic down the back.  If I can do it then you can do it too – absolutely no experience of real or video game cockpits required.
If you want to fly the Boeing 737, you can currently save a few pounds with their Summer offer:
Scenic Flight 30 minutes – £140 £109
City Circuits 45 minutes – £195 £159
City Flyer 60 minutes – £270 £199
Fly and Dine 60 minutes – £249
Ultimate 90 minutes – £360 £279
Multi City Flyer 60 minutes – £295
Multi Ultimate 90 minutes – £380
If you're lucky you might also be able to grab one of the last discounted packages listed on Groupon.  We first mentioned these a couple of weeks ago and there was a big response.  There are only 30 minute weekend sessions still available at £52.  If the code hasn't expired, you will save a further 15% if you are creating a new Groupon account by using code NEW15.
You can also book the venue, including time in the flight simulator for all guests, for corporate events.
The Flight Experience London website is here if you want to find out more.