This is my review of the American Express Preferred Rewards Gold (Amex Gold) charge card.
It is part of my series of articles looking at the major UK loyalty credit cards and discussing whether or not they are worth applying for.  These articles will be linked to the relevant sections of the 'Credit Cards Update' page.  My other UK airline and hotel credit card reviews can be found here.
If you want to check your credit record before applying for a new card, click here to get your free Equifax credit report and score. Your first 30 days are free then it's £14.95 per month. You can cancel at anytime.
(EDIT:  This article was updated on 27th December 2017 and is correct as of that date.)
Key link:  American Express Preferred Rewards Gold application page
Key facts:  No annual fee in year 1 and £140 thereafter.  You can cancel at any point.
About the card
The American Express Preferred Rewards Gold is issued directly by American Express.
The general American Express rule is that you can hold two charge cards and two credit cards at the same time.  Platinum is the other widely-held charge card, the credit cards include the BA, Starwood SPG, Nectar, Costco, Amex Rewards and Harrods Amex cards.
Any American Express cards you may have which are issued by Lloyds or MBNA will not directly impact on whether you are accepted for this card.
Note that the Preferred Rewards Gold card is a charge card, not a credit card.  You MUST clear your balance in full at the end of each month.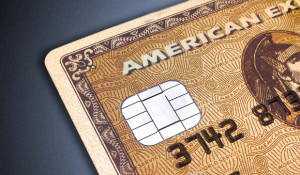 What is the sign-up bonus?
Amex Gold offers 20,000 Membership Rewards points when you spend £2,000 within 3 months.  This is the most generous sign-up bonus generally available on any free UK loyalty charge or credit card – albeit that Amex Gold is only free for the first year.
Membership Rewards points can be converted 1 to 1 into Avios.  Click here to see what other reward programmes are Membership Rewards transfer partners.  This means that you can receive 20,000 Avios points for free by applying for this card, spending enough to trigger the sign-up bonus and then transferring the points to British Airways.
You can get an even higher bonus of 22,000 Membership Rewards points if you are referred by an existing American Express Platinum or Gold cardholder.  Please e-mail me at rob [at] headforpoints.co.uk if you would like a referral.
Any other benefits?
You receive two free airport lounge passes each membership year with Amex Gold, valid at any airport lounge in the 'Lounge Club' network.  Heathrow (including the Aspire lounge in Terminal 5), Gatwick, Luton and Stansted – amongst many others – have participating lounges as do most major airports worldwide.  After your two free visits, you can make further lounge visits for a £15 charge.
You will receive 10,000 bonus Membership Rewards points each year when you renew your Amex Gold membership if you have spent £15,000 in the previous year.  These will post one month after your renewal date.
You will receive a 10% discount and free additional driver on Hertz bookings.  There are also 350 4-5 star hotels worldwide which offer a $75 in-hotel credit and an upgrade when booked by an Amex Gold cardholder via the American Express travel service.
What is the annual fee?
There is no fee for the first year of Amex Gold.
For future years, there is a fee of £140.  I would personally struggle to justify that fee in light of the benefits unless I was making heavy use of the $75 hotel credits.  As the annual fee is refunded pro-rata if you cancel, there is no rush to cancel before the fee becomes due.  You may want to roll over your membership for a couple of months until you have used the two extra Lounge Club airport lounge passes which come on renewal.
What do I earn per £1 spent on the card?
You receive 1 Membership Rewards point per £1 spent on the card.
Foreign currency transactions and airline transactions earn 2 points per £1.
Travel bookings made via the American Express Travel website, and paid for online, earn 3 points per £1.
What is a Membership Rewards point worth?
Anything from 'not a lot' to 'a lot' is the answer!  I wrote this lengthy article on the subject here.
If you redeem your points for, say, an Amazon gift card then you will receive around 0.5p per point.  This is a poor return compared to a typical cashback card or the value of an airline mile if used sensibly.
I tend to value airline miles at 0.75p – 1p each (this is conservative) so that is your valuation if you transfer to an airline programme.
Some of the hotel programmes also offer good value.  Club Carlson (the Radisson, Park Plaza and Park Inn scheme) transfers at 1:3 from Membership Rewards, for example.  Their top five-star hotels generally cost 70,000 points per night which would be just over 23,000 Membership Rewards points.  This would usually get you over 1p per point of value.
The other hotel partners are Hilton and Starwood.  Remember that, as Starwood Preferred Guest points can now be transferred at 3:1 into Marriott Rewards points, you can now use Amex Gold as a way of earning Marriott points.
You can take a look at the full list of Membership Rewards options here.
Other points to note
You will not receive the sign-up bonus if you have held a Platinum, Gold or Green American Express charge card, or the new Amex Rewards credit card, in the six months before you apply.
For clarity, you will definitely receive the sign-up bonus if you already have a BA Amex, SPG Amex, Platinum Cashback Amex or any Amex issued by Lloyds, MBNA or any other bank.
You will also definitely receive the bonus if you are currently a supplementary cardholder on someone else's Amex Gold or Platinum card.  As far as Amex is concerned, that card belongs to the primarily cardholder and does not make you an 'existing cardholder'.
After the first year, when the £140 annual fee kicks in, you can cancel at any time for a pro-rata fee refund.  American Express is the only card issuer to offer such a pro-rata fee refund.
American Express no longer has a minimum income requirement for any of its cards.
Conclusion
The sign-up bonus of 20,000 Membership Rewards points (22,000 if I refer you) is the most generous incentive available on a free UK charge or credit card.  I strongly recommend signing up and giving the card a try, if only for the first free year.
For day to day spending, 1 point per £1 is middling, although the 10,000 point bonus for spending £15,000 in a year would increase your average rate sharply if you achieved it.
The application form for Amex Gold can be found here.
(Want to earn more miles and points from credit cards?  Click here to visit our dedicated airline and hotel travel credit cards page or use the 'Credit Cards Update' link in the menu bar at the top of the page.)
Disclaimer: Head for Points is a journalistic website. Nothing here should be construed as financial advice, and it is your own responsibility to ensure that any product is right for your circumstances. Recommendations are based primarily on the ability to earn miles and points and do not consider interest rates, service levels or any impact on your credit history.  By recommending credit cards on this site, I am – technically – acting as a credit broker.  Robert Burgess, trading as Head for Points, is regulated and authorised by the Financial Conduct Authority to act as a credit broker.