'Couldn't make it up' #2: bmi regional gives out topbonus miles – but you can't spend them
Links on Head for Points may pay us an affiliate commission. A list of partners is here.
OK, this one is going to get complicated.
bmi regional (their lack of capitals, not mine) was launched in November 2012. After British Airways acquired the 'original' ex-British Midland airline, it generously sold the name and the flybmi.com website to a new UK carrier.
bmi regional was set up to link secondary business centres across Europe to major hubs. It has a fleet of 20 Embraer 135 and 145 aircraft. The airline now operates over 400 scheduled flights a week across 46 destinations in 11 countries.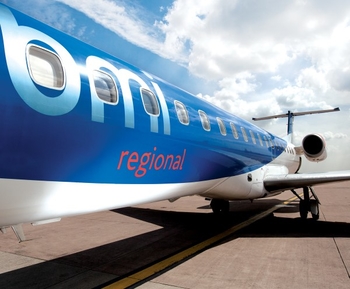 topbonus (again, no capitals) was the old airberlin (no capitals) frequent flyer programme. In an attempt to inject money into airberlin without breaking EU rules on foreign investment in airlines, Etihad bought topbonus from airberlin for a disproportionately high price.
When airberlin went bust a few months ago, it turned out that it hadn't been paying topbonus for the miles it had issued. To keep cash in airberlin, Etihad / topbonus only asked for money when miles were redeemed. This meant that, with airberlin bankrupt, topbonus itself had to go into administration – it had a massive liability (mileage balances, which would cost it money when members redeemed) but airberlin was no longer around to pay.
I was pretty certain that the scheme would be absorbed into Etihad Guest and balances converted into Etihad Guest miles. I was wrong (so far) – Etihad seems to see some sort of future for topbonus as a German-focused coalition loyalty programme with varied partners.
So, until a few days ago, topbonus was a loyalty scheme which only allowed you to collect miles on Etihad and only allowed you to redeem miles on ONE thing – a '€49 plus 5,000 miles' hotel voucher.
Last week, surprisingly, German regional airline Germania was added as a new topbonus partner – see here.
And then, a couple of days ago, bmi regional was added too.
This is what you will earn when flying bmi regional:
Details are on the topbonus site here. In summary, you will earn:
250 miles per sector on 'Sale' tickets
500 miles per sector on 'Classic' tickets
1,000 miles per sector on 'Classic Plus' tickets
2,000 miles per sector on 'Executive' tickets
However, there is a snag
You can ONLY earn miles if you book your bmi regional tickets via flybmi.com/topbonus.
Tickets booked via the main flybmi website or via a travel agent do not earn any miles.
And you can't spend the miles …..
To reiterate what I wrote above, you cannot currently spend topbonus miles. There is literally nothing – unless you want to pay €49 plus 5,000 miles for a hotel voucher – to spend them on.
Even bmi regional is hiding this new partnership away
If you look at the bmi homepage, there is no mention of this new relationship. Nothing.
For clarity, topbonus status benefits do not apply to bmi regional, if you still have a shiny topbonus card from the airberlin days.
It is all very odd indeed. If you are booking flights on bmi regional then, of course, you might as well use the new booking link and earn some miles with topbonus. They might, one day, be worth something. Just not today.