My full motion flight simulator experience – or why I'm convinced that I CAN now land a plane
Links on Head for Points may pay us an affiliate commission. A list of partners is here.
Regular readers might recall my article last year about Flight Experience.  This is an Australian-based flight simulator company with a new branch in Putney.
In Putney I got to try their Boeing 737 flight simulator, landing the plane in Hamburg and Hong Kong.  This was a great experience and a lot of fun.  As a low(er) cost fixed simulator, however, it doesn't move whilst you are flying.
So when we got an email from Virtual Aerospace asking if I would like to try their full motion Boeing 737 flight simulator, I was pretty excited.
Getting there
Virtual Aerospace has locations with fixed simulators all over the UK.  The full motion simulators are only in Burgess Hill, Sussex and Cardiff. (Fun fact: The two full motion simulators in Cardiff are owned by Bruce Dickinson!).
Cardiff was a bit far away so I had my full motion flight in Burgess Hill.  This is about 11 miles north of Brighton and 20 miles south of Gatwick Airport.
The trip down was a bit of a mess, but I will mention it to save anyone else from making the same mistake.  There are trains from London Victoria as well as London Bridge and I made the mistake of choosing a Thameslink train from London Bridge which got cancelled at the last minute.
My train ticket was only valid on Thameslink services and as I was under time pressure I decided to use my contactless credit card to get to Gatwick Airport on the next Southern train and then get an Uber from the airport.  However, the first two Uber drivers to accept my ride changed their mind when they realised it was 'only' going to be a 20 minute ride.  I eventually got to Burgess Hill 10 minutes late which cut my introductory session short.
I advise you to get a train from Victoria to Burgess Hill and forget about London Bridge where there is only one train per hour. From Burgess Hill station it's a 15 minute walk or a four minute ride by taxi.
Introductory session
This part should have been 30 minutes long, but I only got 15 minutes due to my late arrival which meant my instructor was going to explain in the simulator everything as we went along.  Due to my earlier session in Putney this was not a problem.
The way it normally works is that the instructor explains all the switches on this basic cabin mock-up.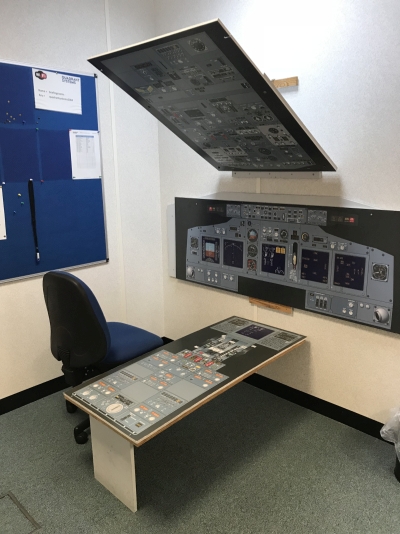 The simulators
There are two full motion simulators at Burgess Hill which can be booked by the public, a Boeing 737-800 and an Airbus A320.
They are about 50 feet high and mounted on hydraulic jacks to replicate the movement of a real plane including severe turbulence.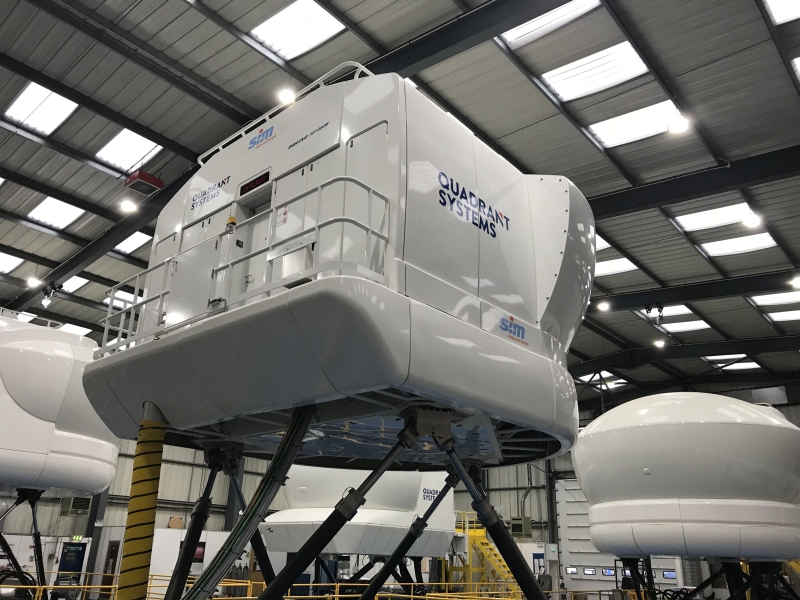 My flight was booked on the Boeing 737.  I did, however, get to also have a peak in the A320 (pictures further below).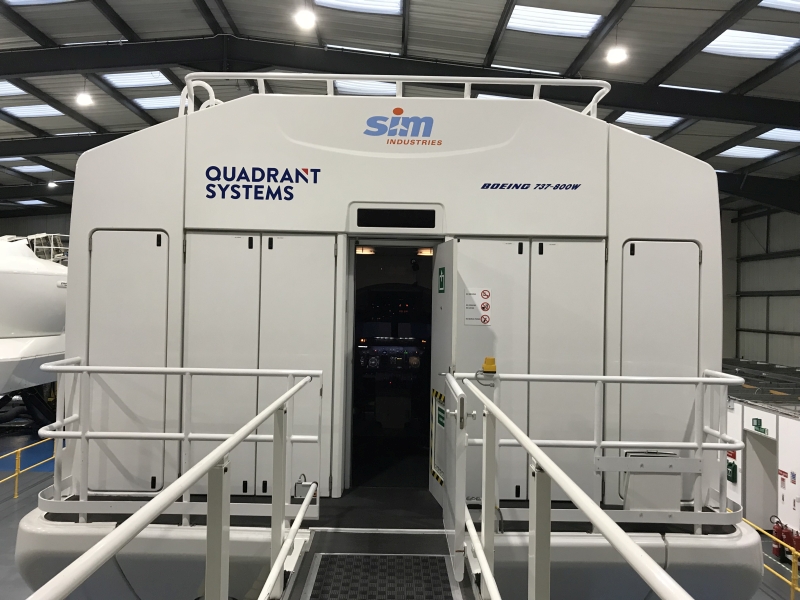 Boeing 737
Apart from having to climb up a flight of stairs and enter a cubicle 50 feet up in the air, my first impression of the simulator interior was similar to the one at Flight Experience in Putney. The cockpit was a full replicate of a Boeing 737 cockpit with all the switches, levers and pedals.
The graphics, however, once turned on seemed more advanced than in Putney.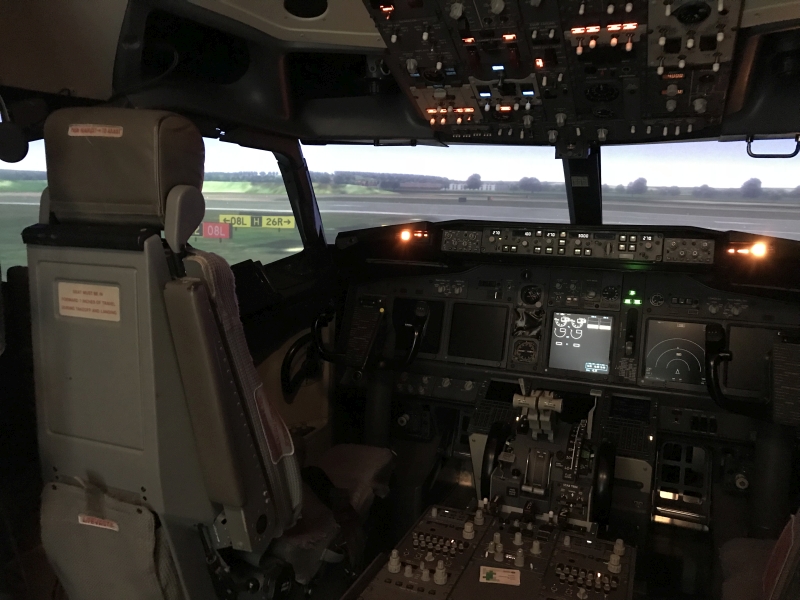 I sat down on the captain's seat and fastened my seat belt.
As we were close to Gatwick, we chose this as our departure airport.
We took off, circled over Gatwick and did the first landing together. The last bit involved many small movements to keep the plane where it was supposed to be.  I had a helpful purple cross on my screen which showed me whether I was too high, too low, too far left or too far right.
After landing we immediately took off again and the second landing I had to do almost by myself.
We had time for a third take off and my instructor showed me one thing that's possible with a simulator but not in real life: a 45 degrees dip to one side. It felt very real and I would not want to experience this on a real plane.
After the session we looked at a separate screen which showed us our route.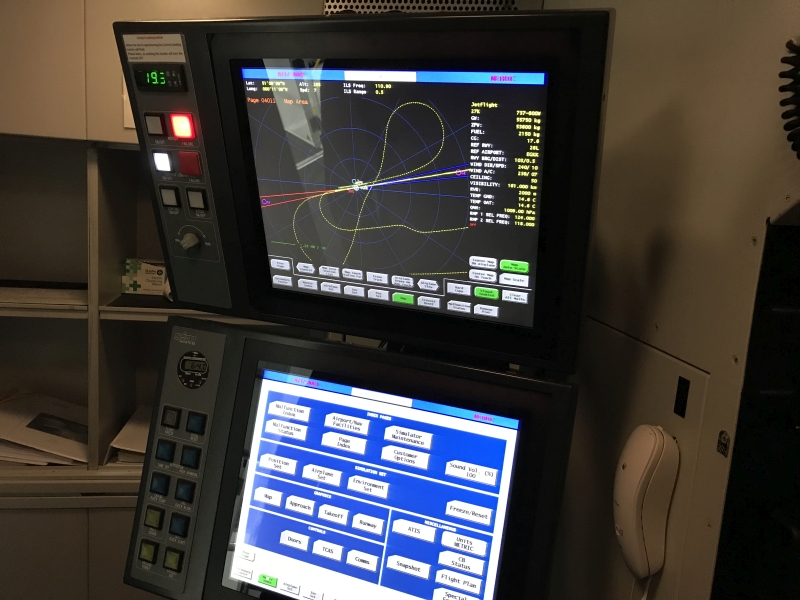 Airbus A320
We were lucky that no one was using the A320 after my Boeing flight and I got to take a seat in this cockpit as well – although without flying.
Compared to the Boeing 737 the Airbus looked quite different.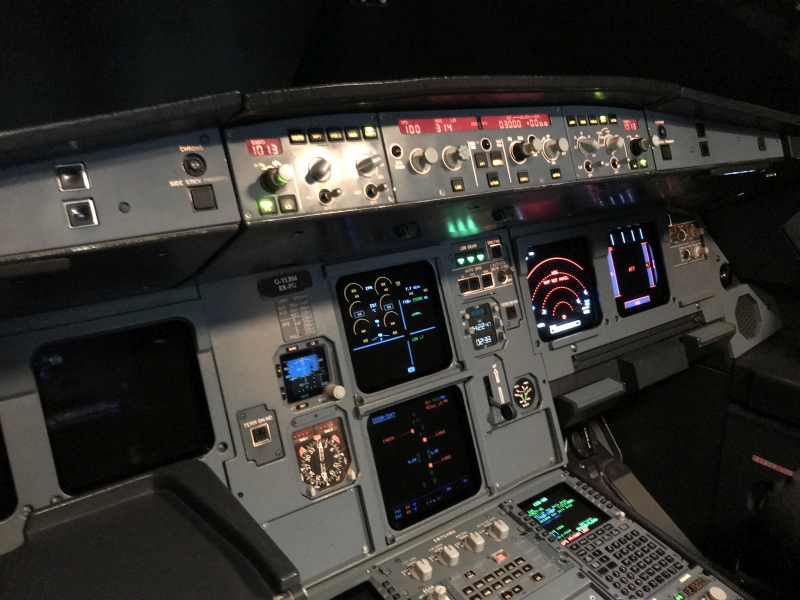 First of all there was no steering wheel (EDIT: apparently it's called a 'yoke' according to the comments below)  Instead there was a tray table which could be pulled out for the pilot to have a meal.  There were fewer switches and foot rests instead of steering pedals.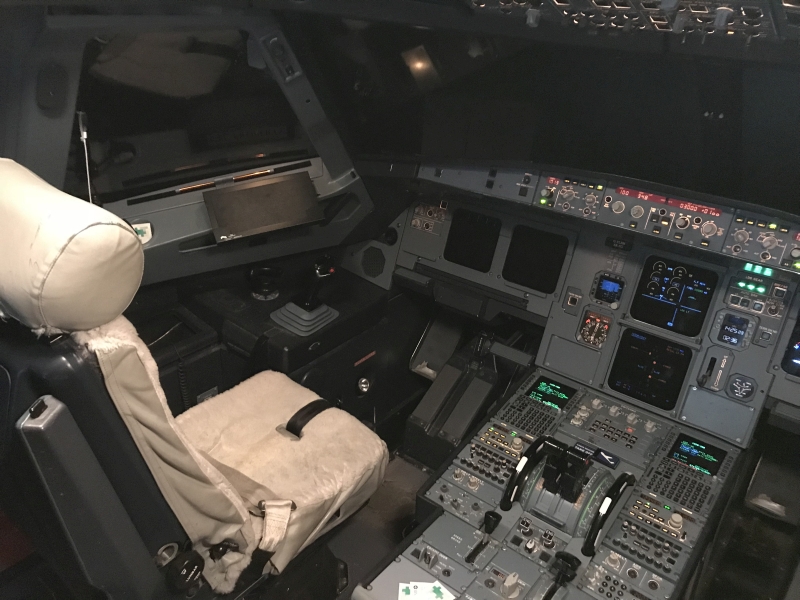 Instead of a steering wheel there was a joystick at the side next to an iPad holder.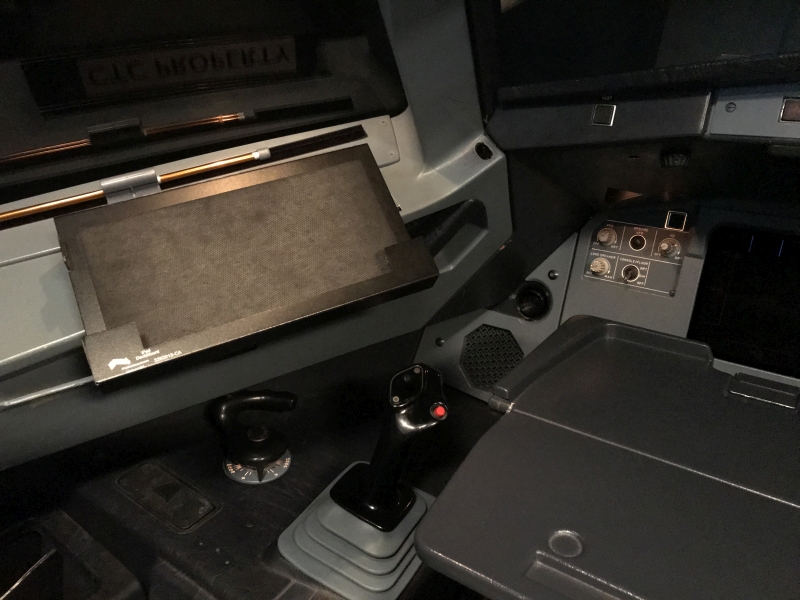 Verdict
I had such a great time flying and landing the plane. The movements of the simulator were so real that I'm convinced that if worst comes to worst I can put my hand up if cabin crew ever asks 'can anyone fly the plane?' (You can book exactly that scenario in a fixed simulator here).
The Virtual Aerospace website offers a vast selection of simulator sessions. Full motion sessions start at £499.  This is obviously quite a lot of money but you need to bear in mind that the simulators cost between £5 million and £15 million each.
Virtual Aerospace also offers instructor training with the option of becoming a part time instructor after finishing the training. The course, which requires no previous experience, costs £3,350 and includes 30 hours of flying.
If you are an aeroplane junkie who has always secretly wanted to fly a plane, these full motion simulators are an amazing treat.