Marriott's best family redemption – Domes of Elounda, Crete – bookable again
Links on Head for Points may pay us an affiliate commission. A list of partners is here.
Domes of Elounda is a luxury 'all suite' hotel in Crete. It is unbranded but is part of Marriott's Autograph collection. Autograph is a group of independent hotels who use Marriott's sales and marketing system, including their website, and in return agree to give and redeem Marriott Rewards points and respect elite benefits.
We featured Domes last year after a couple of readers flagged it up as probably the best value family redemption available in Europe using Marriott Rewards points.
Unfortunately, Marriott Rewards agreed with us ….
Domes of Elounda was such outstanding value that Marriott is putting a stop to it.
Of all 6,500 hotels on the new combined Marriott / Starwood redemption chart, Domes of Elounda faces the biggest increase. From 18th August, it will jump from 45,000 points per night to 60,000 points, and from January 2019 it will be 85,000 points!
The sensible thing to do, of course, was to lock in a booking now. Except that the hotel had been refusing to load its reward availability for 2019 ……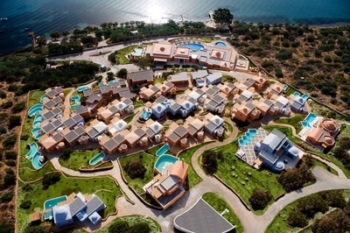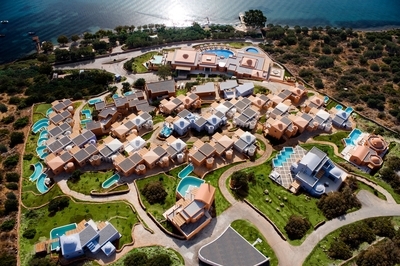 2019 reward availability is now available at Domes of Elounda
We had assumed that the hotel was going to wait until 18th August to load its 2019 availability, given the huge increase in points required.
However, yesterday, rooms became available on marriott.com.
The standard redemption is a suite which sleeps four people (1 king bed, 2 x sofa beds) which is why this is great if you have kids.
As a Marriott Rewards redemption, Domes is currently 45,000 Marriott Rewards points per night. In reality, Marriott offers five nights for the points of four on reward nights, so five nights would only be 180,000 points.
If this sounds steep, take a look at the cash prices.
It is currently sold out entirely for August, but a one bedroom suite to sleep four is around €700 (£617) per night. Alternatively, you can use 45,000 Marriott Rewards points. That works out at 1.37p per Marriott point, compared to my usual 0.5p value. If you stay five nights and only pay for four, the value is even higher.
Outside school holidays it is a lot cheaper …. but of course it is a family resort and struggles a bit when the kids are in school!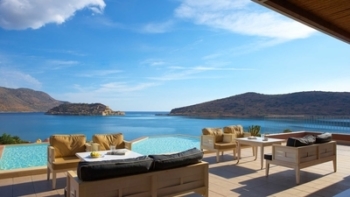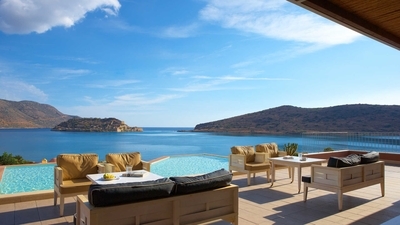 Domes of Elounda is even better value when you book a Marriott Travel Package. I outlined how Marriott Travel Packages work in this article. You can find details on the Marriott website here.
Domes of Elounda is a Category 9 Marriott property until 18th August. As far as a travel package goes, it would cost:
320,000 points = 7 nights plus 50,000 Avios or other airline miles, or
340,000 points = 7 nights plus 70,000 Avios or other airline miles, or
370,000 points = 7 nights plus 100,000 Avios or other airline miles, or
390,000 points = 7 nights plus 120,000 Avios or other airline miles
Assuming you value an Avios point at 1p, the 390,000 point package would get you £1,200 of Avios points plus (£617 per night x 7 nights) £4,300 of Domes of Elounda stay at peak season. That works out at £5,500 of value for 390,000 Marriott Rewards points, or 1.41p per Marriott point.
The value is even higher if you value an Avios at more than 1p, or if you take a different airline currency which you value at more than 1p.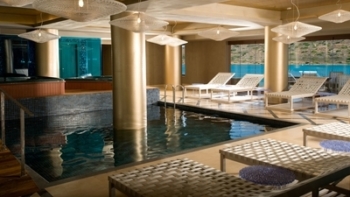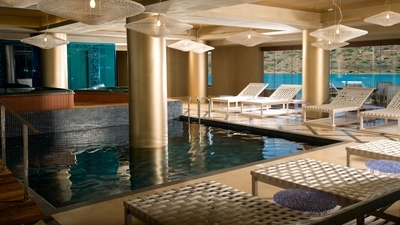 But is the hotel any good?
A few HFP readers contacted me after reading about Domes of Elounda on the site. Amusingly, they had only read about it in the article comments because we hadn't written about it at that point!
I want to stress that this is not such a good option for couples. Readers report that 75%+ of guests have children. There is, however, an adults-only pool and the restaurants rotate in having 'adults only' nights.
Reader 1 wrote:
Domes of Elounda was simply amazing. Obviously, very upmarket and the clientele generally reflects that but on top of that the service and location are also major plus points.
The accommodation and food was great with lots of kids options. On points the best room you can get officially is the 1 bed sea facing suite which is what we got. Breakfast was included as we are Marriott Gold and they had a 70 m long family pool. This was if you like the social hub but it never felt crowded and kids mixed and made friends easily. There is also a decent private beach which is not the most amazing beach in the world but they have made it into a good space with atmosphere.
All in all we had a great time and it was probably the best redemption we have done as it was a Marriott Travel Package booked during the '35% bonus Avios for transferring from a hotel scheme' period. My advice would be to go. You won't regret it!
Reader 2 wrote:
Just wanted to mention that I recently stayed at Domes of Elounda using a Marriott Travel Package. Was wonderful, and certainly the best family holiday I've ever had. I booked a "family suite with sea view" using my points (which itself is a few rungs up) and was lucky enough to be upgraded (as Marriott Gold) to a 2-bed luxury residence. Beautifully appointed 2 bed/2 bath suite with its own swimming pool (which was large enough to do laps in!).
Given the cash price of around €800 per night, the travel package was a true bargain – I can't imagine there would be a better use for the package (for a family at least) in Europe, and breakfast is included to boot. Highly recommended and have already booked up for another week next year.
Reader 3 wrote:
What a spot Domes and Elounda itself was, treated very well as a Gold with some pre-arrival email back and forth. Upgrade to a villa with Haute Lounge access, which they are starting to limit now as they don't have to give it being a resort.
These are all long-term HFP readers who I know. For clarity, I haven't been to Domes of Elounda myself but if you have a family it does seem to be working well as an excellent use of Marriott Rewards points.
If are tempted to go, make sure you book for 2019 before 18th August. The price jumps from 45,000 points per night to 60,000 points per night, and then 85,000 points per night from early 2019.
The hotel website is here if you want to find out more.
PS. If you're travelling on British Airways with your family, I recommend you have a look at this HFP article which explains how British Airways Household Accounts work and how you can earn Avios for your children.
(Want to earn more hotel points? Click here to see our complete list of promotions from the major hotel chains or use the 'Hotel Promos' link in the menu bar at the top of the page.)