My Barra beach landing – the day I flew to Barra and landed on the sand (Part 1)
Links on Head for Points may pay us an affiliate commission. A list of partners is here.
This is my review of my trip to Barra in the Outer Hebrides, flying with Loganair.
I'm not really a 'bucket list' person, but one of the few aviation-related trips I have been wanting to do for many years was the 'Barra beach landing'.
Barra is an island in the Outer Hebrides with a population of 1,100, of which 75% speak Gaelic. It is not your usual tourist spot. For the aviation fan, however, Barra is a special place. It is the only place in the world with a scheduled flight which lands on a beach.
Who needs a runway, or runway lighting, or any of that boring stuff? All you need is a bit of sand and a low tide and you're in business.
I would also get to swap my traditional First Class long-haul suite for a seat on an 18-seater Twin Otter turboprop.
And, even better, I could do the whole thing on a special £77 day return ticket from Glasgow which Loganair sells during the Winter season until the end of March.
Before I go on, I want to flag up the video I made of my trip and which is embedded at the bottom. Our videos are usually 2-3 minutes long and are just an extra bonus. In this case, the video is 7 minutes long – with no music 🙂 – and if I'm honest the video tells the story far better than my photographs do. If you have 7 minutes to spare today, do watch it.
How to book your Barra beach landing flight
You can book Loganair flights to Barra on ba.com as long as you include a connecting flight to Glasgow. However, as the Barra flight is not a BA codeshare, you won't get any Avios or tier points for it.
It is cheaper to book each leg separately (I used Avios for Heathrow to Glasgow) especially if you are flying during the October to March Winter season when the £77 day return ticket is available. This is NOT bookable online and requires a telephone call to Loganair.
Flight times depend on the tide times and so vary from day to day. Because the flights also need to fit around the rest of Loganair's schedule, you can end up with either a very short or very long day trip.
Mine was short, but I chose it on purpose so that I could get back to London the same day. I ended up doing:
11.30 Glasgow – 12.45 Barra
14.35 Barra – 15.45 Glasgow
The total price was £77.18, of which £29.71 was airport tax. Loganair only got £47.47 from my ticket. Luckily these routes are subsidised by the Scottish Parliament.
Because there is nothing near the airport, this worked quite well. I landed, had a very pleasant lunch in the terminal cafe, went for a 30 minute stroll across the dune to the beach on the other side of the island, walked back, checked in and flew back. It was just right.
You may prefer a longer day trip – you can hire a taxi to take you around the island, I believe – or even an overnight stay.
The Loganair flight to Barra
Whilst you are flying on a very tiny Twin Otter plane: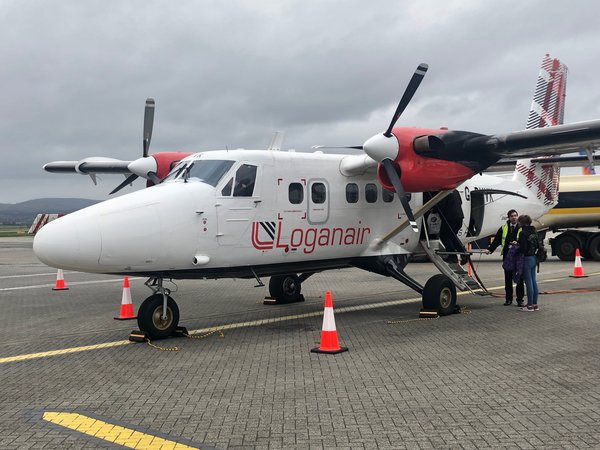 …. the procedure at Glasgow Airport is obviously the same as if you were flying anywhere else. There aren't any airbridges here, however.
If you have checked luggage, it goes into the hold via the hatch you can see in the photograph above.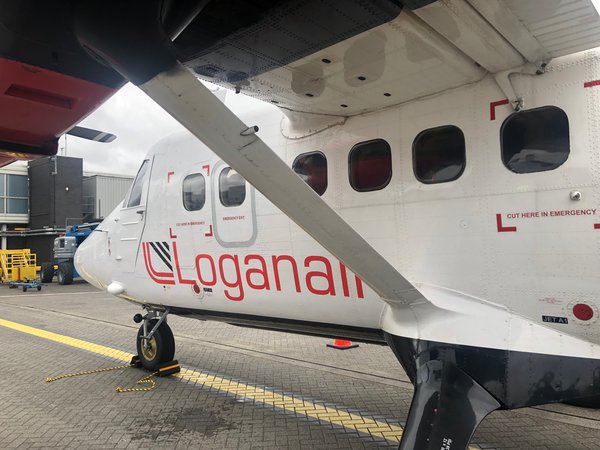 Seating is 1-2. I was in 7A, a solo seat, which just happened to be directly behind the door, right at the back: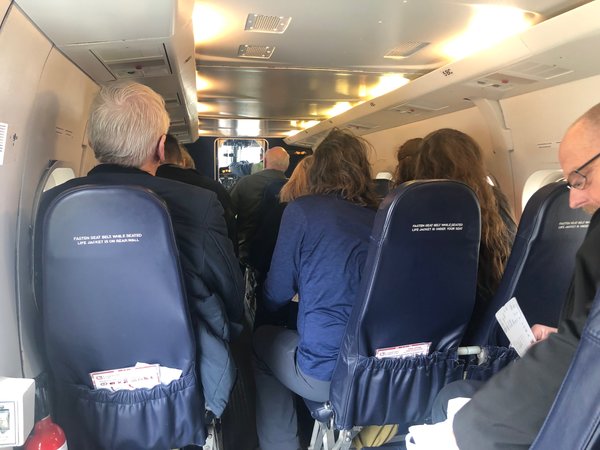 This meant that I had a silly amount of legroom, which isn't something you can say for the other seats: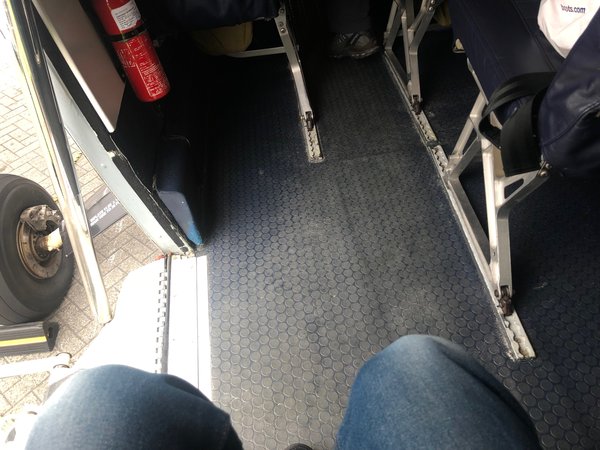 There are no cabin crew here and so no in-flight service of any kind. The pilot comes out of the cabin, which has no door, and does the safety demonstration him/herself.
On-board a Twin Otter
There are three things you need to know about Twin Otter aircraft:
they are very noisy
they are a bit smelly, at least if you are sat at the back
they climb very slowly and level out at a low altitude
It is all part of the experience, however, and when the clouds broke there were some terrific views of the Hebrides. The video shows more.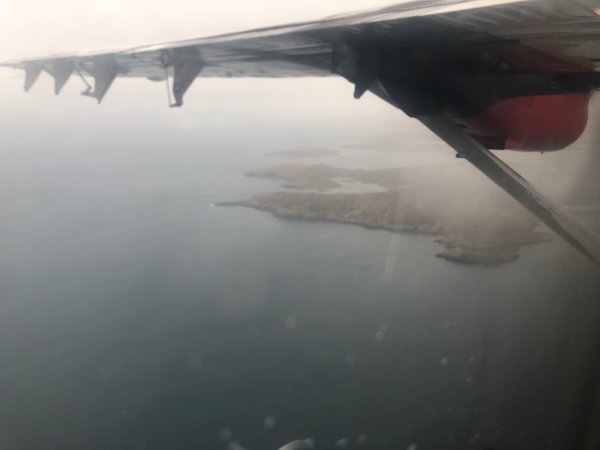 Landing on the beach at Barra
The video shows the landing in detail and I recommend you take a look. A lot of spray is kicked up as the plane runs along the beach which makes it even more dramatic.
This photo shows the steps being lowered by the ground crew: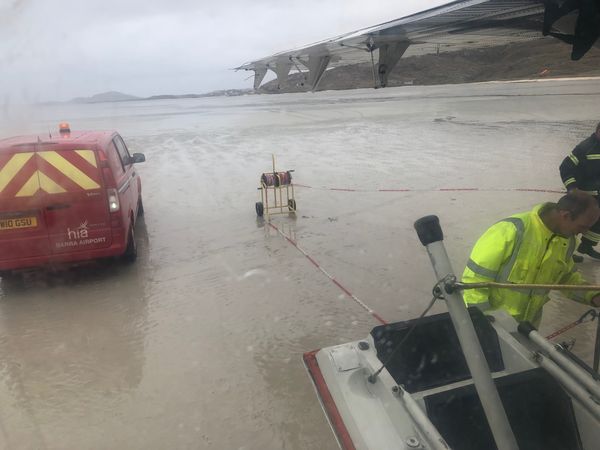 …. and here is the aircraft parked up: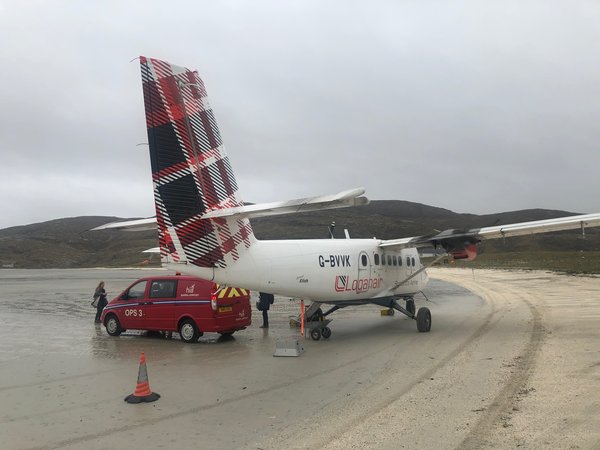 You are VERY alone here. Apart from the terminal building, you can see one house around the headland and that is it.
This is Terminal 1 at Barra International 🙂 Richard Rogers and Norman Foster appear to have been otherwise engaged when the tender to design this airport came out.
To put the walk from the terminal to the aircraft in context: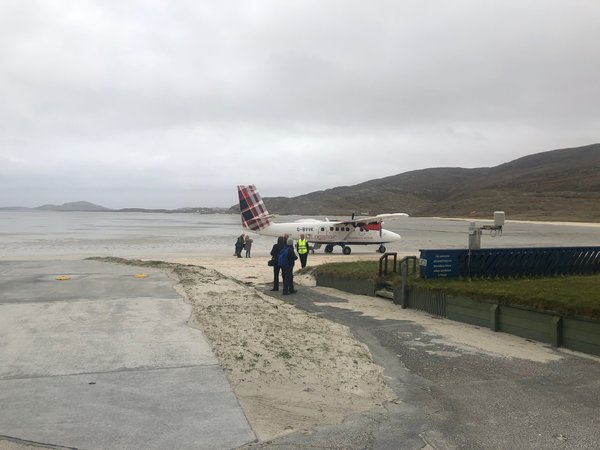 In Part 2 of this article I'll give you a detailed tour of the terminal building (!) and the nearby attractions. You can read Part 2 of my Barra review here.
Here is our Barra beach landing video
I shot quite a lot of video during my flights including the landing and take off – click the image below to view it. If you can't see it, click here to visit the Head for Points YouTube page. You can also subscribe to our channel via that link.

Click here to
read Part 2 of my Barra review
.