Excellent 2-4-1 First and Business Class flight deals from the UK with Lufthansa and SWISS
Links on Head for Points may pay us an affiliate commission. A list of partners is here.
This weekend (Sunday night to be precise) is your last chance to take advantage of the EXCELLENT First Class and Business Class '2-4-1' deals being offered by SWISS and Lufthansa. 
Unlike some fare deals we write about, these are for departures from the UK so you don't need to position yourself somewhere in Europe first.
Availability is very good – although not as good as it was when the offer launched a couple of weeks ago – and you can travel until the end of March 2020.  This misses the Easter weekend as Good Friday 2020 is 10th April.
Even better for those who live outside London, you can also book these deals from UK regional airports.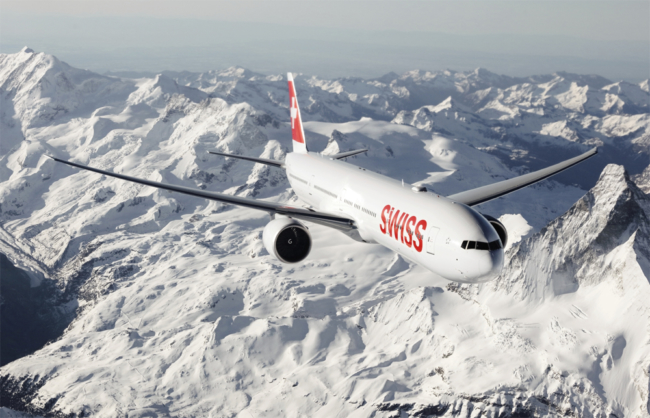 This offer ran last year and was hugely popular with HfP readers, and I know a lot of people have booked this year too.  You won't earn Avios or BA tier points but you WILL get a very classy travel experience at a fantastic price.
You will also earn a pile of Miles & More or other Star Alliance miles which can be a handy alternative to Avios.
If you have Avios tickets booked to any of these destinations, you should do the maths on whether you should cancel (£35 per person fee, all Avios and cash returned) and book one of these deals instead.
Business Class deals
Here are the Business Class deals.  These are return prices per person from London BUT based on two people travelling.
Some deals are even cheaper than £999 but these are not always operated on long-haul aircraft.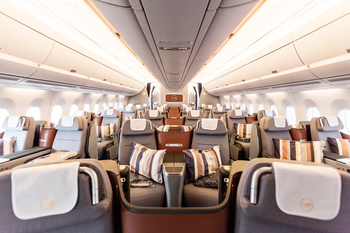 With Lufthansa, you can depart from London, Birmingham, Edinburgh, Glasgow or Manchester with a transfer in Germany.  You can book these deals here.
Remember that you need to search for TWO people to see these fares.
Abuja £999
Addis Ababa £999
Almaty £999
Amman £499
Astana £999
Baku £749
Beijing £1,499 (£1,349 from Manchester)
Beirut £499
Bengaluru £999
Bogota £1,250
Buenos Aires £1,499
Chennai £999
Delhi £999
Dubai £999
Hong Kong £999
Jeddah £999
Johannesburg £1,499
Kuwait £999
Lagos £999
Mumbai £999
Nanjing £1,349
Port Harcourt £999
Rio de Janeiro £1,250
Riyadh £999
Sao Paulo £1,500
Seoul £1,250
Shanghai £1,350
Tehran £749
Lufthansa is 100% fully flat in long-haul business class, although not everyone is a fan of the current seat layout which means that both of you are sharing a footrest, albeit with a divider.  The A350 cabin is pictured above.  SWISS is better in this regard as the seats are not angled towards your neighbour.
That said …. as these are 2-4-1 deals it is highly likely that your neighbour will be your companion.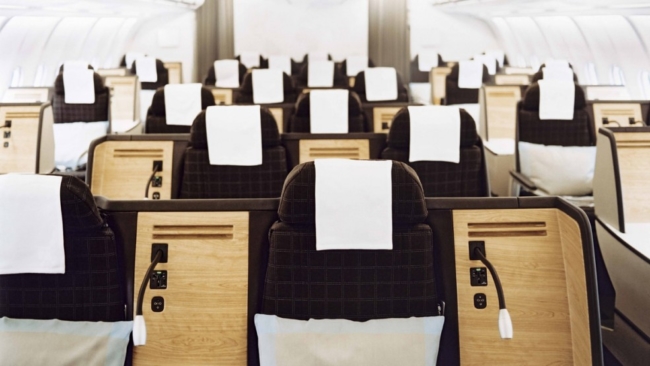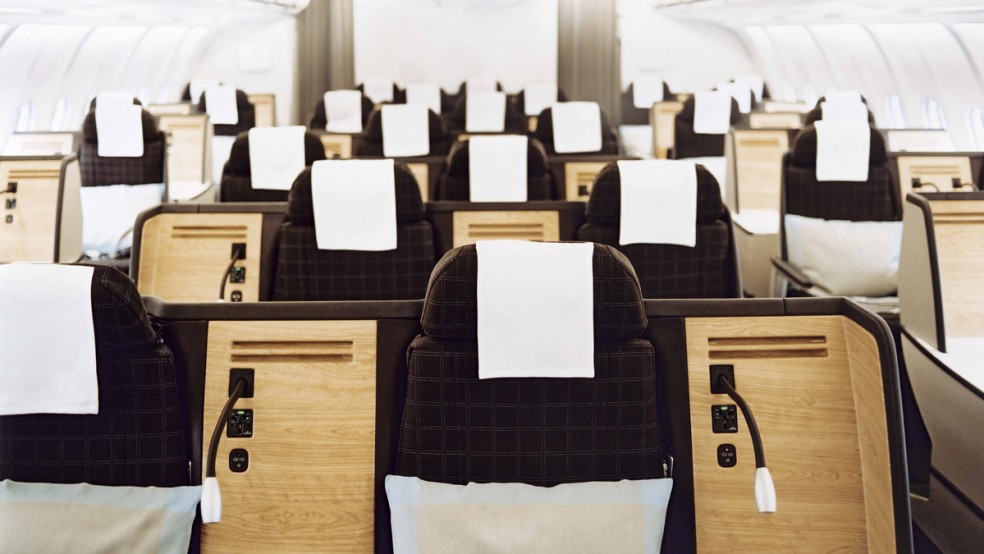 Here are your options flying in SWISS Business Class, photo above.  All flights require a transfer in Zurich or Geneva.
Bangkok £1,250
Beijing £1,500
Buenos Aires £1,500
Dar es Salaam £999
Delhi £999
Dubai £999
Hong Kong £999
Johannesburg £1,499
Mumbai £999
Nairobi £999
Sao Paulo £1,499
Shanghai £1,350
First Class deals
Lufthansa's First Class seat may not look so special, but it is a genuinely special experience, especially for lovers of premium lounges, chauffeur driven plane transfers and caviar.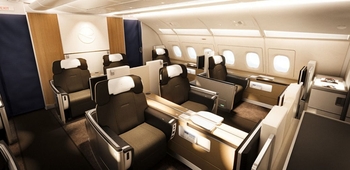 These are the Lufthansa First Class deals per person, based on two travelling – you can check availability online here:
Beijing £1,999 (£1,750 from Manchester)
Bogota £2,499
Buenos Aires £2,499
Bengalaru £1,499
Delhi £1,499
Dubai £1,499
Hong Kong £2,499
Johannesburg £2,499
Nanjing £1,749
Sao Paulo £2,500
Shanghai £1,749
Here are the SWISS First Class deals:
Bangkok £2,999
Beijing £1,999
Buenos Aires £2,499
Dar es Salaam £1,499
Delhi £1,499
Dubai £1,499
Hong Kong £2,499
Johannesburg £2,499
Mumbai £1,499
Nairobi £1,499
Sao Paulo £2,499
Shanghai £1,749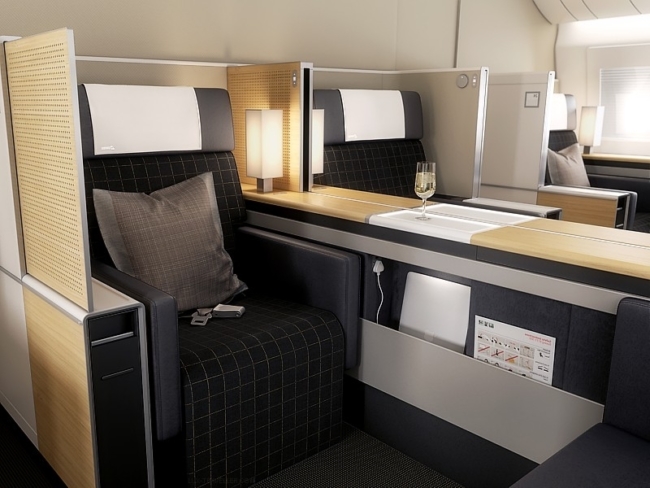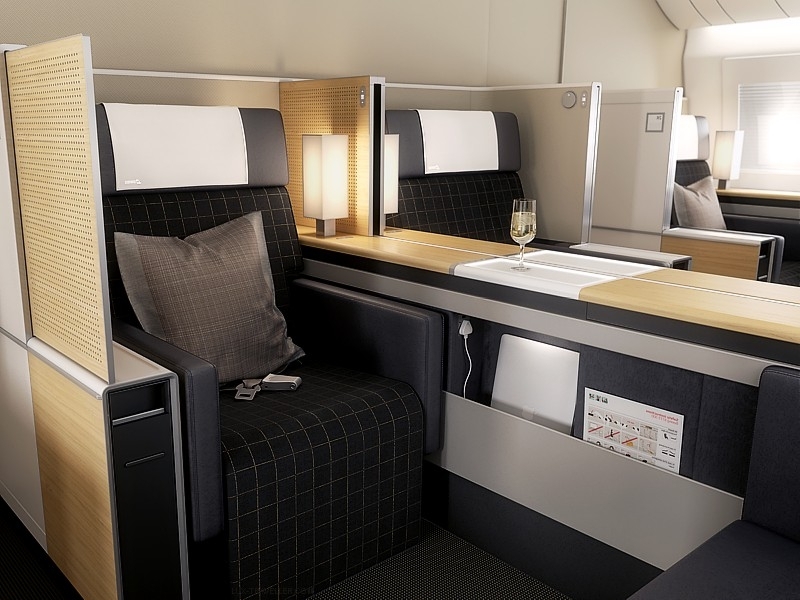 Here are the rules:
Book by Sunday 19th May via the special links
Two people must travel together
Travel at ANY point – subject to availability – from 1st June 2019 until 30th March 2020 (until 14th February 2020 for China)
Must stay for six days, including a Saturday night, and the maximum stay is three months
Lufthansa is, perhaps, the most civilised First Class experience there is.   Here is the review of my Lufthansa First Class flight from 2017.  And, of course, the First Class Terminal – yes, a whole terminal – in Frankfurt where you get driven to the steps of your plane is something everyone should try once.
SWISS offers an excellent First Class and Business Class service.   We are NOT talking Emirates or Etihad style private suites, by any means, but you get a good quality seat, good food and drink and a very attentive crew.  It is a very civilised experience.
I flew SWISS First Class again last year, although I didn't review it for the site, and it was as impressive as usual, albeit I put it a notch below Lufthansa First Class as the food is not as outstanding.  I also flew in SWISS Business Class to Dubai last October with my family and it was similarly good, although the seats are showing their age a bit.  Here is an older review of SWISS First Class I did.
SWISS and Lufthansa are both part of Lufthansa's Miles & More loyalty scheme, although you can of course credit your flight to any other Star Alliance programme.  Whilst I am generally very positive about Miles & More, you may want to consider other Star Alliance schemes as M&M is now revenue based – and when you pay peanuts for your fare, you earn peanuts in miles!
How to book
For SWISS, it has now removed its dedicated availability calendars for this offer because they were throwing up error messages.  You need to book via this page here.
For Lufthansa:
all of the Business Class deals for London, Edinburgh, Birmingham, Glasgow and Manchester can be found here
and all of the First Class deals are here
Your best option to maximise your miles when paying is American Express Preferred Rewards Gold.  This offers double points – 2 per £1 – when you when you book flight tickets directly with an airline.  Our review of Amex Gold is here.
There are some genuinely excellent deals here especially if you live outside London and especially because of the long travel period.  Take a serious look over the weekend.