We take a sneak peak at the United Airlines Polaris business class (Part 1)
Links on Head for Points may pay us an affiliate commission. A list of partners is here.
This is our overview of the United Airlines Polaris business class seat on a Boeing 767.
With Rob in Doha, Rhys in Vietnam, and Anika about to give birth, I (Caroline) was asked if I could do another of my very occasional HFP articles to review the Polaris business class seat from United Airlines.
Whilst not an entirely new seat, United had decided to 'keep its powder dry' about promoting Polaris in the UK until it was able to guarantee that you would get it on your flight. With every flight between London and New York Newark now featuring the Polaris product, United Airlines was ready to make some noise.
I was invited to enjoy brunch in the Polaris business class cabin onboard one of its newly refurbished Boeing 767 planes whilst sitting on the tarmac at Heathrow.
For clarity, we didn't fly anywhere – the aircraft has a long layover at Heathrow and United was able to schedule this event between flights.  However, for an aviation geek like myself, the chance to take a sneak peek behind the scenes at Heathrow Terminal 2 and to take a look at the seat itself was too good to miss.
Security was very tight. Despite not actually travelling, we had to have special passes printed and carry our passports. As we were expertly guided through Terminal 2, using doors and corridors that we would not usually be privy to, it felt a little bit like being on a school trip. We were not allowed to wander off from the 'crocodile' but neither thankfully were we asked to hold hands and walk in twos.
Once at the gate, we boarded a bus which took a few minutes to get us directly to the Boeing 767 aircraft which was parked up away from the terminal.
It felt very odd boarding a plane when we knew we were not going to get anywhere.  At the top of the steps, we were greeted by a super-cheerful crew who all said they had come especially for the occasion and that they would also not be flying later either!  Despite being a newly fitted cabin, it still had a slightly 'retro' feel to it which I imagine exuded from the fact this was an older aircraft – indeed it had just celebrated its 20th year.
Click on any of the pictures to enlarge.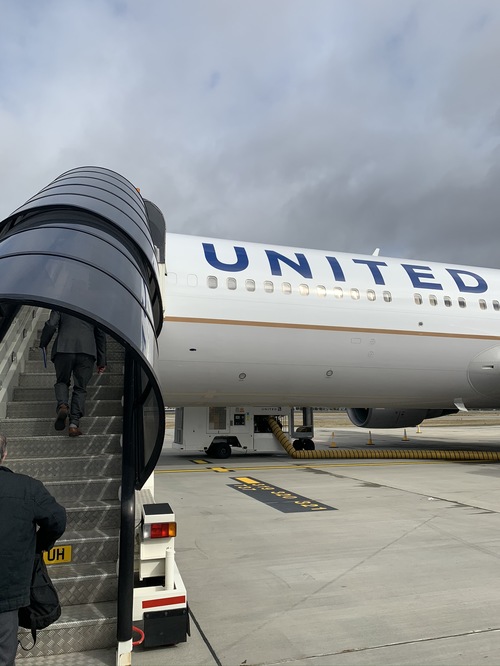 We were handed a glass of champagne on entering the cabin, and waiting aboard to greet us was a cheery Bob Schumacher, Managing Director of Sales for UK and Ireland.  Bob appeared genuinely proud to have the chance to show off the new cabins, not only at the front end of the plane but all the way through to Economy.
In his opening speech, Bob described a sense of pride they all have for what he describes as 'the new spirit of United'.
Polaris, whilst not a brand-new product, is fresh to the Boeing 767 fleet, 18 of which will be reconfigured with all-aisle-access seating in business class.  With a fifth daily flight between Heathrow and Newark recently announced, United now offers more business class seats between Heathrow and the New York area than any other US carrier.  Here is a PR picture of the new layout?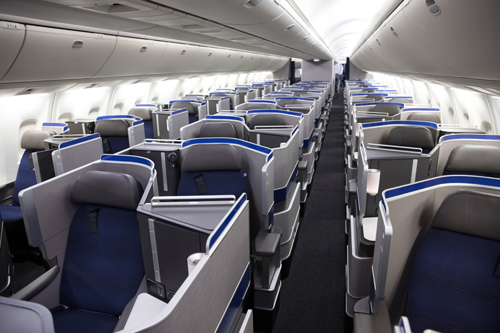 United now has "more and better seats to sell in abundance," as Bob Schumacher told us onboard the plane.  Each of the reconfigured Boeing 767 aircraft now features 16 additional United Polaris business class seats, an increase of over 50% and which makes these very premium-heavy aircraft.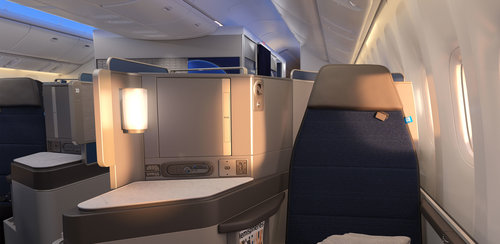 Bob said that his planes are usually full, with the business cabins frequently oversubscribed, which has resulted in losing some business class passengers to other airlines. United is confident that with a 5th daily flight and a bigger business class cabin it is well-positioned to win back these premium customers.
Moving back, behind the business class cabin, are 22 United Premium Plus seats, in a 2-2-2 configuration, in an intimate premium economy cabin. Further back still, you find the Economy cabin set out as 2-3-2, featuring 47 Economy Plus seats offering extra legroom.  Economy Plus seats are available for free selection for all of United's premium status passengers, and a further fee for anyone else.  52 standard Economy seats make up the rest of seating – a very tiny number for a long-haul flight.
United is hoping to also guarantee Polaris-equipped Boeing 767 aircraft on the Chicago route from November, and from the end of 2020 on all of the international routes from London.  Bob admitted the rollout is 'painful' but that United is converting one plane every 10 days.  The whole international fleet should be completed by the end of 2020 or thereabouts.
The United Polaris seat
So, what is the Polaris seat actually like and what extra goodies does it offer? After touring the cabins, we were invited to choose a seat for lunch.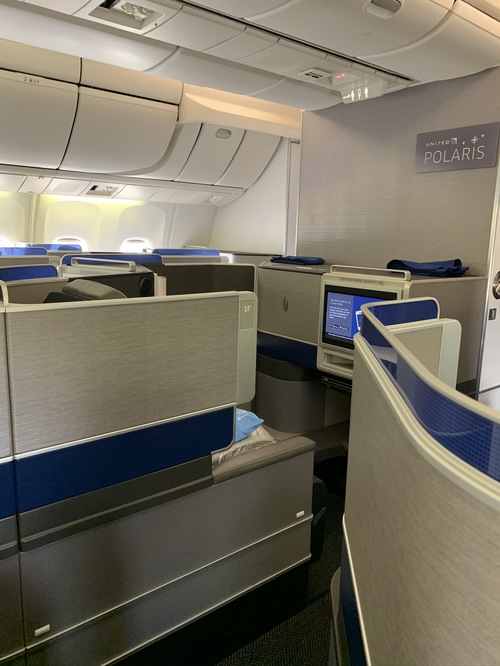 I chose 3L, a window seat pointed toward the window that offers a little more privacy than the ones behind and in front – which point towards the aisle. My position also sported two unobscured windows: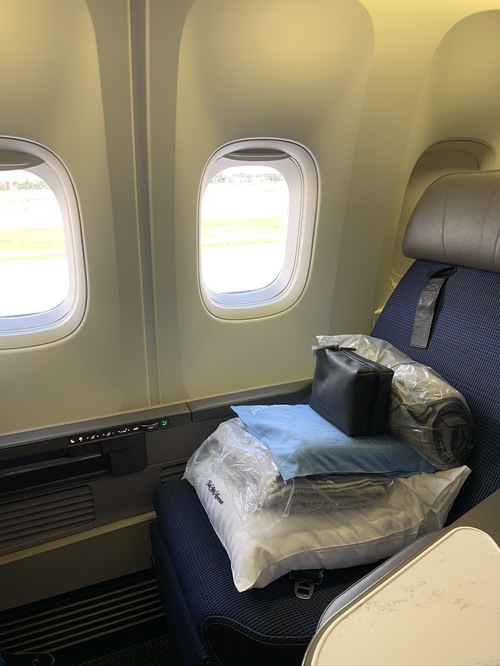 The centre pair are positioned with the feet towards the aisle, but all seats have a small screen to the walkway which affords each passenger more privacy. If travelling as a couple or in company where you might want to chat, Polaris seats are not great – but the benefits to the single business traveller are apparent. For myself and my husband, we tend to immerse ourselves in our own entertainment onboard a plane, so I really wouldn't see it being a problem.
The seat was very comfortable, and each one comes with a stash of  custom bedding designed by Saks Fifth Avenue: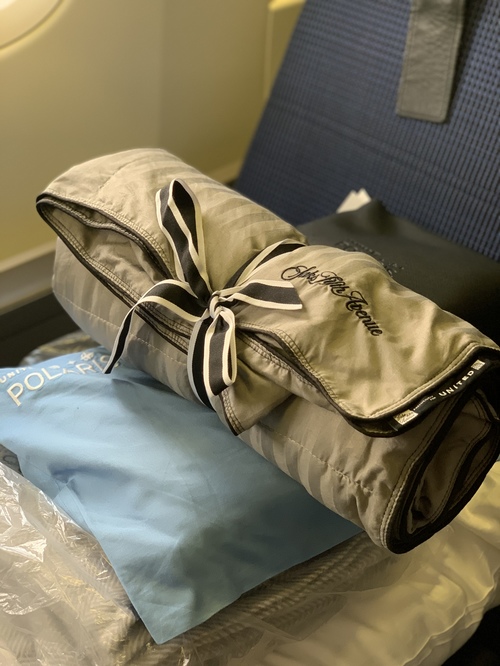 This included both a large pillow as well as a special memory foam small neck pillow with a special 'cooling' feature. There was also a stylish amenity kit.  I forgot to ask if I could look inside, but a bit of research reveals that it contains Sunday Riley products including a lip balm, face cream, hand cream and a facial cleansing cloth. You'll also find socks, an eye mask, pen and a few other goodies inside the smart blue zip case.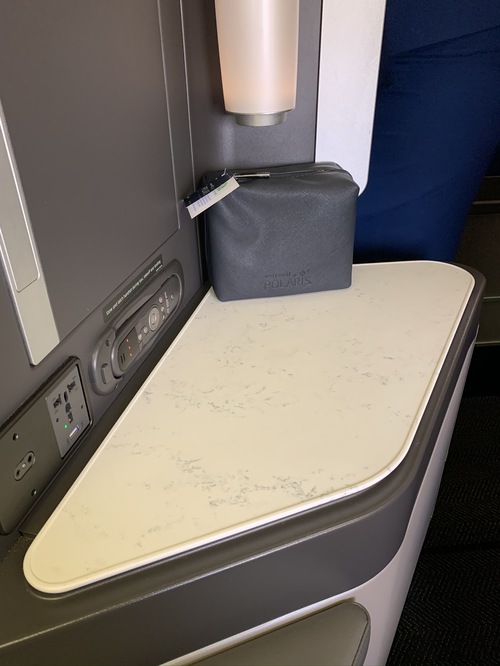 Storage for personal items is ok. There's a little cupboard with a mirror for each seat which also housed the noise-cancelling earphones, and where you can stow your mobile phones and other small items – plus there's a small shelf under the screen for a laptop or iPad: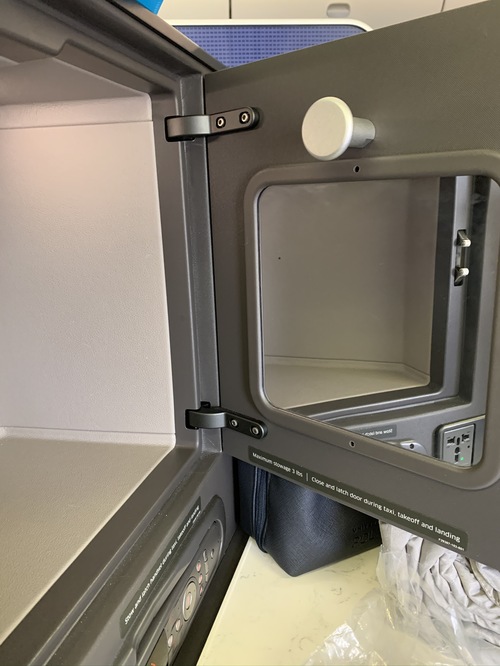 The rest of your personal details will need to be stored in the plentiful over-head bins or in the footwell after take-off.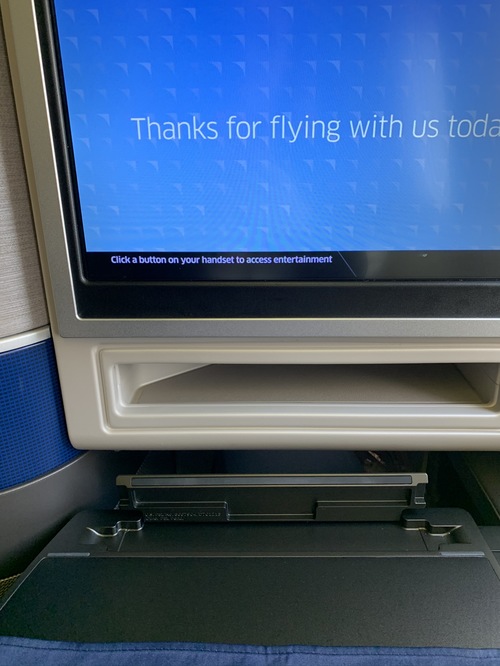 Onboard entertainment looks very promising with a large bright screen in front. The table can be positioned a number of ways and can be moved out of the way with the tray still on for those that need to 'nip out' during mealtime: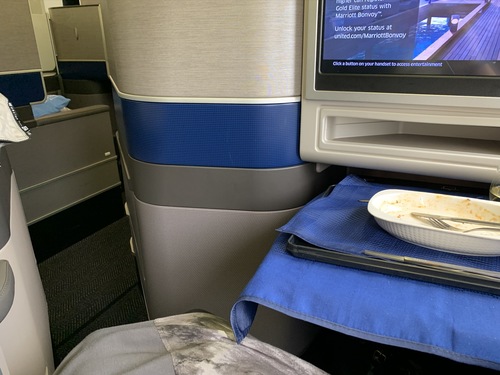 There's a handy lift up lip that helps to keep your tablet from moving if you choose to use your own entertainment. Passengers can also stay connected throughout the journey with the onboard wi-fi which, for obvious reasons, we weren't able to test!
This is the end of Part 1.  There is a lot more to come in Part 2, including my recommendations for the best seat to pick, which you can read here.