What happened at the Head for Points reader dinner last week?
Links on Head for Points may pay us an affiliate commission. A list of partners is here.
Last Thursday we held our first Head for Points reader dinner at Quo Vadis, a restaurant in Soho. It is one of the things we are trialling following some DIY market research where many of you said you were keen to come to different types of HfP themed events.
I should start by apologising if you registered your interest but were not selected to take part. We were massively oversubscribed with 120+ applications for just 20 seats, so we ended up picking names out of a hat.
We are hoping that this will be the first of many such dinners so hopefully you will be able to make one in the future.
We ended up with a great mix – roughly 66% male / 33% female and with a 55 year age gap between the youngest and oldest person present!
Back to Thursday night….
We started with a champagne reception in the very stylish blue room.  Unfortunately, since it was dark, my iPhone struggled a little to capture it ….. it really was nowhere near as dark as the picture looks.
It actually looks like this: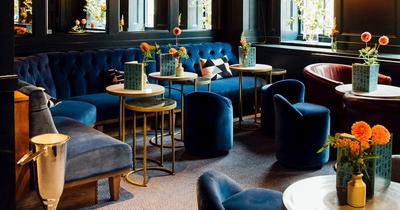 This was followed by a delicious three course meal in the Marx room, around this large table:
Here is everyone from my end: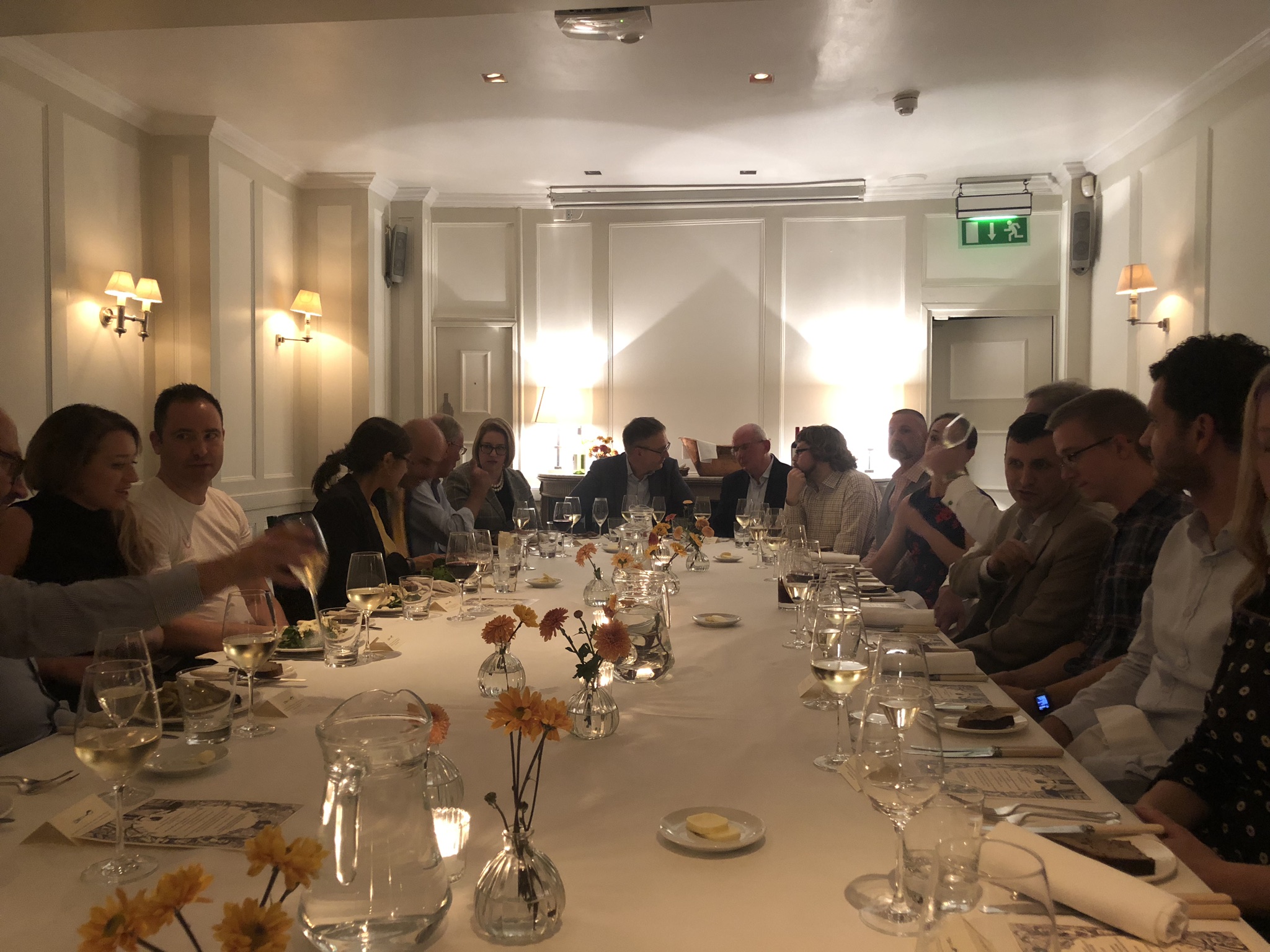 Everyone seemed to enjoy chatting to their neighbours. I was worried that the table might be too large and that people would struggle to hear but some readers even chatted across the table, so it can't have been too bad!
This is the view from Rob's end of the table (his phone can clearly do better low-light images than mine):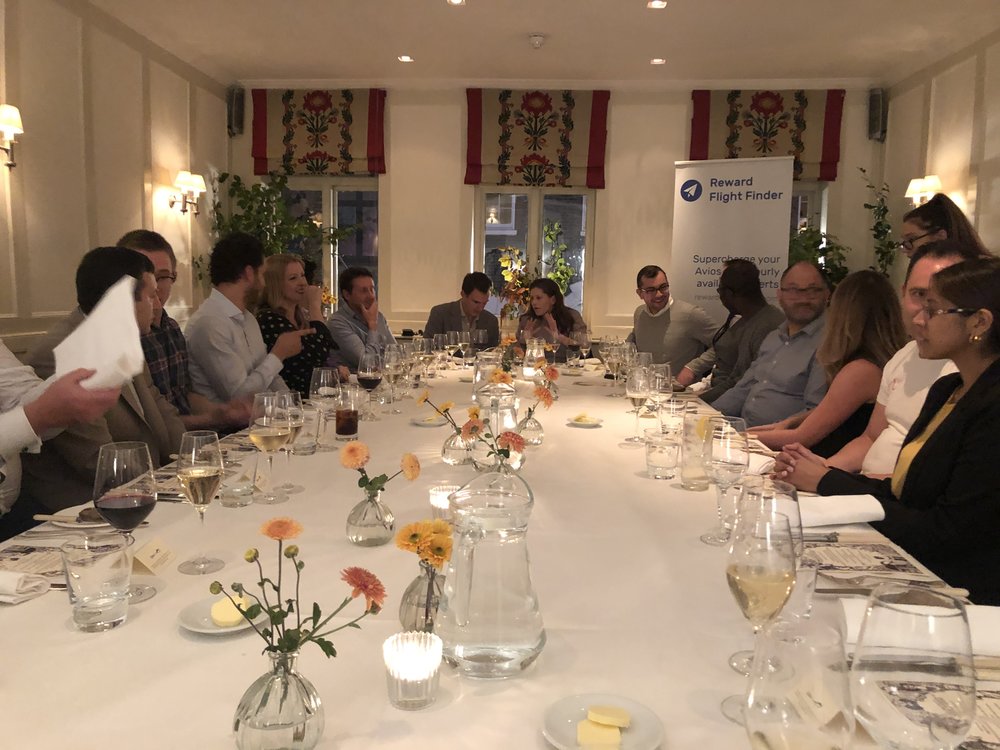 The feedback we have had from all who attended is that they had a great night. Everyone seemed to start chatting very quickly. If you have been to our Christmas or Summer parties you will know how friendly everyone is!
We have to give a special thanks to Tim from Reward Flight Finder who came in as a last-minute sponsor.  Whilst we were originally going to run the dinner as a loss-making trial, Tim very kindly stepped in to cover our costs, which also allowed us to increase the drinks budget.
(There were many happy Reward Flight Finder users in the room.  If you've never tried it, give it a go.  You can search BA Avios availability in seconds – far more quickly than you can at ba.com – and set up alerts so you are emailed when seats open up on flights you want.)
Does your company want to sponsor the next HfP Reader Dinner?
The idea behind the dinner – apart from offering a more intimate evening than our large parties – was to trial a concept which we can offer to our travel and loyalty partners as a fun form of market research.
We believe that we can persuade hotels, airlines, car hire groups and credit card companies to underwrite future events if we provide the right mix of people.  This should allow readers to attend for free or at a nominal cost.
Our readership is so big that we think we can meet most requests.  If Virgin Atlantic wants to treat 20 BAEC Gold card holders to dinner to learn what would make them switch, or Emirates wants to meet 20 people who have recently flown BA Club World to Dubai, or Marriott Bonvoy wants to pick the brains of 20 top tier IHG Rewards Club members, we are in a great position to arrange that.
We can find the right readers, validate their credentials and get everyone together in a room.  Let us know if your business is interested.