Would scrapping frequent flyer schemes really reduce climate change?
Links on Head for Points may pay us an affiliate commission. A list of partners is here.
The media – of which, technically, HfP is part – is a funny thing. On Sunday evening I noticed a couple of comments on the site relating to Guardian coverage of a report written by Imperial College and commissioned by the Government's Committee on Climate Change.
This report is 81 pages long. It is a huge piece of work, called "Behaviour change, public engagement and Net Zero". You can download it here (PDF).
This report is massively wide-ranging. On page 15, for example, it touches on limiting the number of children you have. Of the 81 pages, just FOUR are devoted to aviation. Of those four pages devoted to aviation, just SIX LINES discuss the impact of frequent flyer schemes. That is six lines out of 81 pages.
Here is the full text:
"Evidence also suggests that frequent flyers engage in additional flights to maintain their privileged traveller status (so-called 'mileage runs' or 'status runs') and that frequent flying is related to status and social identity (Gössling and Cohen, 2014). Introducing restrictions to 'all-you-can-fly' passes and loyalty schemes which offer air miles would remove incentives to excessive or stimulated flying."
and later, under 'Recommendations':
"Introduce a ban on air miles and frequent flyer loyalty schemes that incentivise excessive flying (as was enforced in Norway 2002-13)."
That's it. You wouldn't think that six lines on air miles inside a very wide-ranging report on ways to combat climate change would make much impact. I wasn't expecting the story to go beyond the Guardian's website – if I had guessed otherwise, I would have written this article yesterday.
And yet …… I'm not sure if it was someone at the Guardian who picked out those lines or if the Committee on Climate Change fed those lines to the press. However, yesterday it was scattered across many of the front pages: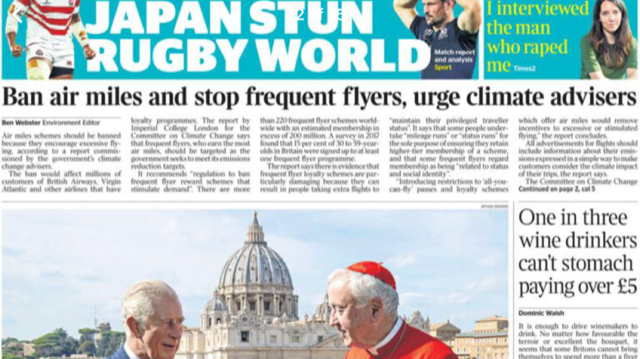 …. and before I knew it I had Sky News in our office: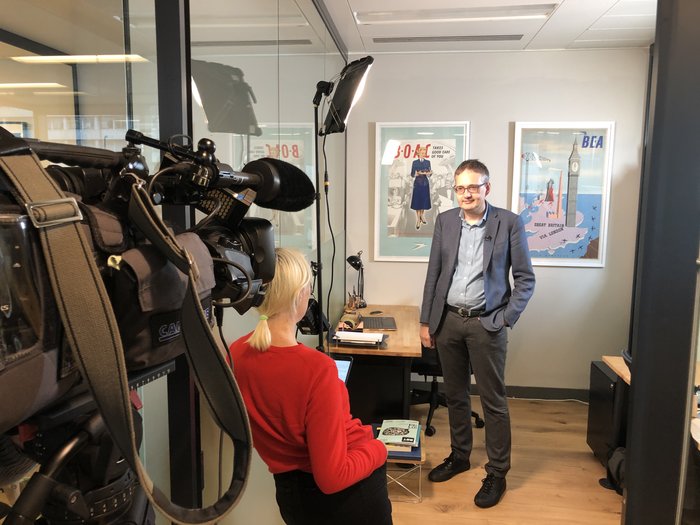 …. and I ended up in this segment:

I need to confess that the whole thing happened so quickly that I hadn't actually read the report by the time I was filmed. I had no idea that the recommendation to ban frequent flyer schemes was just six lines of 81 pages. If I had, I may have taken a different approach.
It is very clear, however, that whoever wrote the report has not really thought this through. For a start, placing a large emphasis on people who take flights purely to top up their tier points is nonsense.
British Airways flies 1 million per week, around 50 million per year. At best, I would suggest that 5,000 people per year take a flight purely to ensure their status card is renewed. Due to the nature of the Executive Club scheme, these flights (if they are on BA) are likely to be Club Europe returns which require a Saturday night stay. This means that the tier point run is actually a weekend break – which doesn't count!
Despite what the report implies, it usually isn't possible, on BA, to take a Club Europe flight with an immediate turnaround purely for the tier points due to the Saturday night rule.
There are, of course, people who take extra flights to save money. Some HFP readers fly to Inverness to start a long haul redemption because it saves the Air Passenger Duty. This is a totally different issue – these flights can be stopped by fixing distortions in the tax system. They have nothing to do with air miles.
Other people take extra flights to save money on cash fares. If a British Airways ticket is £500 cheaper if you start in Amsterdam, then many people will buy a £50 one-way to Amsterdam to start their trip. Again, this has nothing to do with frequent flyer miles and all to do with how airlines price their tickets.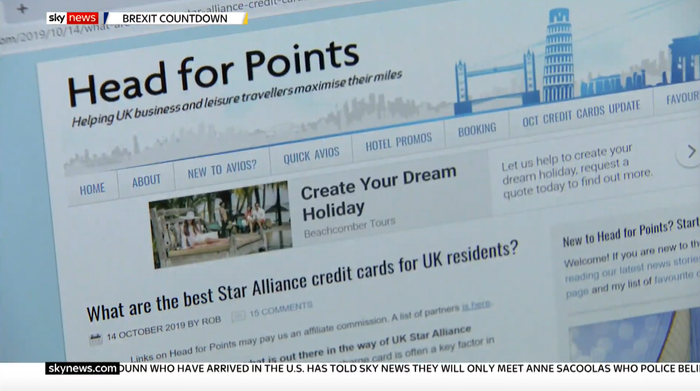 What can we say, factually, about the contribution of frequent flyer miles to airline emissions?
The vast majority of UK flights do not involve frequent flyer schemes. easyJet, Ryanair, Jet2 and Wizz do not have schemes at all. No-one flying in discounted economy on BA or Virgin Atlantic is being attracted by the pitiful level of Avios or tier points earned either. (Remember that a cheap BA flight to Amsterdam earns just 125 Avios and 5 tier points.)
The key role of frequent flyer schemes is to encourage people to fly with one carrier over another – NOT to fly for the sake of it
To the extent that frequent flyer schemes encourage more flights to be taken – due to redemptions – the airlines try to direct customers onto less popular services where seats would otherwise remain empty. To some extent, frequent flyer schemes are a method of levelling out demand across different flights.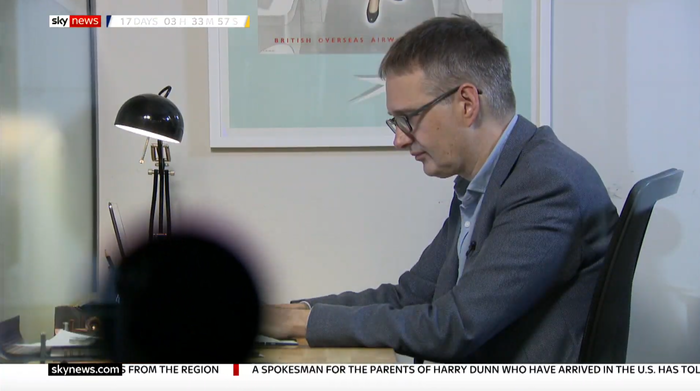 However, to be totally fair, I can identify a couple of occasions when I have taken flights unnecessarily for reasons relating to miles and points. I would estimate that this represents about 1,000th of the miles I have flown in my life:
I once flew to Manchester and back on Virgin's Little Red because it had agreed to status match anyone who flew it, which got me a Virgin Atlantic Gold card, and give 10,000 Flying Club miles on top. However, this was also done to review Little Red for HFP, and I never actually used my Virgin Gold status. The offer did tempt me into taking the flight when I may otherwise have not done so, however.
In my banking days, I would occasionally fly to Paris instead of taking Eurostar. My 'all business class' contract meant I earned 80 tier points and a couple of those a year helped me retain my Silver status. The trip itself, however, was always necessary. I continue to fly to Paris if Eurostar pricing is high and I can get a flight on Avios for substantially less.
That's it. There are many other flights I've taken to start trips outside the UK to save money, but that has nothing to do with frequent flyer schemes.
There was a line I said for the Sky News interview which was cut, but which I thought was relevant. The airlines are fully behind cutting aviation emissions, because fuel is by far their biggest cost. Investing in new aircraft such as the A350 and scrapping 20+ year old Boeing 747s is good for the environment and the profitability of the airlines.
I'm not here to discuss whether the Government should tax flights more heavily, or whether everyone should have an annual flight cap (also a report recommendation) above which they would be penalised, or whether aviation fuel should be taxed, or whether flights should incur VAT. These are political issues, although is clear is that the Overton window has moved sharply.
Thinking that frequent flyer schemes have any noticeable impact in any of this simply overshadows other more sensible recommendations, however.