Links on Head for Points may pay us an affiliate commission. A list of partners is here.
SWISS and Lufthansa seem to have launched some EXCELLENT First Class and Business Class '2-4-1' deals.  Unlike some fare deals we write about, these are for departures from the UK so you don't need to position yourself somewhere in Europe first.
Availability is very good on most routes from May onwards (admittedly it is patchy before that) and you can travel until 10th December 2020.  A six day minimum stay is required.
Even better for those who live outside London, you can also book these deals in Business Class from UK regional airports.
This offer ran last year and was hugely popular with HFP readers.  You won't earn Avios or BA tier points but you WILL get a very classy travel experience at a fantastic price.  You will also earn a pile of Miles & More or other Star Alliance miles which can be a handy alternative to Avios.
If you have Avios tickets booked to any of these destinations, you should do the maths on whether you should cancel (£35 per person fee, all Avios and cash returned) and book one of these deals instead.
An important note
This sale is unofficial at the moment.  The seats are bookable but neither SWISS or Lufthansa is promoting it.  It MIGHT launch on Monday, or might not.
In this article I am focusing on SWISS because there is a VERY easy way of finding the dates you can travel.  It is also worth searching at lufthansa.com but at the moment there is no quick method of finding seats.  The pricing would be the same but Lufthansa has a broader route network.
Business Class deals
Here are the Business Class deals.  These are return prices per person from London BUT based on two or more people travelling.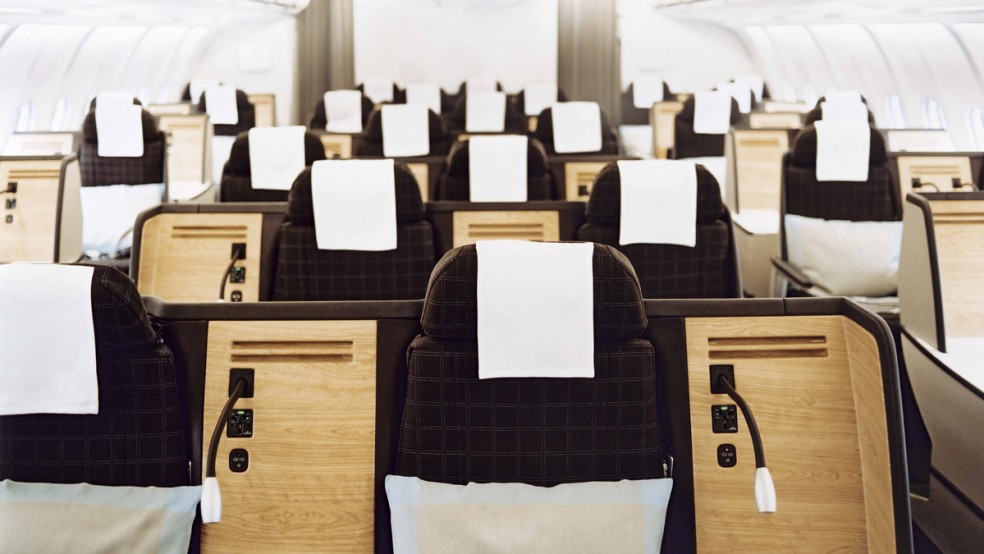 Here are your options flying in SWISS Business Class, photo above.  You can see an availability calendar here from London on the SWISS website and availability is very good from May.  Before May it is tighter but not impossible.  All flights require a transfer in Zurich or Geneva.
SOME ROUTES MAY SHOW NO AVAILABILITY.  I have not manually gone through the full list below.  Male / Maldives seems dead, for example – I can get outbound seats in April but no returns.  Most routes I have checked were fine though.
Addis Ababa £1,100
Bahrain £1,200
Bangkok £1,200
Buenos Aires £1,500
Cairo £530
Cape Town £1,500
Colombo £1,100
Dar es Salaam £1,100
Delhi £1,100
Denpasar £1,500
Dubai £1,100
Ho Chi Minh City £1,200
Hong Kong £1,100
Johannesburg £1,500
Kuwait £1,100
Lagos £1,100
Luanda £1,500
Mahe / Seychelles £1,300
Male / Maldives £1,300
Manila £1,500
Mauritius £1,300
Mumbai £1,100
Muscat £1,150
Nairobi £1,100
Phuket £1,200
Rio de Janeiro £1,300
Riyadh £1,100
Sao Paulo £1,400
Shanghai £1,350
Singapore £1,300
Tel Aviv £500
Windhoek £1,300
For clarity … it is a doddle to find days with availability.  Go to this page of the SWISS website and look at the calendar at the bottom for your selected route.  The fare is bookable on days in yellow.
This method only works for London departures.  For departures from:
Birmingham
Manchester
Edinburgh
…. you need to use the main SWISS booking page here.
Remember that 2+ people must be booked together.  You won't see the special price if you are only booking for one person.

First Class deals
Here are the SWISS First Class deals – see London departures on the SWISS website here.
It is the same basis as before – look for dates in yellow using the link above.  These are London dates – if you can find availability – and I struggled – Birmingham, Manchester and Edinburgh departures must be booked here.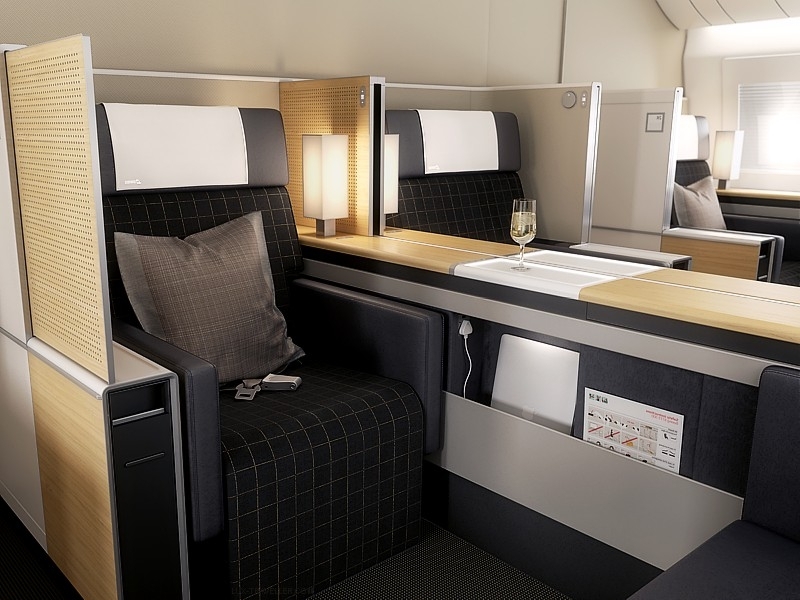 Again, note that SOME ROUTES LISTED BELOW MAY HAVE NO AVAILABILITY.  Hong Kong, Bangkok and Singapore have very, very little.  Other routes have lots, at least from London.  It isn't clear if this will improve when the sale launches 'officially', if it ever does.
Bangkok £1,800
Buenos Aires £2,000
Cape Town £2,300
Dar es Salaam £1,500
Delhi £1,500
Dubai £1,500
Ho Chi Minh City £1,800
Hong Kong £2,000
Johannesburg £2,300
Manila £2,100
Mumbai £1,500
Muscat £1,600
Nairobi £1,500
Phuket £1,800
Rio de Janeiro £2,000
Sao Paulo £2,000
Singapore £2,000
Here is a typical Dubai deal – £2,965 for two people in SWISS First Class for a week in September:
Lufthansa is, perhaps, the most civilised First Class experience there is.   Here is the review of my Lufthansa First Class flight from 2017.  And, of course, the First Class Terminal – yes, a whole terminal – in Frankfurt where you get driven to the steps of your plane is something everyone should try once.  If you are keen to book in First Class, I would look at the Lufthansa website here and compare pricing for your dates before booking SWISS.
SWISS offers an excellent First Class and Business Class service.   We are NOT talking Emirates or Etihad style private suites, by any means, but you get a good quality seat, good food and drink and a very attentive crew.  It is a very civilised experience.
I flew SWISS First Class in 2018, although I didn't review it for the site, and it was as impressive as usual, albeit I put it a notch below Lufthansa First Class as the food is not as outstanding.  I also flew in SWISS Business Class to Dubai in 2018 with my family and it was similarly good, although the seats are showing their age a bit.  Here is an older review of SWISS First Class I did.
SWISS and Lufthansa are both part of Lufthansa's Miles & More loyalty scheme, although you can of course credit your flight to any other Star Alliance programme.
If you are looking for the best credit card to pay with, American Express Preferred Rewards Gold offers double points on airline spend.  This means that you would earn 2 Membership Rewards points per £1 spent.  Our review of Amex Gold is here.
There are some genuinely excellent deals here especially if you live outside London (business class only) and especially because of the long travel period.  Take a serious look.
If the sale does launch officially on Monday then I will do an updated article and add in whatever Lufthansa information we get too.
The full SWISS website is here if you want to find out more about where and what they fly.
Click here to join the 14,500 people on our email list and receive the latest Avios, miles and points news by 6am.