What happened at the Head for Points Winter Party? (And how much money did you raise?)
Links on Head for Points may pay us an affiliate commission. A list of partners is here.
Thank you to everyone who came to our Winter Party on Monday evening at the Marriott Grosvenor Square.
We had around 500 people there, who had managed to avoid the current flu bug and 'dry January'.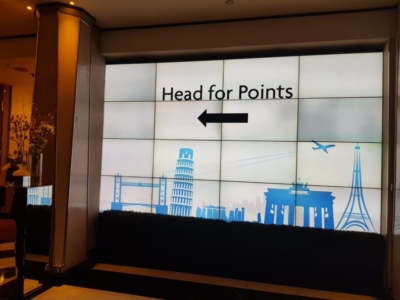 The Westminster Ballroom at the Marriott is by far the largest venue we have ever used, and it meant that the event was always bustling but never felt too crowded. Here is the cavernous room before anyone arrived: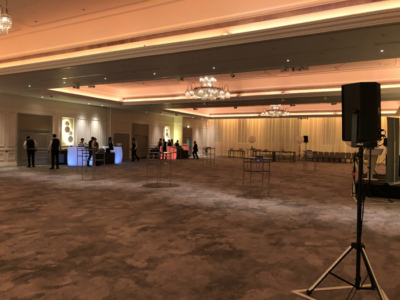 …. and here it is, during the raffle: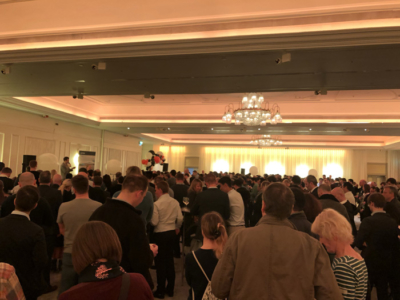 We want to thank Marriott Bonvoy for sponsoring the event which covered the cost of everyone's first drink.  Marriott Bonvoy also provided a selection of desserts: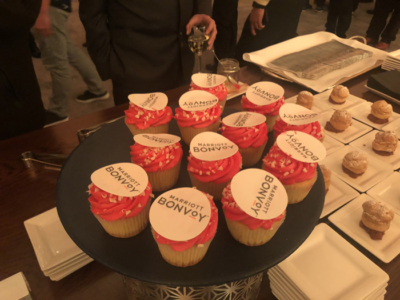 …… although they were all gone by the time I got to them, which means some of you must have had seconds!  It is not an exaggeration to say that without Bonvoy's help – financially and logistically – an event of this scale would be extremely difficult to manage, so we are grateful for their backing.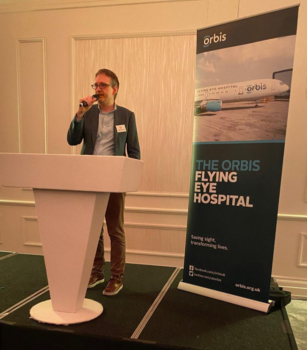 The feedback we have had so far has been very positive, and I think we managed to fix some of the issues from the summer party, including the queue to get drinks.  This time round we had three bars which seemed to be the right number.
Whilst we didn't mention it publicly, we subsidised the cost of beer and house wine which meant you were almost certainly at the cheapest bar in Mayfair.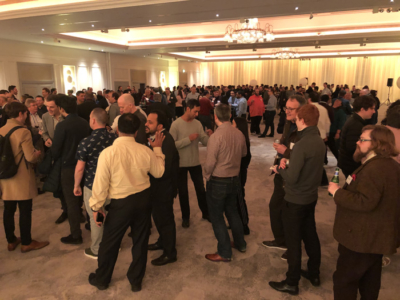 If anything, the biggest queue was to purchase additional raffle tickets with all proceeds going to our charity partner, Orbis.
Your generosity exceeded our expectations. 
We thought if we would do well if we sold £1,000 of extra tickets but it was actually over £4,000.  Including the donation added to ticket sales and the donation box on the ticket desk, we raised a grand total of £4,640 which was an amazing result.  Emma and Fiona from Orbis are thrilled to bits, as will be the many adults and children in developing countries whose vision will be restored with your help.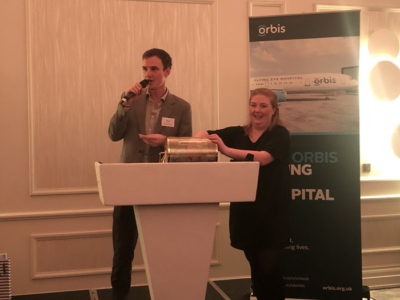 Emma helped me draw the raffle. What I had not realised at the time, but quickly became apparent, was that the six different colours of raffle tickets were incredibly hard to differentiate under the orangeish mood-lighting in the room.  It was virtually impossible to distinguish the coral tickets from the pink ones, or the blue ones from the teal ones ….
We managed to get through the extensive prize list in record time – around 15 minutes at my count – and I felt a bit like an auctioneer at times.  Perhaps next year I will bring a gavel ……
Our grand prize, generously donated by Marriott Bonvoy, was a 2 night stay in the five-star Ritz Carlton Budapest, including breakfast and access to the spa:
Next up was two nights bed and breakfast at the five-star Domes Miramare Corfu, part of Marriott's Luxury Collection:
We also had three nights bed and breakfast at the Prague Marriott.
Marriott Bonvoy also donated a voucher for a two night stay at any Moxy hotel in the Belvar collection.
Here is the full list of prizes:
2 sets of 20,000 Avios, donated by Avios Group 
A pair of Business Premier tickets, donated by Club Eurostar 
£100 John Lewis gift vouchers and a model aircraft, donated by ANA 
A limited-edition hardback coffee table version of 'British Airways: 100 Years of Aviation Posters', donated by British Airways 
10,000 Avios, donated by Avios partner Alan Boswell Insurance Brokers 
20,000 IHG Rewards Club points, donated by IHG Rewards Club 
5,000 Heathrow Rewards points (x 4 sets!), donated by Heathrow Rewards 
A Galaxy Tab A 10.1" tablet, donated by ShanCo IT Services 
2 passes for any Heathrow Plaza Premium lounge (x 2 sets), donated by Plaza Premium 
A weekend car rental, donated by Avis Budget 
4 passes for any Virgin Atlantic Clubhouse (must be flying Virgin Atlantic), donated by Virgin Atlantic 
2 'limited edition' Flybe model aircraft AND 2 x round trip tickets to any Flybe destination, donated by Flybe  
A Signature ELITE Class Experience at Luton Airport (be driven to your plane!), donated by Signature (click for review) 
£100 of British Airways credit and three elite memberships, donated by Reward Flight Finder 
Three annual premium memberships to SeatSpy, donated by SeatSpy 
A return Mercedes airport transport to Heathrow or Gatwick from anywhere inside the M25, donated by REAL Transfers 
A lifetime subscription to App in the Air, donated by App in the Air
£150 voucher from Aircraft Model Store 
A Dash Cam, donated by Enterprise Car Rental 
A Malaysia Airlines goody bag, donated by Malaysia Airlines 
A Vietnam Airlines model plane, donated by Vietnam Airlines 
'London City Airport: 30 Years Serving The Capital' book, donated by Business Travel News
An Aspinall of London passport cover, donated by Curve 
… and a big thank you to all the companies that generously donated and helped to raise so much for Orbis.
If you were there on Monday night you should have got a follow up email yesterday with a link to a very short survey. We would appreciate if you could complete it as it helps us plan future events.
Thank you again to everyone who came and made this event such a success, and especially to Marriott Bonvoy (Andrew, Elina, Nidhi, Emily, Lauren, Clara, Kate) and the Grosvenor Square team.