Flybe enters administration – what happens next?
Links on Head for Points may pay us an affiliate commission. A list of partners is here.
Flybe has finally collapsed tonight, after the Government refused additional requests for emergency funding.
The website went down around 10.45pm:
And here is the official notice issued at Glasgow Airport, impounding one of their aircraft for non-payment of fees (click to enlarge):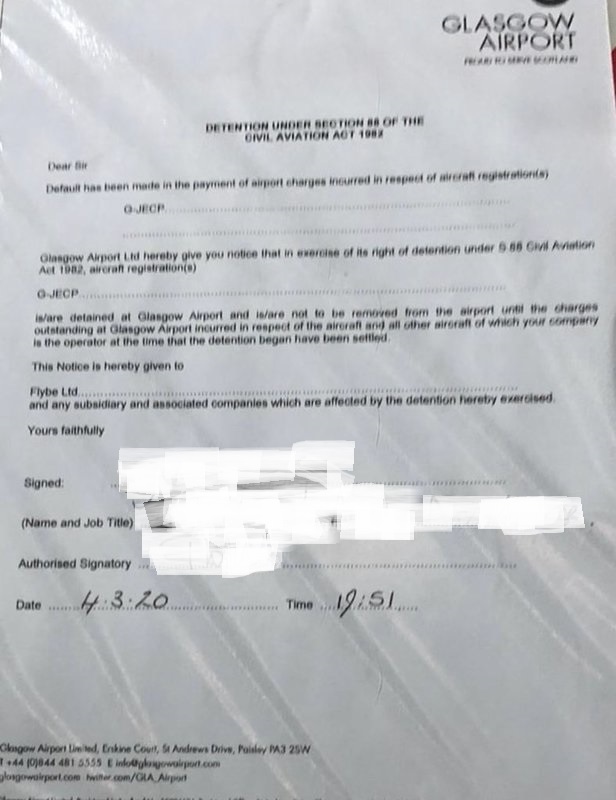 The last aircraft to land was due to be BE7308 from Hannover to Manchester at around 10.30pm.
If you saw my BBC TV interview on Tuesday, you will know that I mentioned Flybe when asked about airlines which I thought may collapse.  I felt a bit guilty about saying this, since I know many of the senior team there, but it was not exactly the sort of guess which required an industry expert.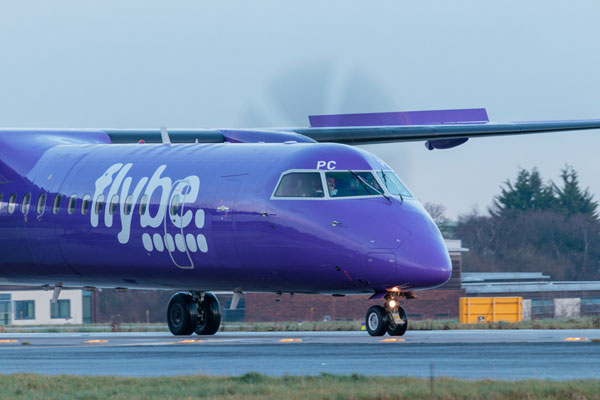 The Financial Times had reported earlier that the Government had rejected the original request by the airline for a £100 million loan.  Whilst it was possible that Flybe would have benefited from changes to Air Passenger Duty in the budget next week, this may have been too little too late.  Any changes would have taken time to implement, and there is even talk of the budget being postponed in full as coronavirus is making financial planning difficult for the Government.
By the time you read this we will probably have the full picture.  The airline does not night-stop any aircraft, I believe, so all of the assets should have been back on UK soil late tonight unless any were impounded abroad.
This is not necessarily the end:
Will Virgin Atlantic buy the airline from the administrators?  (Difficult, given that it would have to resume trading at a time when no-one is booking.)
What will happen to the regional airports which are dependent on Flybe to keep operating?  Look at this list (some of these are franchised Flybe flights which will continue):
Anglesey – 100% Flybe 
Southampton – 95% Flybe
Belfast City – 80% Flybe
Exeter – 78% Flybe
Newquay – 66% Flybe
Wick – 59% Flybe
Jersey – 57% Flybe
Cardiff – 52% Flybe
Guernsey – 50% Flybe
Isle of Man – 49% Flybe
Does British Airways get back the ex-bmi Heathrow slots which it was forced to divest to Virgin Little Red and then Flybe?
Who will pick up the two routes which are operated under public subsidy?
Are the Stobart assets ring-fenced from the administration – and if not, what happens to the flights that Stobart runs under contract for Aer Lingus?
And who will fill the Hampton by Hilton Exeter Airport every night, which was only built after Flybe guaranteed to provide most of the guests via people who were at its training academy next door?!
There is, somewhere inside Flybe, a small and profitable regional airline which is not weighed down the financial and physical baggage of a history of failed expansion.
Whether Virgin Atlantic is the one to put this back together remains to be seen, but I would imagine that the profitable routes are not the ones which would provide Virgin with feed.
For the rest of the airline industry, there is no good news here.  The biggest winners from Flybe's collapse, if the pieces are not picked up, will be the train companies and petrol stations.  In the meantime, the public will become even more paranoid about booking flight tickets.   If Norwegian follows in the next couple of weeks then there really will be a crisis of confidence.
EDIT:  We have now added a new article covering the announcements from Loganair, Eastern and Blue Islands as they pick up ex-Flybe routes.