How I survived a 24 hour flight to Australia in Economy (Part 2)
Links on Head for Points may pay us an affiliate commission. A list of partners is here.
This is the second part of my article on how I prepared for my 24 hour flight from London to Sydney ….. in Economy. Part 1 is here if you missed it yesterday.
When we left off yesterday, I was enjoying myself in the Cathay Pacific lounge at Heathrow Terminal 3.
After a couple drinks I ordered from the made-to-order menu. Here are the dim sim and BBQ meatballs, which were excellent (plus an espresso martini to keep me going!). I was less impressed by the Singaporean noodles, however.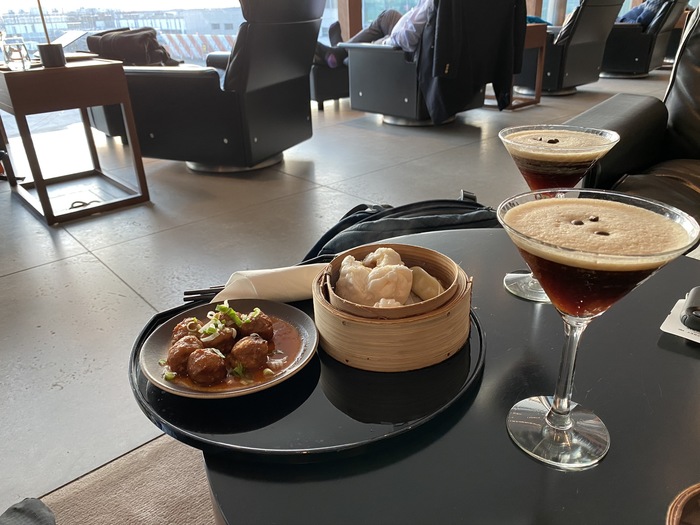 The Qantas lounge at London Heathrow Terminal 3
After a few more cocktails I moved on to the Qantas lounge at Heathrow Terminal 3, just a few seconds away: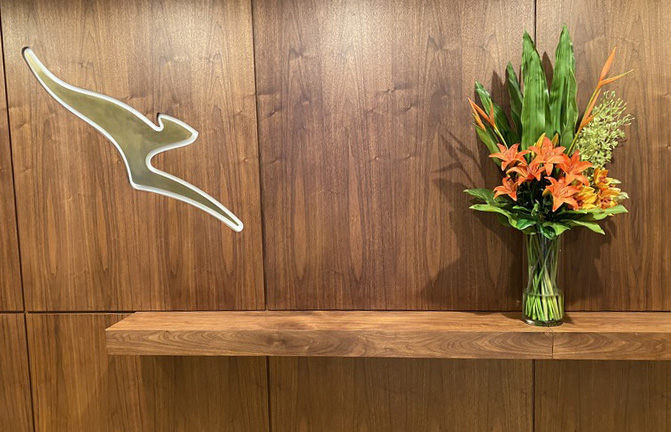 …… where I was greeted by the front of house staff and asked if I wanted to dine. It was quite a busy evening due to a previous cancellation so I was seated at the bar: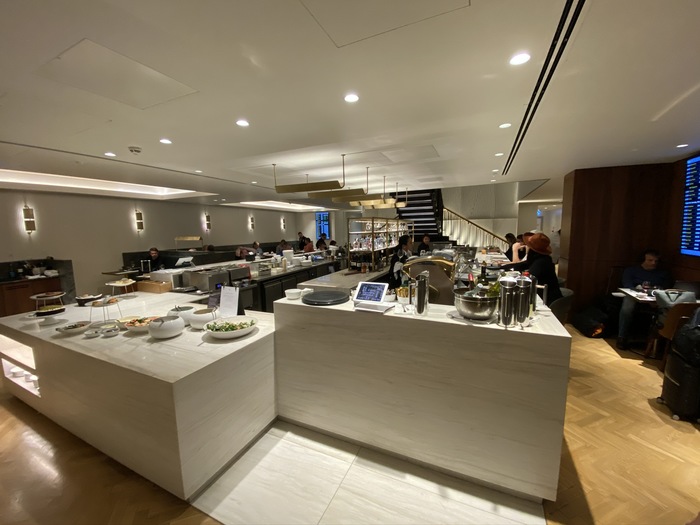 and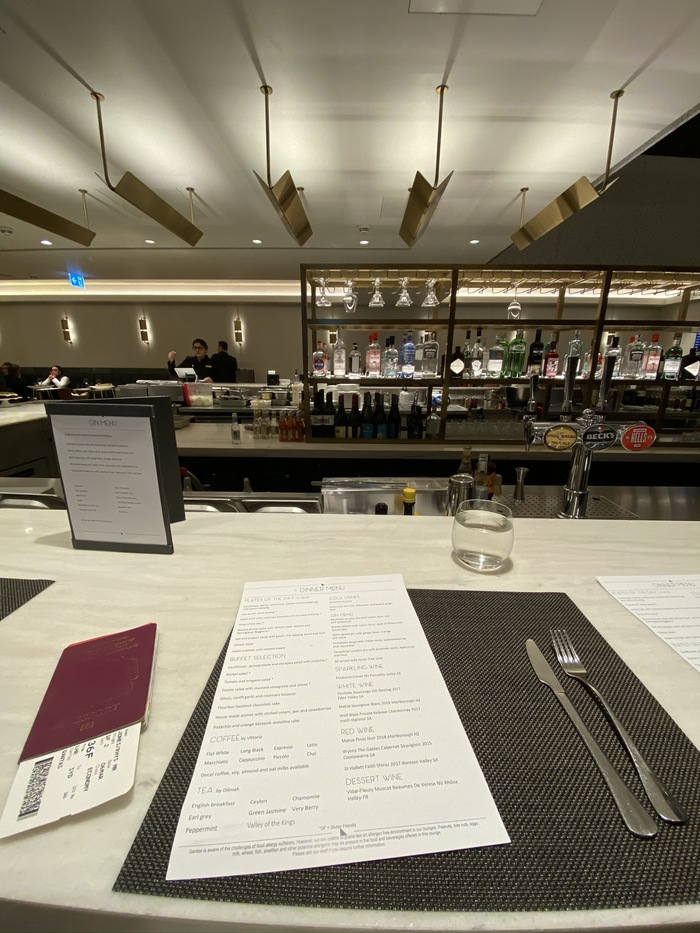 Unsurprisingly, Qantas offers a slightly more Western menu in its lounge than Cathay Pacific. I went for the salt and pepper squid, which is generally regarded as the signature dish in Qantas lounges! It was very good, and the green chilli dip in particular was exceptional: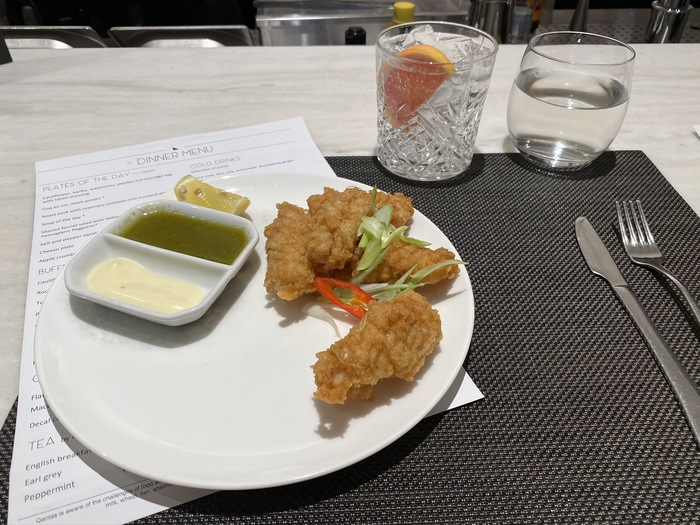 The Qantas lounge also specialises in a range of gins, and I managed to try quite a few. The bar staff were extremely friendly and a joy to chat too, offering some excellent recommendations. By the time my flight was called I think I had tried virtually every gin on offer!
My recommendation would be the East London gin with tonic, or the Sipsmith Sloe gin on the rocks. The latter went especially well with the excellent apple crumble dessert: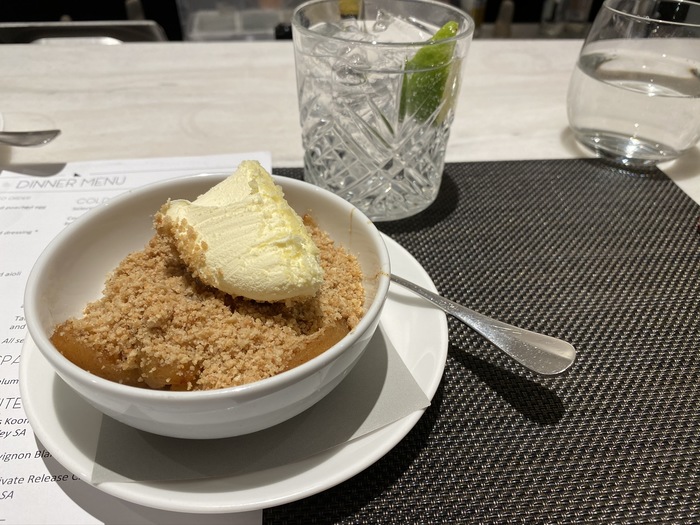 Before I got completely sozzled I walked to the gate and made my way to the very rear of the upper deck, where my seat (or should I say row) was awaiting: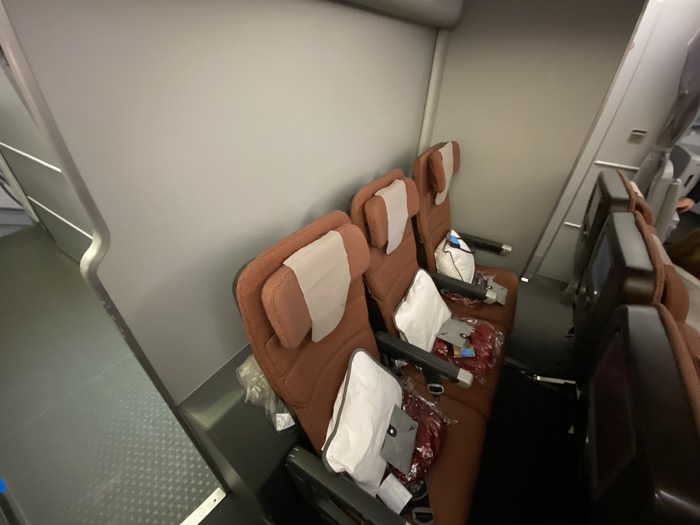 Despite a cancellation the previous day and a fairly full flightload, my strategy of selecting 36F paid off and I was blessed with all three seats to myself.
Each seat came with a decent (for Economy) sized pillow, a classy woven blanket and a small amenity kit containing an eye mask and dental kit. This is how far the armrests lifted, although the seat here are reclined: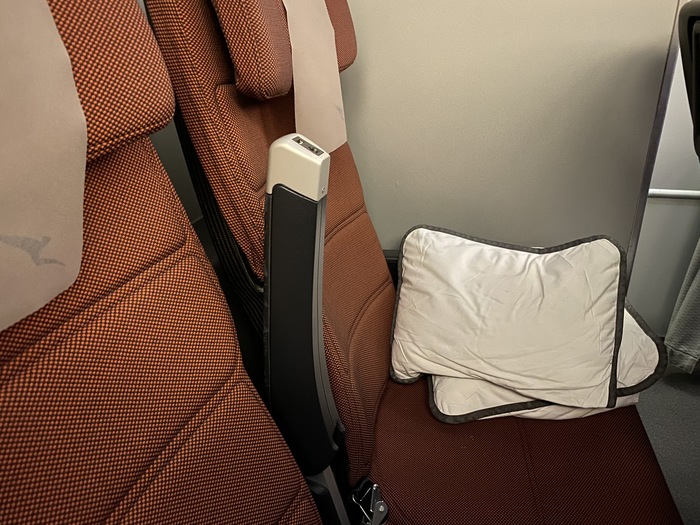 My strategy for the first 12 hour flight to Singapore was to stay awake until the final few hours so that I could go to sleep on the Australian schedule and get ahead of the jetlag. There was a decent selection of recent releases to keep me occupied as well as a variety of TV boxsets including some of HBO's recent tentpoles. I ended up watching Knives Out, Bombshell, A Beautiful Day in the Neighborhood and Ford v Ferrari.
Despite having quite a lot to eat in London I decided to go for the meal service (if nothing else to keep me occupied!), although I have to say I was disappointed. Here is the beef main: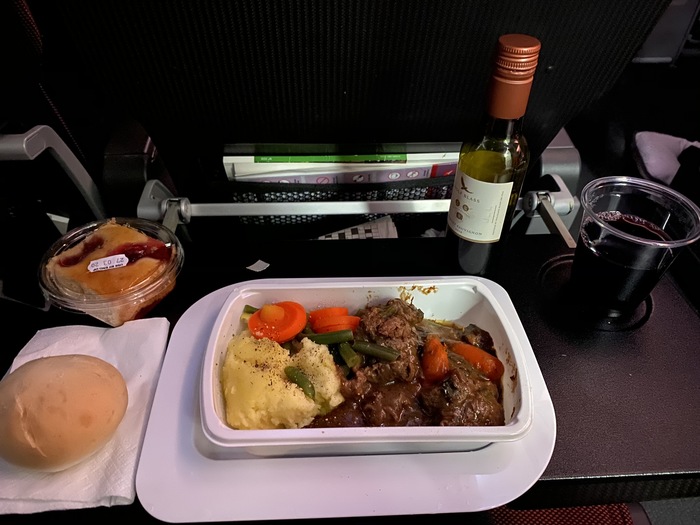 ….. of which a large chunk was a rather unpleasant ball of gristle. It also doesn't come with a salad, just a stodgy white bread roll and a baked dessert. If I am honest I would much rather have one of BA's economy meals than this.
Five hours into the flight, however, and I was seriously struggling to keep my eyes open so I changed into my Virgin Atlantic pyjamas and had a short nap. With all three seats reclined and the armrests up it was more comfortable than some business class seats I have slept in.
Two hours before landing I thought it was time to make use of my Garnier Moisture Bomb sheet mask.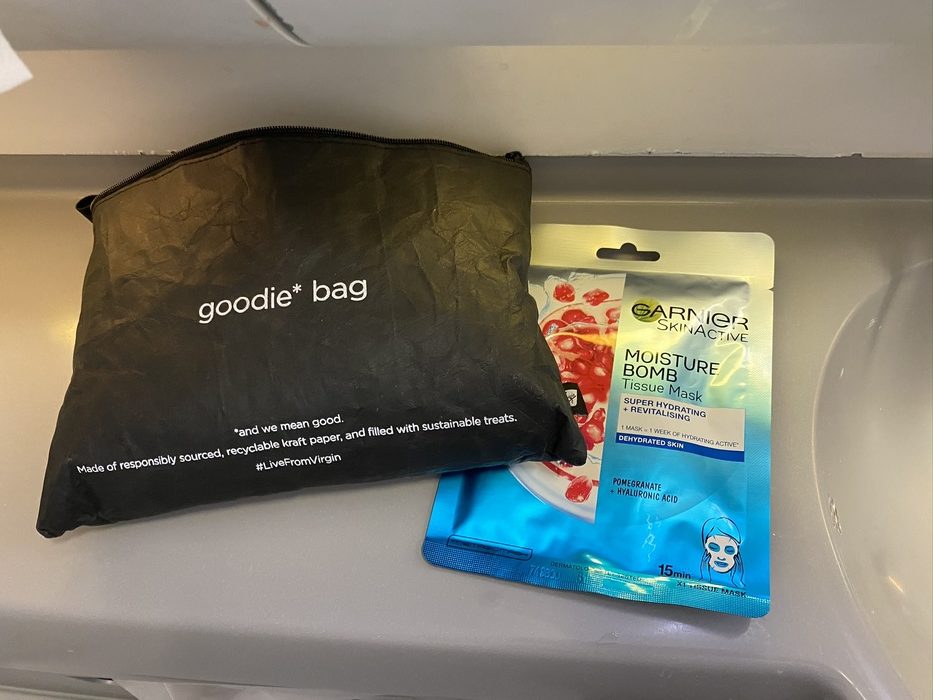 This was my first time using a sheet mask, either on land or in the sky, but I must admit I am a convert. It felt really refreshing and I will definitely be doing it again on a long flight. Quite entertaining given the mask stops you from smiling and looks like something from a horror film.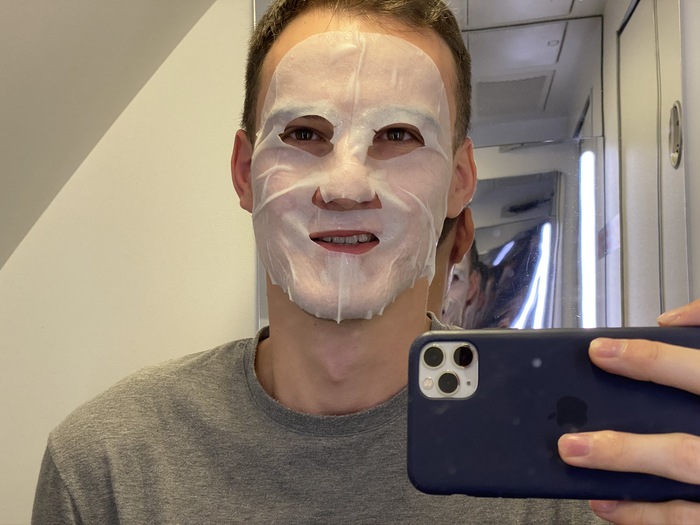 90 minutes before landing breakfast was offered. This was slightly better than dinner, with a choice between a full(ish) English breakfast and a selection of cut fruit: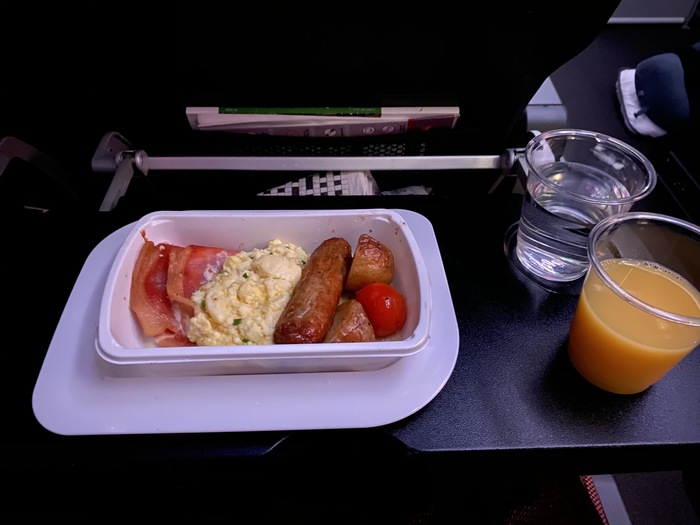 Before long it was time to de-plane for the 90 minute layover in Singapore. The aircraft undergoes a complete clean, and you are required to take all your stuff with you.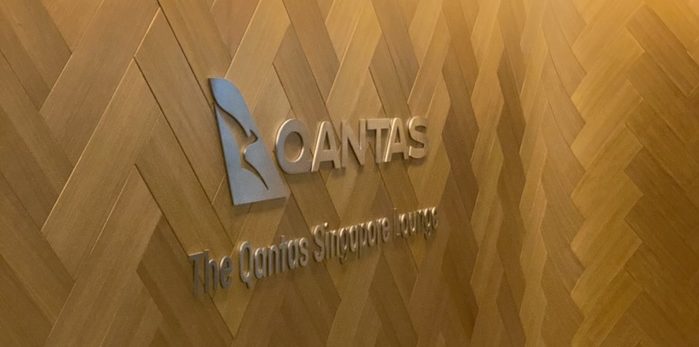 I headed straight for the Qantas Business lounge, and to the showers to freshen up after my 12 hour flight. These are beautifully appointed suites, slightly larger than the Heathrow ones: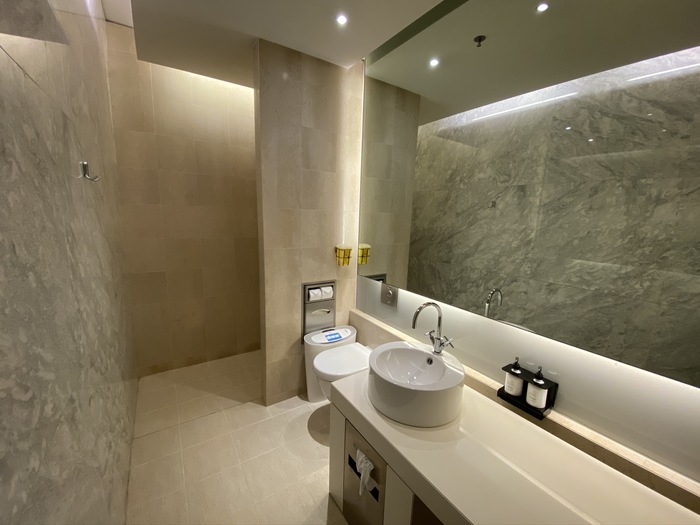 And here is the shower (no rainfall head this time unfortunately):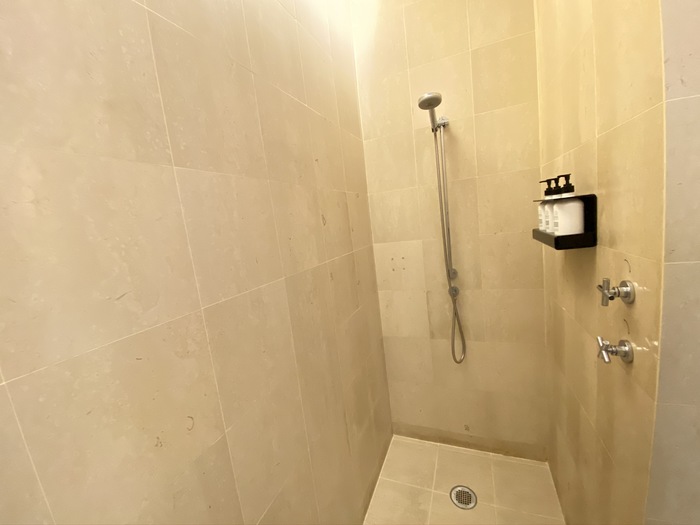 …. although it took me a while (and the assistance of one of the shower attendants) to figure out how to get any hot water. The 12 hour flight had clearly frazzled my mind.
I also took this opportunity to brush my teeth and try out the Kiehl products I had picked up in London. I followed the routine supplied, applying the toner, serum and moisturiser.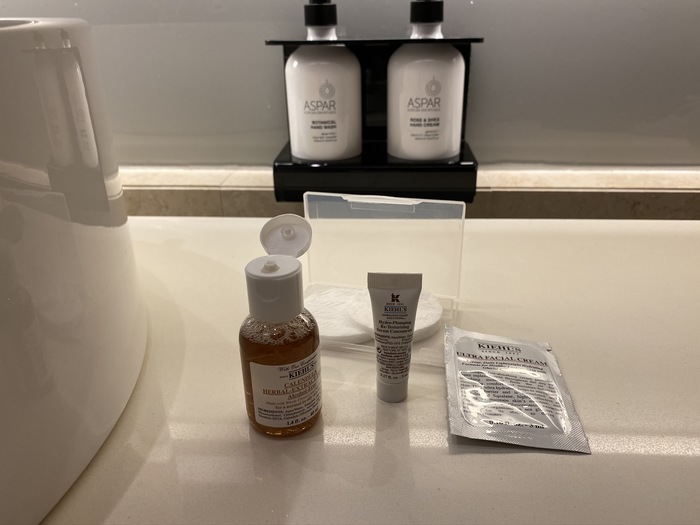 It was a pleasant way to spend the layover and look after myself, rather than keep on sitting somewhere in the lounge, and I think my skin appreciated it.
After my shower I did have the bao buns on offer as well as a lot of salad. Qantas don't offer a salad with their economy meal service so I needed to counterbalance all the stodgy meals and snacks.
As this was the flight I had ear-marked for sleeping I skipped the meal service entirely and made my bed as soon as the seat belt sign was off. Armed with some melatonin, ear plugs and my British Airways White Company eye mask I managed to sleep for virtually the entire flight, although I did wake up several times needing to turn over without falling off the seats.
The verdict
22 hours later and I stepped into the beautiful Sydney sunshine torrential downpour. And, I have to admit, feeling remarkably good. Although long flights typically tend to dry me out like a raisin, focussing on drinking water once I was in-flight made a big difference. Not to mention my frequent showers, which fought against the 'I have just stepped off a long flight' greasiness.
If there is a motto to this story, it is that – with careful planning of seating and your well-being regime – you can survive the longest of Economy flights in reasonably good shape.